EU2SYS-72 Series Heated Display System
Show off your food's best side in an EU2SYS heated display system. Halo Heat® display cases are environmentally friendly, provide better food quality, reduce food waste, and require no water connections or drains.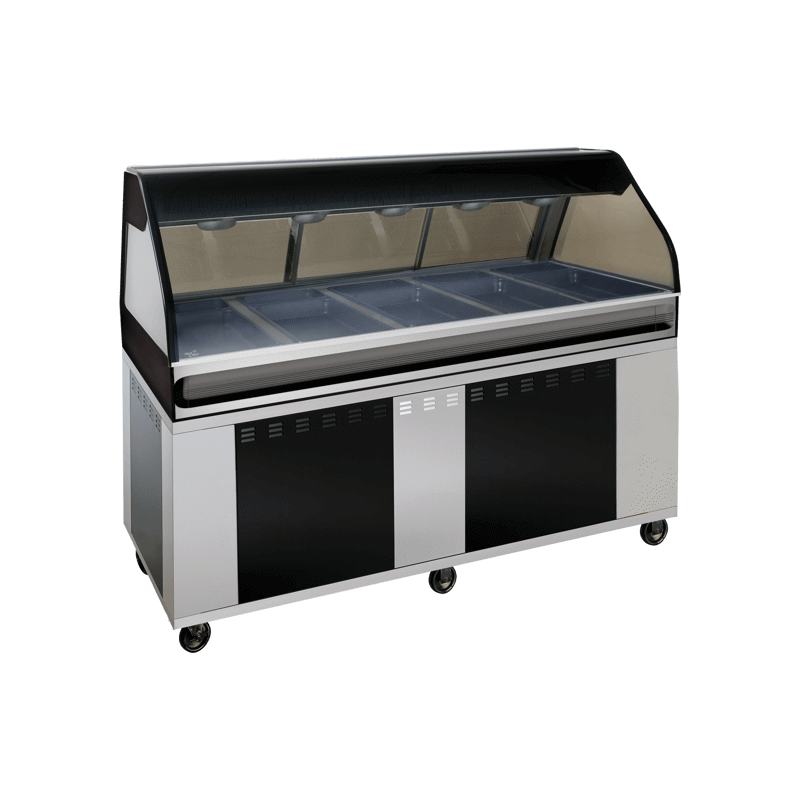 See What Sets us Above the Rest
Water-free heating technology. Elimination of water means reduced construction and installation costs, no water supply and drainage costs, reduced safety and sanitation issues, and improved food quality and presentation
Design continuity. Designed to match the profile of industry leading refrigerated display cases to maintain a continuous display presentation.
Easy cleaning. The tempered front glass can be lifted to a 90° angle for easy cleaning and safe and efficient loading or unloading of the display case.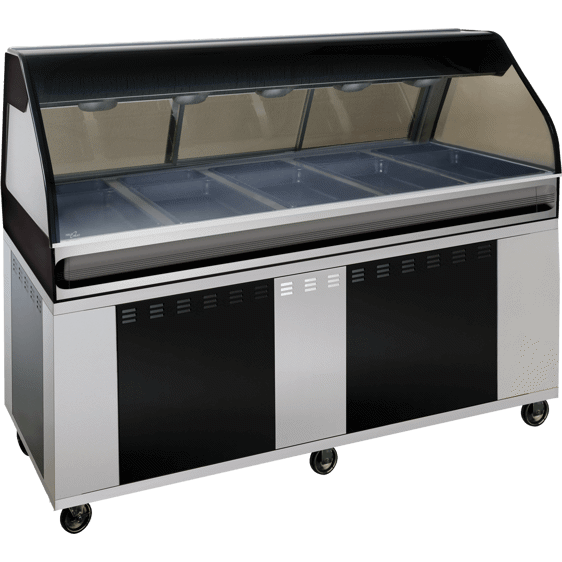 KEY FEATURES
- Design: The EU2SYS Series features a curved glass front with mobile base that will accommodate a choice of undercounter support equipment (750-TH-II, 750-S, or 500-2D) and display full-size, half-size and third-size pan configurations.
- Variations: 72-inch (183-centimeter) length holds five full-size pans. Standard decorator base is stainless steel, distinctively framed in black. Brushed stainless steel or custom color available.
- Halo Heat: Keeps food at a consistent temperature with little fluctuation providing longer shelf life, better quality food and greater sales.
EU2SYS-72 Product Details
Capacity
5 Full-Size Hotel Pans (2-1/2")
5 GN 1/1 Pans (65mm)
3 Full-Size Sheet Pans
Dimensions H x W x D
58-3/16" x 72" x 44-5/16"
(1477mm x 1829mm x 1125mm)
Support
At Alto-Shaam we understand that the oven is the centerpiece of any kitchen. That's why we're relentlessly driven to design and manufacture products that perform flawlessly in the most demanding conditions to give operators confidence and consistency in every meal. And our team is just as committed to providing industry-leading service and support. From installation consultation to equipment training to around the clock, every day technical assistance to culinary support — you can trust that we are here for you.
Halo Heat Technology®
Experience better food quality and higher yields with Halo Heat® technology. Unlike traditional heated holding or low temperature cooking technologies, temperatures created by Halo Heat technology don't fluctuate to extremes. This gentle, radiant heat evenly surrounds food without the use of extremely hot elements, added humidity or fans.
Success Story
Fox Bros. Piggly Wiggly
Today's supermarkets are focused on expanding foodservice opportunities, and the right equipment can make a program successful with a fast return on investment and increased sales. One Wisconsin grocery store found a solution to its rotisserie chicken merchandising needs and increased its sales by 8-10% by partnering with Alto-Shaam in the development of its new heated shelf merchandiser.
Read More