300-HW Halo Heat Drop-In Hot Food Well
Halo Heat® Drop-In Hot Wells offer longer holding capability without the hazards and costs associated with traditional steam wells. A simple electrical hookup is all you need, with no water, plumbing or water related installation or service costs.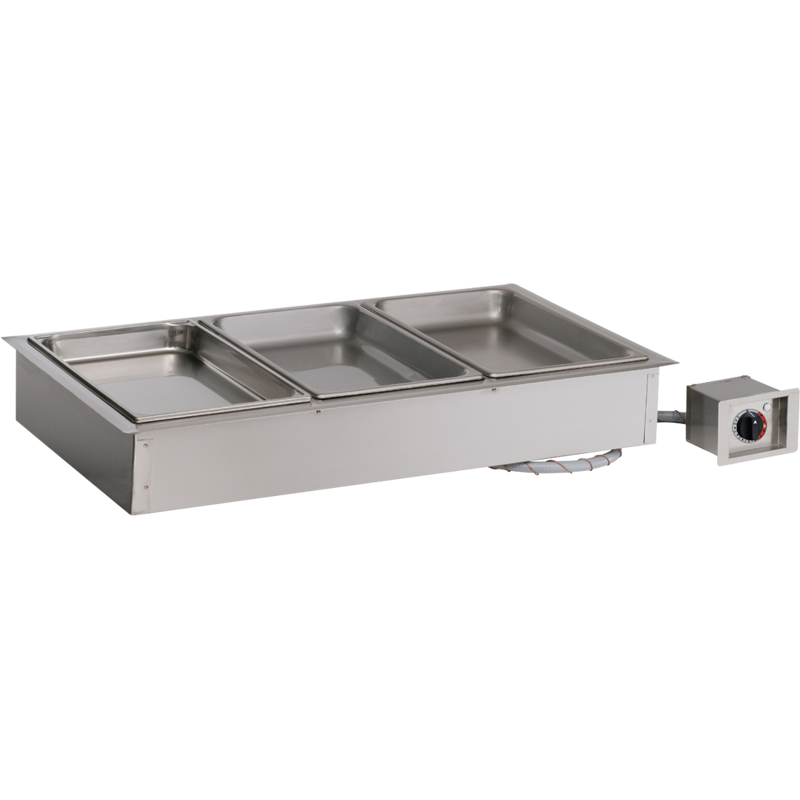 See What Sets us Above the Rest
Simple installation. Halo Heat technology requires no water or plumbing connections resulting in simplified installation into any fabricated surface or fixture.
Reclaim lost space. Reclaim valuable lost undercounter space that is typically used for plumbing connections. Now you can support your hot food station with undercounter heated or refrigerated storage in order to streamline production and service areas.
Consistent food quality. Gentle Halo Heat surrounds your food allowing you to hold at proper temperatures without overcooking or drying food out.
Adjustable thermostat with optional individual well control. The 300-HW hot well comes with an adjustable thermostat mounted on a remote-located control. Thermostat also can be flush-mounted onto a countertop. Optional independent controls for individual wells allow foods to be held at different temperatures.
Two pan depth options. Comes in two versions to accommodate either 4-inch or 6-inch deep pans. Slimline hot wells (200-HWIS) also available to accommodate two full-size hotel pans in a narrow footprint.
Optional large flange construction. Matches our cold well series for a coordinated line up.
300-HW Product Details
Capacity
3 Full-Size Hotel Pans (4")
3 GN 1/1 Pans (100mm)
Dimensions
40-15/16" x 23-1/8"
1039mm x 586mm
Support
At Alto-Shaam we understand that the oven is the centerpiece of any kitchen. That's why we're relentlessly driven to design and manufacture products that perform flawlessly in the most demanding conditions to give operators confidence and consistency in every meal. And our team is just as committed to providing industry-leading service and support. From installation consultation to equipment training to around the clock, every day technical assistance to culinary support — you can trust that we are here for you.
Waterless Hot Food Wells
Maximize hold times. Maintain food quality. Reduce operating costs. Eliminate the need for water. Improve safety. Unlike traditional steam tables or dry wells, waterless food wells from Alto-Shaam feature radiant, Halo Heat® technology that evenly surrounds food without the use of extremely hot elements, added humidity or fans.