HSM-48/5S/T Heated Shelf Merchandiser
5 Shelves, 40 Pounds Max Per Warming Shelf
Improve store profits by showcasing your grab-and-go meals in a quality Alto-Shaam floor-standing food merchandising display. Featuring exclusive Halo Heat® fanless technology, Alto-Shaam heated display units provide precise, even heating for the highest quality food and lowest cost of ownership.
This 48-inch wide, five-shelf floor-standing heated display unit can be purchased separately or as part of a full system to cook, hold and merchandise rotisserie chickens, pizzas, sandwiches and more.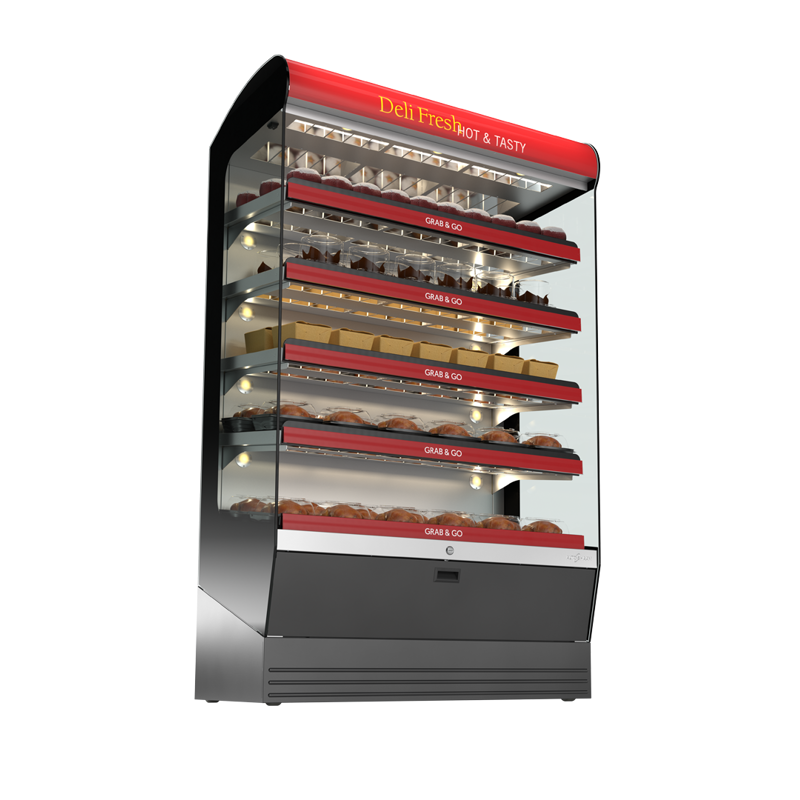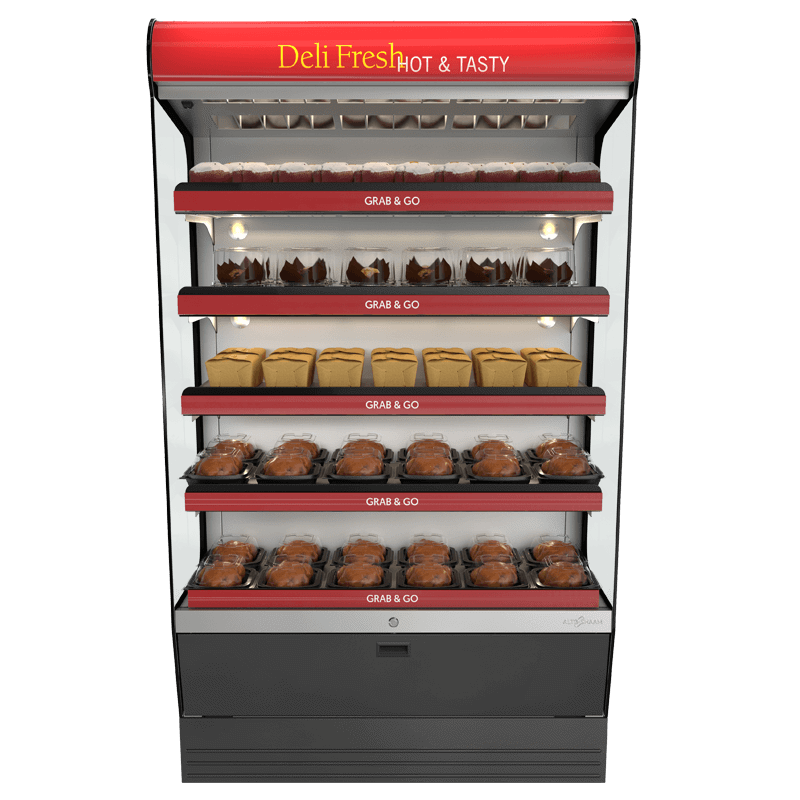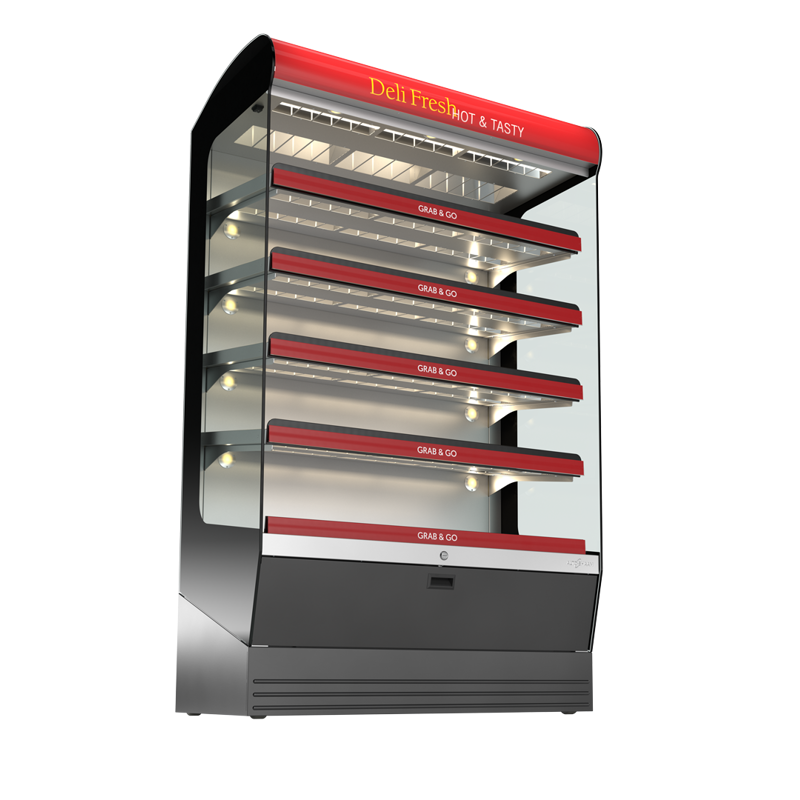 See What Sets Our Floor-Standing Food Merchandising Displays Above the Rest
Customizable branding. Draw attention to your food and increase your brand image with replaceable graphics on our floor-standing grab-and-go food display.
Individual warming shelf control. Experience flexibility to hold a variety of menu items at the proper temperatures inside food merchandising displays.
Lowest cost of ownership. Low electricity usage results in cost savings up to 50% compared to traditional models.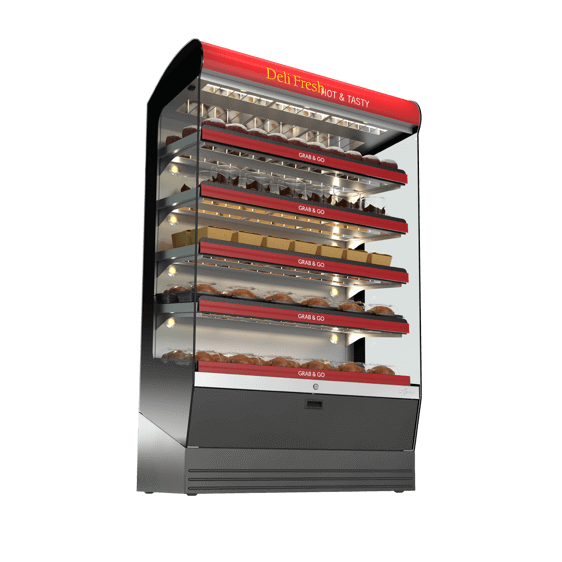 HSM-48/5S/T FOOD MERCHANDISING DISPLAY KEY FEATURES
- Convenient, fresh meals are displayed in an aesthetically pleasing, customizable floor-standing grab-and-go food display.
- Experience better quality food with gentle, even and precise Halo Heat® fanless technology to keep food from drying out.
- Flexibility to control individual warming shelf temperatures allows you to hold a variety of products at the proper temperature.
- Boost impulse sales of grab-and-go meals with LED-lighted shelves, backlit interchangeable graphics, and pricing rails.
- Simple operation and easy cleaning keeps delis and grab-and-go food display areas operating smoothly and safely.
- Lowest cost of ownership on the market – cost savings of 50% compared to traditional models.
- Made in the USA with a commitment to quality. Alto-Shaam is ISO 9001:2015-certified.
HSM-48/5S/T Product Details
Capacity
Five (5) 44-7/8" (1140mm)
width shelves,
Ten (10) chicken boats with
dome cover per shelf
Dimensions H x W x D
79-7/8" x 48" x 27-5/16"
(2029mm x 1219mm x 694mm)
Support
At Alto-Shaam we understand that the oven is the centerpiece of any kitchen. That's why we're relentlessly driven to design and manufacture products that perform flawlessly in the most demanding conditions to give operators confidence and consistency in every meal. And our team is just as committed to providing industry-leading service and support. From installation consultation to equipment training to around the clock, every day technical assistance to culinary support — you can trust that we are here for you.
SDS, Declarations & IEC Reports
Halo Heat Technology®
Experience better food quality and higher yields with Halo Heat® technology. Unlike traditional heated holding or low temperature cooking technologies, temperatures created by Halo Heat technology don't fluctuate to extremes. This gentle, radiant heat evenly surrounds food without the use of extremely hot elements, added humidity or fans.
Success Story
Fox Bros. Piggly Wiggly
Today's supermarkets are focused on expanding foodservice opportunities, and the right equipment can make a program successful with a fast return on investment and increased sales. One Wisconsin grocery store found a solution to its rotisserie chicken merchandising needs and increased its sales by 8-10% by partnering with Alto-Shaam in the development of its new heated shelf merchandiser.
Read More
Heated Shelf Merchandisers