1767-SK Cook & Hold Smoker Oven Classic Control
Add unique flavors to your carefully crafted menu with the 1767-SK commercial smoker oven. Two separate compartments let you use gentle, radiant heat to prepare different items at different temperatures and significantly increase capacity. Switches from smoking and cooking temperatures to holding temperatures automatically so you can leave the oven overnight and maximize the efficiency of your kitchen. Manual, dial controls are straightforward with cooking temperature control, cooking timer, holding temperature control and a smoking timer.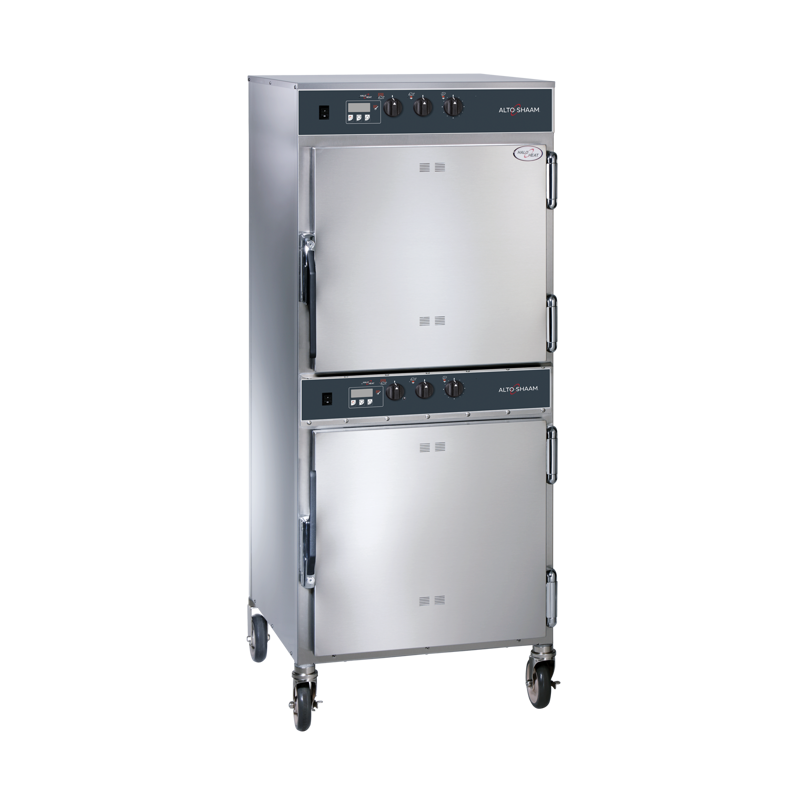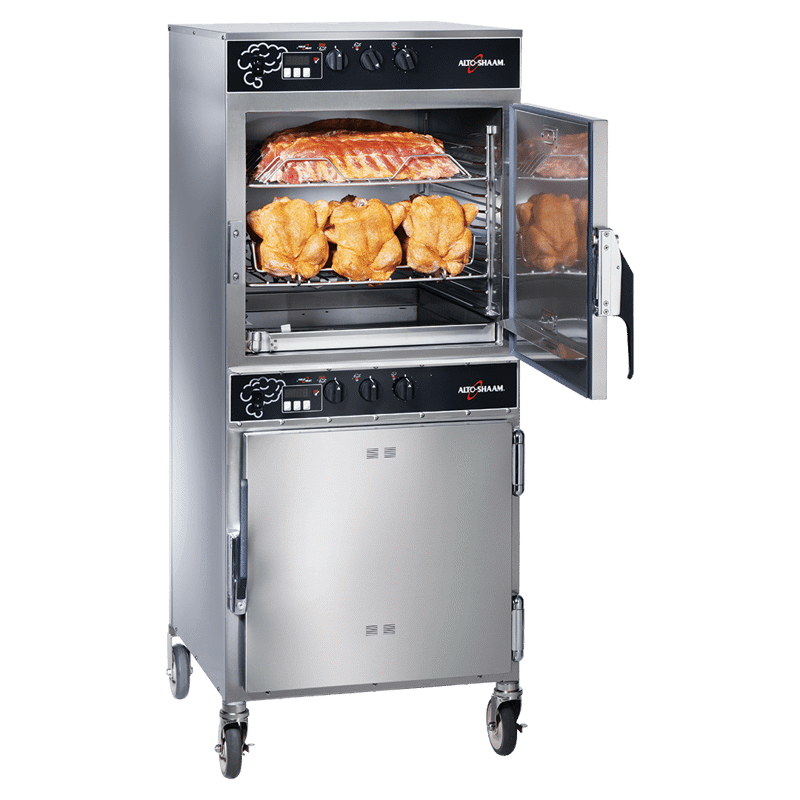 See What Sets Us Above the Rest
Consistent, even heat from Halo Heat® technology provides a controlled, uniform heat source to maintain precise temperatures inside the electric smoker oven throughout the cooking, hot smoking and holding process.
Natural meat tenderization on even the toughest cuts of meat. Halo Heat technology activates natural enzymes for a more moist, tender product. Make the most of less expensive, underutilized cuts of meat and produce a better quality product – at a lower cost. One hour in the Commercial Smoker Oven is equivalent to 1-2 days of dry aging.
Halo Heat technology provides the greatest moisture retention and most even cooking. Equipped with a unique thermal cabling, the electric smoker oven cavity is surrounded with gentle, precise heat to evenly cook food. No fans. No harsh heating elements. No added humidity.
Distribute workloads with the ability to cook, roast, reheat, smoke and hold in a single piece of equipment with set-and-forget controls.
The sealed, static cooking environment of our commercial smoker oven traps meat's natural flavor and juices, reducing meat shrink, improving food quality, enhancing smoke flavor and extending hold life.
Infuse bold flavor without added sodium, fats or sugars. No pressure-cooking. No artificial smoke flavor. Fully-integrated smoker box utilizes real wood chips for a natural wood flavor. Choose from hickory, apple, cherry or maple.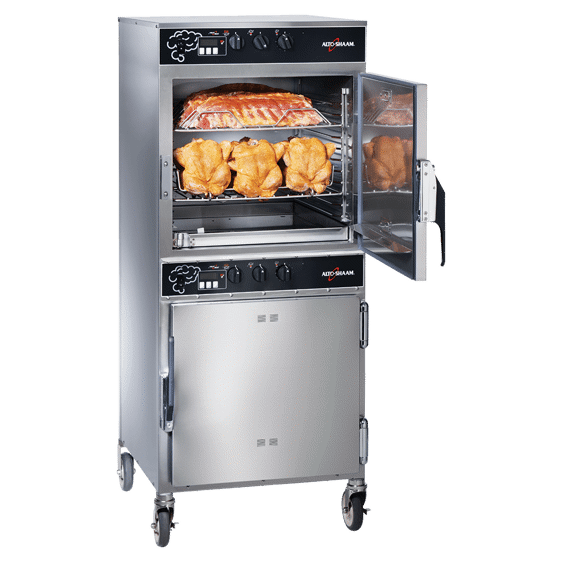 1767-SK COMMERCIAL SMOKER OVEN KEY FEATURES
- Our commercial electric smoker oven can smoke hot or cold to expand your menu. Hot smoke chicken, beef, pork and more. Cold smoke cheese, nuts, fish, vegetables and more.
- Reduce labor and operating costs. Lights out production. Reclaim 12-16 hours of nonproductive cooking time with overnight smoking, cooking and holding.
- Easy to operate. Cook by time for consistent results with simple control. The commercial smoker oven automatically converts to hold mode once set time parameters have been reached.
- Intuitive cooking with dials to set temperature control, cooking timer, holding temperature control and a smoking timer.
- Complete control. Smoke timer offers a choice of mild, medium or heavy smoke flavor.
- Waterless design. Reduce installation and operating costs – no plumbing, drains, filtration or associated maintenance.
- Our commercial smoker oven gives you greater yields and less food waste with Halo Heat technology. Minimize food costs with 18% less protein shrinkage compared to conventional cooking. Serve more portions from the same cut of meat to increase your profit margin.
- Made in the USA with a commitment to quality.
1767-SK Product Details
Capacity
Per Compartment
5 Full-Size Hotel Pans (4")
9 Full-Size Hotel Pans (2-1/2")
5 GN 1/1 Pans (100mm)
9 GN 1/1 Pans (65mm)
Dimensions H x W x D
61-15/16" x 27-1/16" x 32-3/4"
1572mm x 686mm x 832mm
Videos
Our collection of videos is full of additional product information to give our customers the information they need to achieve a greater return on their investment. To learn more, explore our collection of videos for additional information including instructional videos, customer testimonials and how-to videos.
Support
At Alto-Shaam we understand that the oven is the centerpiece of any kitchen. That's why we're relentlessly driven to design and manufacture products that perform flawlessly in the most demanding conditions to give operators confidence and consistency in every meal. And our team is just as committed to providing industry-leading service and support. From installation consultation to equipment training to around the clock, every day technical assistance to culinary support — you can trust that we are here for you.
SDS, DECLARATIONS & IEC REPORTS
Halo Heat Technology®
Experience better food quality and higher yields with Halo Heat® technology. Unlike traditional heated holding or low temperature cooking technologies, temperatures created by Halo Heat technology don't fluctuate to extremes. This gentle, radiant heat evenly surrounds food without the use of extremely hot elements, added humidity or fans.
Cook & Hold Ovens, Cook & Hold Smoker Ovens, Heated Holding Solutions, Food Wells, Heated Shelf Merchandisers, Carving Stations, Thermal Shelves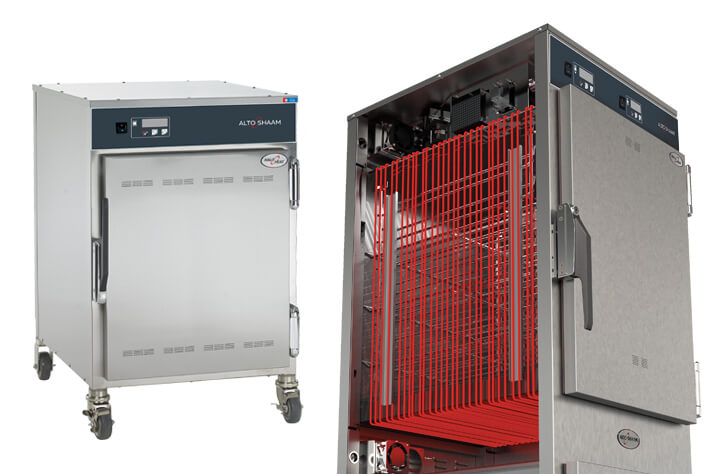 Success Story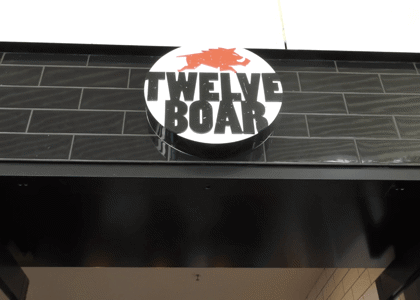 Twelve Boar
Twelve Boar in Australia added authentic American barbecue to its menu through the use of an Alto-Shaam Cook & Hold Smoker Oven.
Read More