AR-7H Holding Cabinet
Keep food hot so customers come back for more. Utilizing gentle, radiant Halo Heat®, the AR-7HE hot holding rotisserie companion cabinet can keep rotisserie chickens and more at precise temperatures for hours without overcooking or drying out. Pair it with the AR-7E rotisserie oven for a system designed for results. Fits 8 full-size sheet pans or up to 24 chicken boats.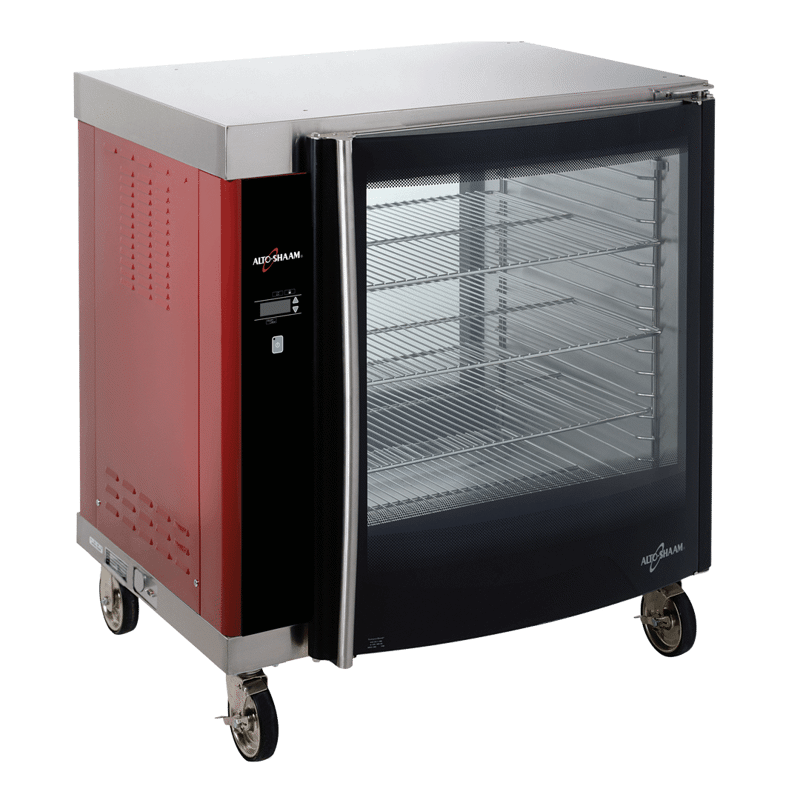 SEE WHAT SETS OUR AR-7H HOLDING CABINET ABOVE THE REST
Halo Heat® technology provides a controlled, uniform heat source that maintains precise temperatures throughout the holding process.
Our companion food warmer holding cabinets are easy to operate with adjustable, electronic temperature controls. Includes adjustable thermostat and holding temperature gauge to monitor inside air temperature and clear, easy-to-read LED display.
Visually appealing with an attractive, front-of-house design to entice customers. Choose from a flat or curved glass door and three different color choices.
Stack this commercial food holding cabinet with an identical holding cabinet or AR-7E matching rotisserie oven to maximize space.
Pass-through option available to allows access to the holding cabinet chamber from both sides for easy restocking and grab-and-go convenience.
Made in the USA with a commitment to quality.
AR-7H Product Details
Capacity
60 lbs (27 kg) maximum
Chicken Boats
Up to 24 (6 per shelf)
Dimensions H x W x D
40-1/2"" x 38-1/8" x 32-1/16"
(1028mm x 968mm x 814mm)
Support
At Alto-Shaam we understand that the oven is the centerpiece of any kitchen.
That's why we're relentlessly driven to design and manufacture products that perform flawlessly in the most demanding conditions to give operators confidence and consistency in every meal. And our team is just as committed to providing industry-leading service and support. From installation consultation to equipment training to around the clock, every day technical assistance to culinary support and service video instruction — you can trust that we are here for you.
Halo Heat Technology®
Experience better food quality and higher yields with Halo Heat® technology. Unlike traditional heated holding or low temperature cooking technologies, temperatures created by Halo Heat technology don't fluctuate to extremes. This gentle, radiant heat evenly surrounds food without the use of extremely hot elements, added humidity or fans.