Alto-Shaam
Alto-Shaam Boosts National Accounts Support
Further enhancing its support for key national accounts, Alto-Shaam has made two high-ranking appointments to the team.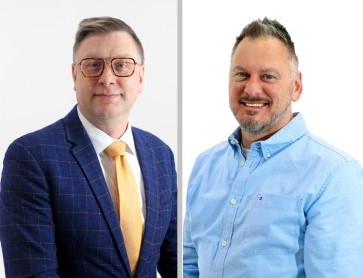 Further enhancing its support for key national accounts, Alto-Shaam has made two high-ranking appointments to the team.
Ben Leingang has been promoted to Director of National Accounts and will be responsible for continuing to develop and grow relationships with key domestic national accounts, ensuring year over year growth targets continue to be achieved. Ben joined Alto-Shaam in 2019 as a Corporate Executive Chef before being promoted to Associate Director of National Accounts in 2021, with a key focus of growing accounts within the c-store and supermarket segments.
"Since joining the business in 2019, Ben has excelled, consistently demonstrating his passion for supporting our customers and helping them to succeed and achieve their goals," said Brian Newland, Alto-Shaam's Senior Vice President of National Accounts.
Also joining the team, Joe Arvin has been appointed as Director of Business and Culinary Development, National Accounts. Joe will similarly be responsible for supporting and serving key national customers, with a primary focus on the development and generation of new national and regional customers, and forging relationships to help the business achieve its new business targets.
A multi-award-winning chef, Joe has more than 20 years' experience working in the foodservice industry. Prior to joining Alto-Shaam, Joe spent five years at a kitchen equipment manufacturer working as a Global Corporate Chef and National Account Manager. Back in 2012, Joe appeared on the hit CBS show, Big Brother, and was featured as a chef on Cutthroat Kitchen and various other culinary television shows.
"Joe is well known for his abilities as a chef and has been recognized for his flair and classic style of cooking," Brian continues. "And throughout his career, he has also proven his ability to build strong and lasting customer relationships, culminating in him consistently meeting new business sales targets and objectives.
"I'm pleased to welcome Joe to the team, says Brian and look forward to working closely with both him and Ben, as we continue to strive to deliver the very highest levels of service, support and expertise to our customers."
Alto-Shaam has a full team of culinary, sales and technical service experts ready to help operators accomplish their foodservice goals. To learn more, contact an Alto-Shaam expert.
Talk to an Expert