Alto-Shaam
Excel Kitchen to showcase Alto-Shaam Converge® Multi-Cook Oven at GulfHost
United Arab Emirates distributor, Excel Kitchen, will showcase Alto-Shaam's latest innovation, Converge® Multi-Cook Ovens, at GulfHost 2022.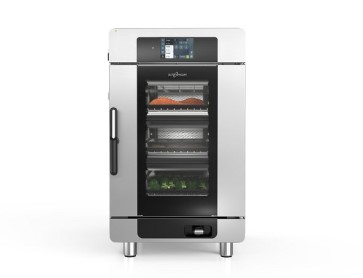 (Booth Z2-A3 – GulfHost, 8-10 November 2022) – Excel Kitchen, a market-leading distributor of quality commercial kitchen equipment in the United Arab Emirates, will showcase Alto-Shaam's latest innovation in the multi-cook category, Converge® Multi-Cook Ovens at GulfHost 2022.
GulfHost is one of the Middle East and North Africa's largest and most influential exhibitions, attracting senior decision makers and leaders from throughout the hospitality industry. Excel Kitchen will use the event to showcase Alto-Shaam's new Converge Multi-Cook Ovens and will be joined by Alto-Shaam experts and chefs for live on-stand cooking demonstrations throughout the show.
Pairing the power of its pioneering Structured Air Technology® that delivers vertical air for precise and consistent cooking, with controlled humidity, Converge Multi-Cook Ovens provide expanded menu potential in the smallest footprint. With up to three independent chambers in a ventless space, operators can now steam, bake, grill and air fry food items at the exact same time, in the same oven, without sacrificing quality and with zero flavor transfer.
"Converge is unlike anything that has come before in the industry, allowing operators to achieve even more menu variety with one piece of equipment," said Gabriel Estrella Talentti, Alto-Shaam Director for the Middle East and Africa (MEA). "Our Alto-Shaam team is excited to join Excel Kitchen, as we demonstrate the oven for the first time publicly in the region during GulfHost."
GulfHost 2022 will take place between 8-10 November at the Dubai World Trade Centre. To learn more about Alto-Shaam equipment, schedule a demonstration or to speak to an equipment expert please visit: www.alto-shaam.com.