Alto-Shaam
How Alto-Shaam Can Help With Your Culinary Needs
Explore how Alto-Shaam's culinary team can help with menu development, operational needs and more through free, ongoing education and customized consultation.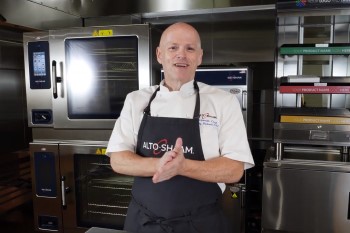 Building relationships with our customers has always been the cornerstone of the Alto-Shaam people-first philosophy. We don't treat you as a one-time sale—once you turn to us for your culinary equipment, you become an integral part of the Alto-Shaam family.
You could rely on several providers to equip your kitchen with the latest technology. So why trust Alto-Shaam? Here's how we remain committed to guiding you through choosing the best solution for your needs.
Access to Professional Guidance
No matter your background, our team of professional chefs has the knowledge and expertise to guide you. With over 100 years of combined experience in industries like hospitality, foodservice, and fine dining, our chefs are available to help around the clock. We've all weathered industry shifts and tough competition, and we are eager to share our insights to help you survive, and even thrive, in the foodservice industry.
Whether you need to perfect a recipe or shift your business model, our culinary team is here to assist in identifying solutions for issues related to space, labor, operational and food costs, food consistency, and other areas of concern.
Advanced Equipment Knowledge
As a recognized leader and innovator in the global foodservice equipment industry, we empower you through education to ensure your success. Personalized, virtual product consultations and demonstrations are available throughout the year. We remain committed to helping you make the right purchasing decision for your latest venture or expansion.
Would you like personalized virtual training or a demonstration? Our culinary team provides vital educational support, so you and your staff can excel with our exclusive products from day one. We're here as a resource before, during, and after your purchase so you can execute your menu without the guesswork.
Cutting-Edge Technology
Whether you're managing food programs or running a restaurant, our top-of-the-line kitchen technology will streamline your processes and decrease cooking times. Our versatile commercial Prodigi™ combi ovens provide efficient and consistent food production, doing the work of a convection oven, kettle, steamer, fryer, smoker, and more.
As the inventor of the Cook & Hold oven, which produces higher yields with top-notch food quality, our Halo Heat® technology evenly surrounds food without the use of extremely hot elements, added humidity or fans, leaving food full of moisture and flavor and resulting in higher yields.
Additionally, Vector® Multi-Cook ovens offer up to four ovens in one—each chamber with independent temperature, fan speed and cook time control. Cook up to four different food items simultaneously with no flavor transfer for an unmatched volume and variety of food. The secret to more food, more often, with the highest quality lies in exclusive Structured Air Technology®.
Contact our chefs today to learn more about our equipment solutions and how we can make a difference for your restaurant or foodservice operation.
Contact Our Chefs