Alto-Shaam
How to Set Up a Restaurant Delivery Service
Restaurants are creating new ways to serve customers by expanding delivery services. Read our guide for how to start a restaurant delivery program.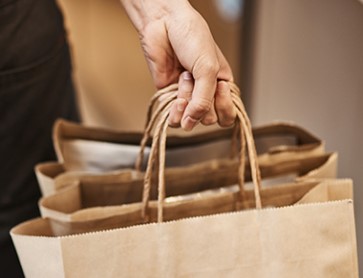 Delivery service has accelerated across all food industry segments. In the past several years, capacity and service restrictions sparked operators to innovate new ways of serving their customers, including family-style meals and curbside pickup options.
The increased demand for takeaway food has presented new challenges for restaurants that want to keep food quality high and wait times low. In this guide, we share solutions for how to start a food delivery program. We also offer tips for keeping delivery food hot to be enjoyed the way it was intended. With a full system in place, operators can maximize profits while ensuring the highest food quality.
Why Should Your Restaurant Offer Delivery Services?
The food delivery boom is a fast-growing global trend, and this phenomenon isn't slowing down any time soon. There are many financial benefits of food delivery. The food delivery market is expected to reach $250 billion by 2028, making delivery a vital way to stay competitive. While in the past, a larger store size enticed more customers, the addition of delivery services will provide supplemental income without paying more rent for extra floor space. Making your food available for delivery also expands your customer base digitally.
Necessary Kitchen Equipment for Optimal Delivery Service
Creating a designated space for food production is essential to optimizing your delivery service operation. This allotted area will enable your delivery staff to work independently of the dine-in staff without creating confusion and getting in each other's way. Ventless cooking equipment, like multi-cook ovens, offer versatility and an innovative design.
Vector® multi-cook ovens provide up to four ovens in one, allowing your staff to cook multiple food items at once with no flavor transfer. Ventless and waterless, these ovens can be placed anywhere without added costs associated with plumbing, drains, filtration, or associated maintenance.
Converge® multi-cook ovens offer up to three independent combis in one. The addition of water adds the ability to steam and self-clean, saving operators time and effort that can be allocated towards other tasks.
With multi-cook ovens, you won't have to skimp on food quality in efforts to boost efficiency. Multi-cook ovens are equipped with exclusive Structured Air Technology® that provides independent temperature, fan speed, and cook time control in each chamber to ensure that each food item is cooked to perfection.
Holding Solutions to Achieve the Optimal Delivery Temperature
Cooking food to perfection is just the foundation of a successful delivery program. As the minutes tick away while waiting for the driver, a lack of quality holding equipment can result in the degradation of food quality. Gentle, radiant holding solutions are designed to help maintain food quality and integrity, so that it is delivered as intended at its optimal temperature.
Alto-Shaam holding equipment with Halo Heat® technology is designed to make time stand still in terms of product quality. Unlike traditional heated holding or low temperature cooking technologies, temperatures created by Halo Heat technology don't fluctuate to extremes. Precision, low-temperature heat leaves food full of moisture and flavor. So once items are perfectly cooked, they stay perfectly cooked. Alto-Shaam holding solutions include mobile or stationary heated holding cabinets, as well as countertop or floor-standing heated shelf merchandisers with individual shelf control to ensure every meal is hot and ready for pick up.
Full System of Solutions and Support
Alto-Shaam equipment solutions are designed to provide a higher return on investment, setting your food delivery program up for profitable success. Our full packages of commercial foodservice equipment are backed by unmatched service, training and support to help you deliver high-quality food to customers every single day.
Alto-Shaam's team of culinary experts that are here to help you navigate shifting takeout and delivery needs. Contact us today for additional resources and support.
Contact Our Chefs