Cabana Winery & Bistro
Cabana Winery & Bistro Expands Menu with Cook & Hold Oven
Space in this small kitchen was limited and city regulations made menu expansion near impossible. With a Cook & Hold oven from Alto-Shaam, this winery was able to start offering dinner on its menu.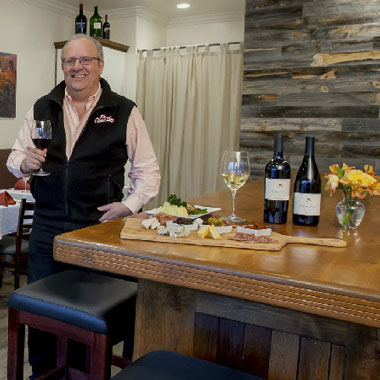 Cabana Winery & Bistro opened in Sacramento in March 2014 as an urban winery featuring its award-winning wines. A spot for customers to relax with friends and discover a different wine with each visit, the bistro offered a winery experience in the heart of East Sacramento.
But owner Robert Smerling had a dilemma: how could he serve dinners to his guests? Only 28 guests could be served inside the small Sacramento restaurant, but 140 people could be seated outdoors. However, strict city regulations for the small, 700-square-foot restaurant left Robert wondering how he would provide meals to hungry customers. With a 100-square-foot kitchen, city laws prohibited the use of an overhead hood or cooking above 325 degrees.
"We wanted to be able to offer lunch and dinner," Robert said. "People come in to drink wine and they get hungry. Why should they have to leave?"
Robert opened Cabana Winery & Bistro in Sacramento less than six months ago, but he's been in the winemaking business for more than 23 years. After working in the Sierra foothills for 17 years making Zinfandel, Robert's daughters convinced him to open up an urban winery with a mission to offer affordable, great-tasting wines from around the world. After owning Cabana Wines for a few years, Robert saw an opportunity to open up a bistro across the street, bringing together Robert's love for wine and delicious, locally sourced food.
Robert wanted to go beyond appetizers and offer a full menu to his customers; however space was a concern. The restaurant's interior seats 28 people, 12 of which are at the bar. The outdoor patio seats 40 in the front and 100 in the back. Robert and his chef had to work intelligently to create a menu that would fit within their space limitations. Robert went to a foodservice tradeshow looking for a solution that would fit within his small footprint. Prior to attending the show, Robert thought his menu options would be limited until learning about Alto-Shaam's Cook & Hold ovens, specifically the 300-TH/III, which is the smallest oven available in the cooking equipment industry. It opened up a whole new range of menu possibilities for Cabana Winery and Bistro.
"Space in our kitchen is a huge issue," Robert said. "When we saw the Alto-Shaam Cook & Hold, it opened up more possibilities and was everything we wanted in an oven."
The restaurant offers an extensive menu including a line of special entrees that change weekly, all of which is made using the Alto-Shaam oven. The oven has cooked everything from chicken skewers to pastitsio. The oven also bakes a wide range of desserts in Cabana's Cook & Hold 300-TH/III.
"The Alto-Shaam is the key to our entrees," Robert said. "Without it, we wouldn't be able to offer such an extensive menu list. It really has set us apart from other wineries."
Founded in 1956, Alto-Shaam is the inventor of the original Cook & Hold oven that revolutionized low-heat cooking and the commercial cooking industry. With no flavor carryover, reduced energy consumption and no exterior ventilation needed, the Cook & Hold can work all day, every day, with maximum efficiency. It's versatile too; options include cooking, roasting, baking, braising, smoking and drying.
The Cook & Hold 300-TH/III oven that is used at Cabana measures only 17 inches wide by 24 inches deep, with a height just below 19 inches. It's designed for restaurant and bistro operations with tight counter space and à la carte menus. Because the Cook & Hold 300-TH/III oven does not need a hood, the oven fits under Cabana's pots and pans sink.
While the oven is small, it can cook up to 36 pounds of food at a time. The oven holds three full-sized Gastronorm pans and automatically switches from cook to hold. Using the Cook & Hold overnight allows one prep job to be completed before restaurant staff comes into work the next day. The Cook & Hold oven also features eight easy-to-use programmable menu buttons that permanently store favorite recipes
"The programmable menu on the Alto-Shaam oven acts as an assistant to our chef," Robert said. "It takes out any guesswork and allows him to consistently prepare food perfectly."
The Halo Heat® technology sets the Cook & Hold ovens apart from other products in the industry. Since temperatures are hotter at the top in gas ovens, food requires rotation and placement farther from the heat source, diminishing results. The soft, gentle Halo Heat holds food at the perfect temperature for hours and hours, eliminating waste from overcooked food. Also, unlike gas ovens, Halo Heat provides the humid heat required for effectively roasting the meat served at Cabana Winery and Bistro.
Although it's a winery first and foremost, Cabana Winery and Bistro serves more than 250 dinners a week, most of which comes out their Alto-Shaam Cook & Hold 300-TH/III oven. Robert needed an oven that had features that would fit within the restaurant's needs. In addition to its size and cooking ability, the oven's superior insulation gives off no extra heat, making it comfortable to cook in their small kitchen. Also, the integrated probe has been ideal for cooking with precision in the oven.
"I had no idea how good the Alto-Shaam Cook & Hold oven was until we got it to the restaurant," Robert said. "It has gone beyond my expectations."