AR-7T Self-Cleaning Countertop Rotisserie Oven
The AR-7T self-cleaning rotisserie oven provides the rock-solid performance you expect and the labor-saving technology you need to increase profits. Boost impulse sales and maximize food presentation during the cooking process. An attractive, slim and stackable oven design and illuminated interior provides a theater effect to highlight food. Reduce labor costs and increase safety with self-cleaning oven design and automatic grease collection.

SEE WHAT SETS OUR COUNTERTOP ROTISSERIE OVEN ABOVE THE REST
Automatic, self-cleaning rotisserie oven system uses patent-pending water-jet design to produce an oven cleaning cycle that handles the toughest grease conditions while using 35% less water than competitive models. Improve reliability with no moving parts in the self-cleaning oven system. Choose from hands-free liquid soap injection or tablet-style rotisserie oven cleaning options.
Built-in, automatic grease collection system activates during the cooking process, pumping grease into separate collection containers for safe handling and disposal. Reduce labor and maintenance costs, improve employee safety and decrease oven downtime due to grease buildup.
Dual heating sources combine high-velocity convection and radiant heat technology to cook food in half the time of the competitive commercial rotisserie oven models.
Perfect crispiness and even browning with flexibility to choose from seven browning levels that can be programmed into recipes to produce your ideal finish.
Expand food service menus with accessory baskets and various skewers that easily slide into place to cook pork loin, turkey breast, meatloaf, ribs, vegetables and more in your industrial rotisserie oven.
Boost impulse sales and maximize food presentation during the cooking process. Attractive design and illuminated rotisserie oven interior provides a theater effect to highlight food.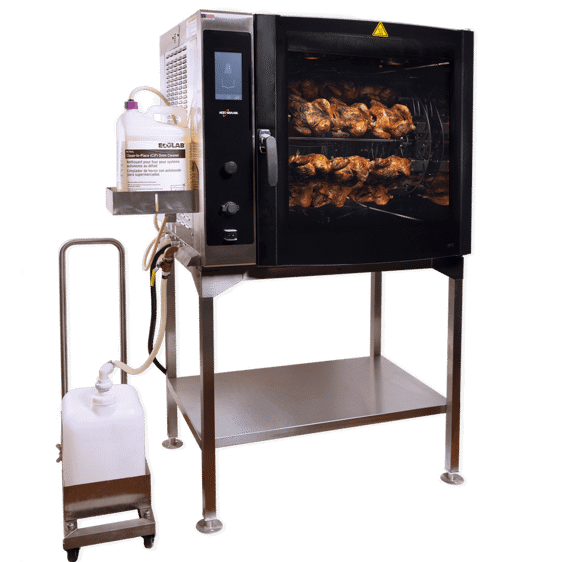 AR-7T SELF-CLEANING ROTISSERIE OVEN KEY FEATURES
- 20% less energy usage compared to competitive commercial rotisserie oven models. A sealed cooking chamber and solid, stainless steel back helps prevent heat loss.
- Enhanced control over product finish with cook and holding modes. The controls automatically switch to hold mode once the cooking cycle is completed, allowing the food to remain on display. Temperature-dropping hold mode further reduces energy consumption.
- Ensure consistent results with one-touch cooking and touchscreen programmable controls. Multi-level cooking with preheat, cook, hold and cool down stages. Create and store preprogrammed recipes with up to four stages each. USB port provides easy recipe upload and download.
- Front-of-the-house, slim, countertop rotisserie oven design with a small footprint.
- Designed for your operation to load and unload product as needed. Electric rotisserie oven models are available in reach-in and pass-through configurations.
- Maximize production and floor space with stacking options. Place the countertop rotisserie oven independently on a stand or counter. Our stackable rotisserie ovens can also be double-stacked or paired with a companion holding cabinet.
- Cool to the touch, double-pane glass door available with flat or curved glass.
- Customizable branding available. Select a standard stainless steel exterior or choose from a custom color palette to match décor.
- Made in the USA with a commitment to quality.
AR-7T Product Details
Capacity
Angled Spits:
Up to (21) 3-1/2 lb chickens (1,6 kg)
Up to (28) 2-1/2 to 3 lb chickens (1,1 to 1,4 kg)
Oven Capacity: 7 spits
Large Angled Spits (Optional):
Up to (8) 6 lb chichens (3, 6 kg)
Oven Capacity: 4 spits
Piercing Spits (Optional):
Up to (28) 2-1/2 to 3-1/2 lb chickens (1,1 to 1,6 kg)
Oven Capacity: 7 spits
Turkey Spit (Optional):
One (1) Turkey up to 20 lb (8, 2 kg) on each spit
Oven Capacity: 3 spits
Baskets (Optional):
Up to 10 lbs of product per basket (4, 5 kg)
Oven Capacity: 7 baskets
Dimensions H x W x D
40-5/8" x 43-3/4" x 32-1/4"
(1032mm x 1113mm x 818mm)
AR-7T Rotisserie Oven: Product Feature
Labor savings and safety made easy. The new self-cleaning rotisserie oven with automatic grease collection from Alto-Shaam puts performance on display. Turn more product and profit, reduce labor costs and maximize return on investment.
Support
At Alto-Shaam we understand that the oven is the centerpiece of any kitchen.
That's why we're relentlessly driven to design and manufacture products that perform flawlessly in the most demanding conditions to give operators confidence and consistency in every meal. And our team is just as committed to providing industry-leading service and support. From installation consultation to equipment training to around the clock, every day technical assistance to culinary support and service video instruction — you can trust that we are here for you.
AR-7T Rotisserie Oven Service Videos - For Alto-Shaam Authorized Service Agents Only
Declarations & Safety Data Sheets