Alto-Shaam
New Prodigi™ Combination Ovens Debut at NAFEM
Alto-Shaam debuts its latest groundbreaking equipment innovations the North American Association of Food Equipment Manufacturers (NAFEM) Show.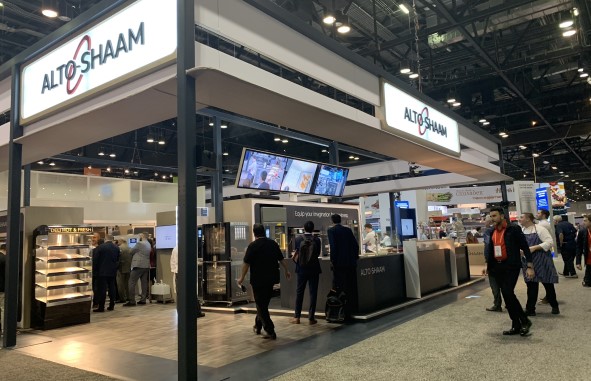 For the first time at the NAFEM Show, Alto-Shaam will introduce its latest innovation in the combination oven category, Prodigi™ at booth #2803.
Prodigi combi ovens are engineered to help operators succeed by delivering real savings on labor and space, as well as cutting operating and food costs. Combining multiple cooking functions in a single appliance, Prodigi allow operators to bake, steam, fry, smoke and more to help execute any dish, however simple or complex, with the highest quality precision and consistency every time.
The new ovens feature advanced controls and are designed to be simple to use – requiring little or no operator training and can be managed remotely through Alto-Shaam's cloud-based remote oven management system, ChefLinc™. Equipped with an intuitive dashboard, ChefLinc allows operators to create, manage and distribute recipes to ovens through the cloud, providing foodservice operators control of their equipment, menus and business from wherever they are, as well as labor savings. Thanks to Alto-Shaam's boilerless design, Prodigi™ ovens result in 80% less water usage and no maintenance, to deliver superior performance and lower operating costs.
"As the first major industry tradeshow of the year, we are looking forward to meeting with our customers at NAFEM and delivering an engaging experience with our complete kitchen solutions," says Jeff McMahon, Senior Director of Product Management at Alto-Shaam.
"We are excited to showcase our new Prodigi™ combi ovens for the first time, another example of our continuous focus on creating quality and innovative solutions that meet the needs of our customers, and demonstrating how it can deliver true labor, space and cost savings."
Throughout the show, Alto-Shaam chefs will also demonstrate its complete systems of cooking equipment solutions. Another innovation new to the NAFEM show floor will be Alto-Shaam's latest Converge® multi-cook ovens, which provide up to three independent ovens in one. By pairing controlled humidity and the patented vertical air flow of Structured Air Technology®, Converge multi-cook ovens allow operators to steam, bake, grill, and air fry at the exact same time, in the same oven, without sacrificing quality.
In addition to Alto-Shaam's culinary team, nationally renowned guest chefs will also be cooking live. Charlie the Butcher, one of Alto-Shaam's longest customers, will prepare and serve his famous "Beef on Weck" sandwiches.
To learn more about Alto-Shaam's complete system of solutions, explore our product page.
Learn more