---
ChefLinc™ Remote Oven Management
Empower your menu and your business with data-driven insights from ChefLinc. This cloud-based remote oven and cooking management system features an easy-to-use dashboard for operators to seamlessly push and pull recipes, view oven status, collect and store data, receive detailed service diagnostics and more. Click HERE for additional details, connectivity requirements and FAQs when using ChefLinc.
Multi-Cook Ovens, Cook & Hold Ovens, Cook & Hold Smoker Ovens, Combi Ovens
See what sets us above the rest
Intentionally simple design. Easily navigate the remote oven management dashboard with icons, descriptions, pictures and filtering. An overview homepage allows operators to view locations, units and any alerts. Admin, unit settings, recipe library, reports and locations pages are also intuitive to operate.
Reliable data. Our remote kitchen management system allows you to effortlessly record, monitor and store operational and cooking data to improve kitchen efficiency and maximize profits. Eight detailed reports provide data-driven insights that can be integrated with existing business systems for a truly connected foodservice operation.
Connected insights. View real-time connectivity status, cooking state, HACCP data, service alerts and more from any location. Stay connected with the ability to email selected alerts to a customized list or service provider outside of ChefLinc software.
Effortless recipe management. Create, manage and push recipes, regional menus, limited-time offers and more with a centralized recipe library. Reduce variables for error and ensure consistency across multiple locations. Eliminate the need to transfer and upload recipes via USB or program recipes manually onto ovens.
Consistent settings. Streamline oven management with the ability to categorize and group ovens by location, menu or any other factor. Push specific settings to oven groups such as brightness, volume, preheat settings, language and more.
Next-level service. Understand alerts, minimize oven downtime and reduce service calls with real-time service diagnostics, detailed alert codes and comprehensive action steps. Ensure ovens are operating properly from anywhere with updated oven software automatically pushed to ovens. Eliminate second-guessing and the need to manually upload and download software via USB. Receive accurate, reliable service support with reports and dashboard mirroring.
---
ChefLinc: Cloud-Based Oven Management
Watch the video to learn from our product experts and chefs how you can utilize the latest cloud-based, remote oven management technology to improve productivity and efficiency, while maximizing food quality. In this video, our team will demonstrate how ChefLinc™ empowers your menu and business with data-driven insights. This remote oven management system features an easy-to-use dashboard to seamlessly push and pull recipes from anywhere you are.
Vector Multi-Cook Ovens, Cook & Hold Ovens, Cook & Hold Smoker Ovens, Combi Ovens
Support
At Alto-Shaam we understand that the oven is the centerpiece of any kitchen.
That's why we're relentlessly driven to design and manufacture products that perform flawlessly in the most demanding conditions to give operators confidence and consistency in every meal. And our team is just as committed to providing industry-leading service and support. From installation consultation to equipment training to around the clock, every day technical assistance to culinary support and service video instruction — you can trust that we are here for you.
---
VALUE-ADDED REPORTS
Total Completed Cooks
Unit Recipes
Unit Status
Cancelled Cooks
Wi-Fi Signal Strength
Power Cycles
Alert History
Control Board Temperature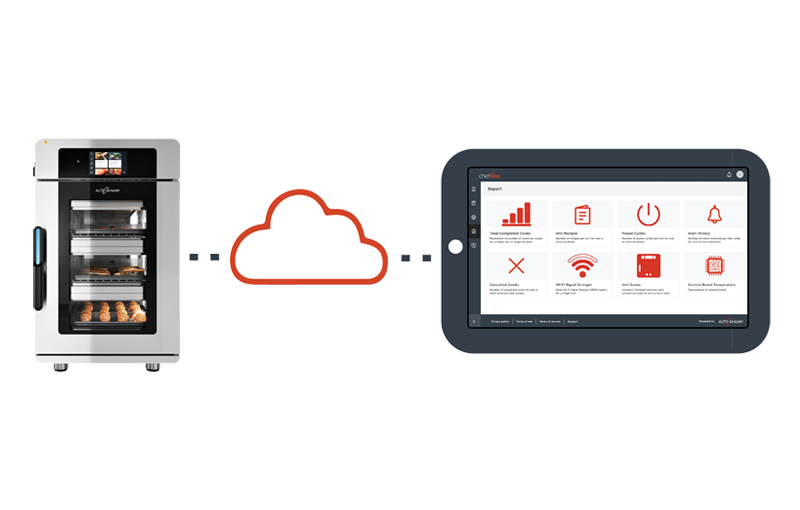 ---
Mobile View
ChefLinc™ mobile view is designed to provide operators with a mobile optimized, easily-digested view of their locations and related oven data. This view provides detailed information at a higher level for operators looking for a snapshot of key data on smaller screens.
Information available in the mobile-optimized view includes: locations and connection, oven status (operating mode, recipe, chamber temperature, etc.), HACCP data, open oven alerts and software versions.