Golfzon Social
GolfZon Social Gets a "Hole in One" on Consistency and Quality with Vector® Multi-Cook Ovens
Pairing good food with a social experience makes any outing one worth talking about. Discover how Golfzon Social built their new kitchen around one oven while executing various craveable menu items.
Dining out is nothing without an experience. Whether it be indulging on a city rooftop bar or sharing delectable dishes with friends while axe throwing, pairing a thrilling experience with a high-quality meal rounds out any social occasion.
Golfzon Social is the newest venue in eatertainment, focused on the overall golf experience. The newly opened locations in Palisades and Scarsdale, N.Y., welcomes players of all skill levels to level up their golf game by playing on the most technologically advanced indoor golf simulator while enjoying shareable, sports-bar-like food. Their curated menu offerings feature familiar food items with a chef's twist, including air fried wings, quesadillas, roasted sandwiches, fresh baked cookies, and more.
To make this possible, Ed Doyle, President of RealFood Hospitality, Strategy & Design and Senior Vice President of Troon Food and Beverage, knew the kitchen design needed equipment built around consistency and quality to combat many of today's foodservice challenges. Whether it be staffing issues, inconsistencies, or speed of service, Doyle knew that Alto-Shaam's Vector® multi-cook ovens could support Golfzon Social's kitchens and ensure the best food and beverage experience.
"We have built the entire food concept around that oven, from production, to prep, to finishing… it is the singular solution. It is the only cooking element in this entire kitchen," Doyle said.
The Vector has been the backbone to Golfzon Social's strategic solution that aligns with their rapid growth plan. Knowing they were going to a multi-unit location, they knew that the efficiency and flexibility of a ventless and waterless oven would help with kitchen layout, whether it be in high-rise, basement, or mixed-use locations.
"We immediately suggested pivoting to a ventless solution because of the desire to be able to roll this out quickly, have more real estate flexibility, and offset the operational challenges," Doyle said.
Vector multi-cook ovens eliminate the need for microwave and speed ovens, grills, conveyors, salamanders, and more, to produce unmatched food volume and variety in any space. Structured Air Technology® provides superior cooking evenness and food quality with no food degradation or hot or cold spots. Golfzon Social can cook up to four different food items simultaneously and cook twice as much food in the same amount of time as traditional ovens – with zero flavor transfer between shelves.
In alignment with the challenges in today's food service industry, the Vector has helped Golfzon Social become a fully electric kitchen to address electrification trends. Vector has also alleviated labor challenges by greatly improving training ability and driving productivity. This, in part, is due to having ChefLinc™. This cloud-based, remote oven management system gives operators control of their menu and business with data-driven insights. Seamlessly push and pull recipes, view oven status, collect and store data, and more, from any location at any time.
For Doyle, the efficiency of being able to log in, create, and edit existing recipes via the cloud has significantly helped combat the labor challenge. He can ensure that operators at each location can consistently cook the food the same way, every time – they set the controls and set up all the programs. Now, new hires can walk in and immediately start cooking with little training.
"To have them be able to perfectly cook a flatbread day one because of the way we built the menu and have the technology to back it up dramatically reduces the cost of training a new employee," said Doyle.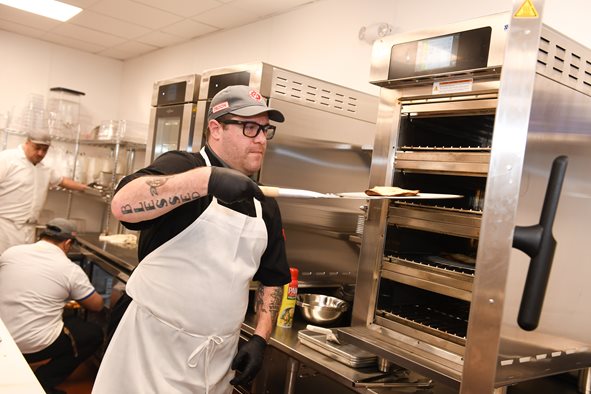 Additionally, with staff being able to cook 12 different foods simultaneously across all three of their four-shelf ovens, they know they're going to have a more elastic labor model.
"What we've been able to do is decouple labor and sales," Doyle explained, "Sales will go up and labor doesn't need to go up because of the way that the Vector cooking technology lets staff do more with less."
By starting with a technological solution, Golfzon Social has been able to execute at the level and speed needed for their consistent operating model. After only their first two days being opened, they have received over 120 five-star reviews around the food and atmosphere.
"It was a perfect combination from the products that we put into the oven, to the ingredients that we selected, to the flatbread dough we chose," Doyle said, "I've never opened a restaurant that was executing at the level that we wanted to as fast as this one, and that is singularly because of the solution that the Vector oven can provide."
Interested in how a Vector multi-cook oven can be tailored to your operations? Contact one of our experts or register for a personalized A Taste of Alto-Shaam demonstration near you.
Talk to an Expert