Saz's Hospitality Group
Saz's Hospitality Serves Thousands with Cook-Chill System
Saz's Hospitality Group, a multidivisional foodservice operation in Milwaukee, doubled their food production while remaining in the same kitchen with the addition of their Cook-Chill System from Alto-Shaam.
Since the 1970s, Saz's has been a staple in the Milwaukee community. First opening up as a bar on State Street, Saz's quickly expanded to a multidivisional foodservice operation, including catering, festivals, retail, and full-service restaurants.
As demand gradually increased, the amount of space available to fulfill orders remained the same, causing limitations to the production line. This left Casey Sazama-Schneck, director of operations at Saz's Hospitality Group, searching for a solution that didn't require relocating.
"We were working in a building that had very limited space, which we were not able to expand," Sazama-Schneck said. "So, we met with Alto-Shaam who had the Cook-Chill System. And it turned out to be a really good fit, since we were able to double production with the same amount of space."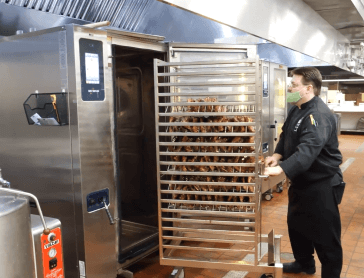 The addition of Alto-Shaam's Cook-Chill System allowed for Saz's catering facility to serve every off-site property with the consistent taste and quality of Saz's products, without having to move locations or expand the size of the kitchen.
Using their completely integrated system with roll-in racks, Saz's Hospitality Group now has the ability to support the menu needs for all of their off-site locations from their central catering hub. Saz's utilizes their complete system of Alto-Shaam products to prepare their most notable menu items such as baby back ribs, BBQ pulled-pork, and smoked beef brisket.
The cook-chill process involves preparing food in bulk with combi ovens, then rapidly chilling it with QuickChiller™ blast chillers until refreshing and holding for service with their Combimate Holding Cabinets with Halo Heat® technology.
The production process extends the shelf life of Saz's products, which allows for more catering opportunities. Saz's has also been able to maximize menu consistency, streamline production, and cut down on operating costs across locations.
"There's times that the ovens will run 24 hours a day for seven days in a row." Sazama-Schneck said. "The reliability of the Cook-Chill System has been great. We are very proud and excited to say we work with Alto-Shaam, and we love having this equipment in our building."
For more information, check out our product page to learn more about combi ovens and how they can make the perfect fit.
Learn more