Virtual Chef Hall
Virtual Chef Hall Boosts Ghost Kitchen Efficiency with Ventless Oven
Renowned chefs introduce a ghost kitchen, Virtual Chef Hall, which serves seven different food concepts using a single Vector® H Series Multi-Cook Oven.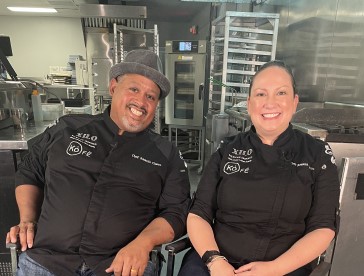 After entering the national spotlight for their appearance on Beat Bobby Flay, Chefs Rosana and Ricardo returned home ready to expand their foodservice businesses.
"We started developing our own ghost kitchen in the background, while also operating our other businesses," said Chef Rosana, who made history as the first Latina woman to Beat Bobby Flay on the Food Network. "We felt it was a direction that the industry was pushing forward to."
Chefs Rosana and Ricardo operated three top-selling food stands inside The Hall on Franklin—Xilo Street Mexican, Kofe and Chef & the Baker. Xilo was especially known for its flavorful variety of traditional Mexican dishes. A single Vector® H Series Multi-Cook Oven met all of their menu needs in 200 square feet of space without a traditional ventilation hood.
Then, the pandemic hit, forcing the food hall to ultimately close.
The timing of their ghost kitchen concept, Virtual Chef Hall, was serendipitous. Pivoting their food stand concepts, Chefs Rosana and Ricardo set up operations at a former catering kitchen in Pinellas Industrial Park, 20 minutes outside of Tampa.
"The benefit of being just outside of Tampa is that we are within distance for all of the third-party delivery services, while also having the benefit of less overhead and rent costs," Chef Ricardo said.
Today, the ghost kitchen operates four different virtual brands, in addition to wholesale, catering and private events divisions. Building on the success of the flexible cooking applications they used in the food hall, Chefs Rosana and Ricardo utilize their Vector oven to boost the ghost kitchens' efficiency.
Unmatched Volume & Variety
Virtual Chef Hall produces 95% of its food items for all seven concepts using one Vector oven and three employees. The menu applications they achieve with their Vector ovens are expansive, including bakery items, breakfast food, Mexican dishes and crispy chicken. Each Vector oven cooks up to four different food items simultaneously, with zero flavor transfer.
Virtual Chef Hall also hosts in-person private events using their Vector ovens, providing a full-course experience for those who want a more intimate fine-dining experience. Running a self-proclaimed "underground restaurant," Chef Ricardo and two employees host groups of anywhere up to 10 customers.
"What we have learned through this experience is that you have to make yourself resourceful and think outside the box," Chef Ricardo said. "We are always innovating and try to push the envelope with Vector however we can, because we know it has the capability to do so much and the quality of the food is so outstanding."
To learn more about Vector H Series Multi-Cook ovens, visit our product page.
Learn more