Converge H2H Multi-Cook Oven
Converge® Multi-Cook Ovens combine the flexibility of a multi-cook oven, power of Structured Air Technology® and versatility of combi cooking in each oven chamber. Increase production capacity without increasing labor. Two independent ovens in one gives you the freedom to steam, air fry, bake, grill and more at the same time without flavor transfer—all in a ventless, self-cleaning design.
Wi-Fi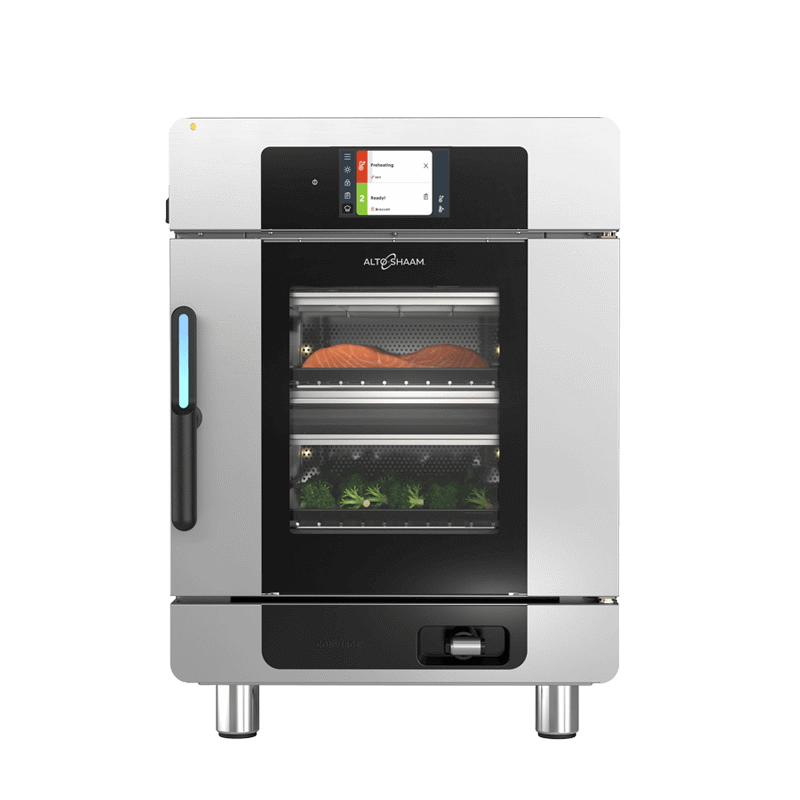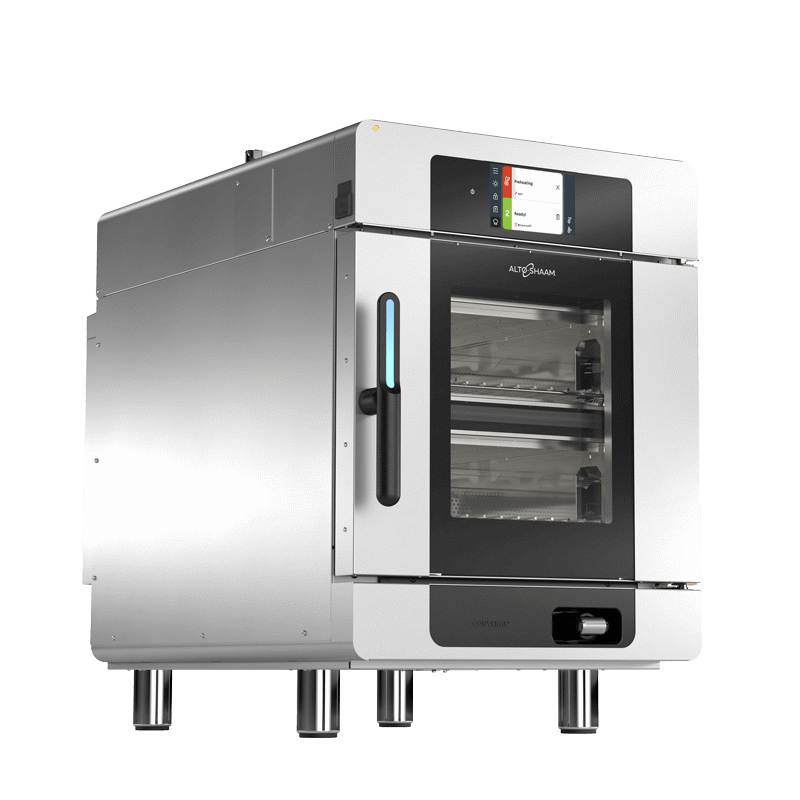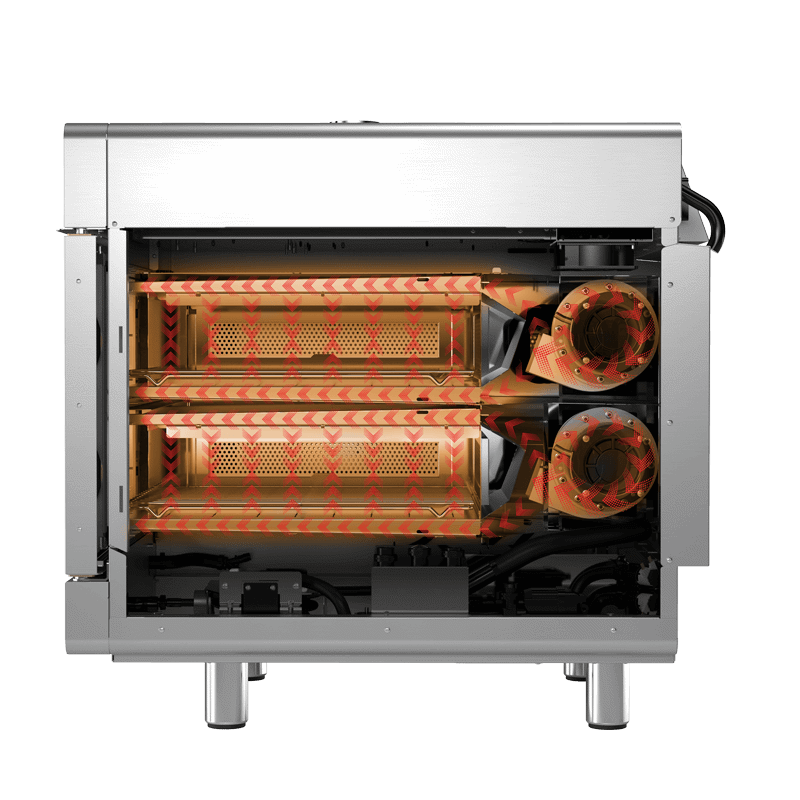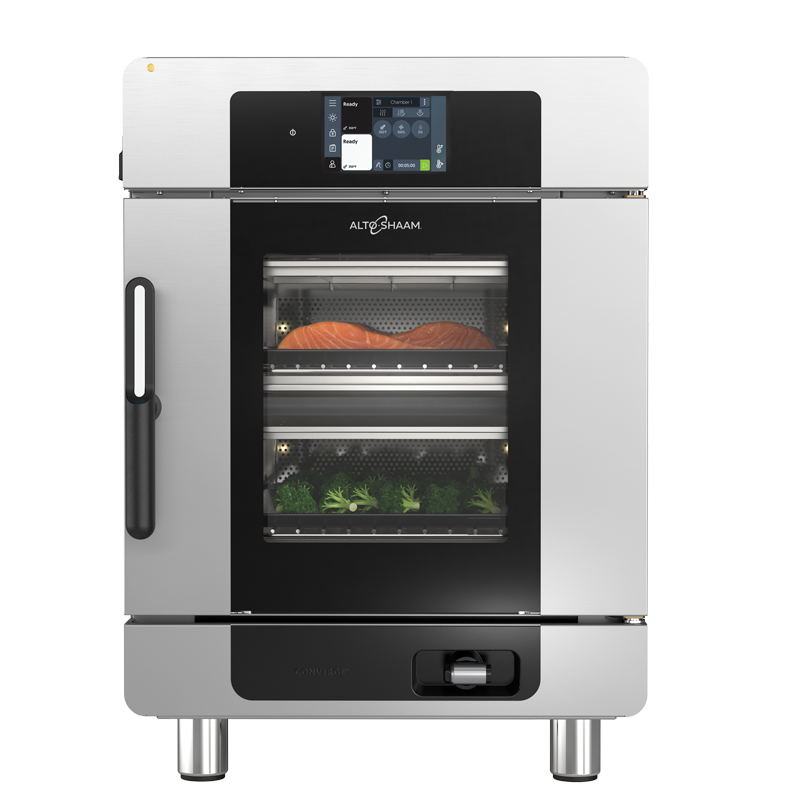 See What Sets us Above the Rest
Unrivaled power and flexibility. Converge Multi-Cook Ovens bring together the flexibility of a multi-cook oven, the power of Structured Air Technology® and the versatility of combi cooking for endless cooking possibilities.
Increase production capacity. Steam, air fry, bake, grill and more all at the same time, in the same oven—without flavor or moisture transfer.
Reduce labor costs. Automatic, self-cleaning design offers four options from "rinse" to "heavy clean" and uses safe, convenient cleaning tablets.
No hood needed. Save space with a compact and ventless 24" (610mm) footprint. Stack to further maximize space.
Improved reliability. Boilerless steam generation in each chamber eliminates required maintenance and costs associated with traditional boiler parts and labor.
Superior consistency. Deliver the same high-quality food every time. Structured Air Technology® provides superior cooking evenness and food quality with vertical air. No food degradation. No hot and cold spots.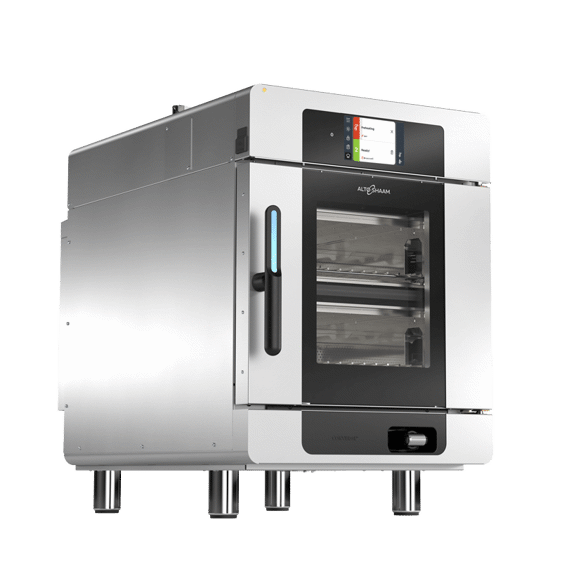 - Control the temperature, fan speed, humidity level and cook time in each individual oven chamber. Cooking applications feature Structured Air Technology, controlled humidity or a combination of both.
- Maximize food quality, texture and yield by selecting any humidity level from 0–100% in each chamber.
- Execute a variety of cooking applications—all at once—with zero flavor transfer.
- Guarantee food items are cooked to precise internal temperatures with removable food probes in each chamber.
- Eliminate the need for employees to watch and rotate pans and the extra labor required to manage the stovetop, oven or grill.
- Advanced control ensures menu consistency and reduces the need for skilled labor with simple touchscreen navigation and multi-step, programmable recipes.
- Push and pull recipes, view real-time oven data, update software and more from anywhere with ChefLinc™ remote oven management system.
- Made in the USA with a commitment to quality.
CMC-H2H Product Details
Capacity
2 Full-Size Hotel Pans (4")
2 Half-Size Sheet Pans
2 GN 1/1 Pans (100mm)
Dimensions H x W x D
38-3/8" x 24-7/16" x 40-1/4"
975mm x 621mm x 1023mm
Converge Multi-Cook Ovens: Product Feature
Discover the power of three independent ovens in one. Bake biscuits, steam vegetables and fry bacon at the same time. Control temperature, fan speed, cook time and humidity level in each independent chamber for premium results. Watch the video to learn more about Converge Multi-Cook Oven technology—and what sets it apart from the rest.
Support
At Alto-Shaam we understand that the oven is the centerpiece of any kitchen.
That's why we're relentlessly driven to design and manufacture products that perform flawlessly in the most demanding conditions to give operators confidence and consistency in every meal. And our team is just as committed to providing industry-leading service and support. From installation consultation to equipment training to around the clock, every day technical assistance to culinary support and service video instruction — you can trust that we are here for you.
---
CONVERGE MULTI-COOK OVEN DEMONSTRATION
Converge ovens can steam, bake, grill and air fry – all at once – without sacrificing quality. Each chamber features individual temperature, humidity and cook time control to execute multiple cooking applications simultaneously. See the cooking power and versatility for yourself!
During our most recent product demonstration, our culinary team put Converge to the test—cooking multiple food items at once with no flavor or moisture transfer. Watch the video to learn more!
---
Structured Air Technology®
The secret to more food, more often with the highest quality lies in Structured Air Technology®. This innovation offers up to four ovens in one – each chamber with independent temperature, fan speed and cook time control. Cook up to four different food items simultaneously with no flavor transfer.
Multi-Cook Ovens
---
COOK.CONNECT.CONTROL.
Empower your menu and your business with data-driven insights with ChefLinc, our smart commercial kitchen software. This cloud-based, remote oven management system features an easy-to-use dashboard for operators to seamlessly push and pull recipes, view oven status, collect and store data, receive detailed service diagnostics and more.