Alto-Shaam
Alto-Shaam to showcase fully ventless c-store solutions at NACS 2023
Alto-Shaam will demonstrate its ventless system solutions that address convenience store challenges at the NACS show in October.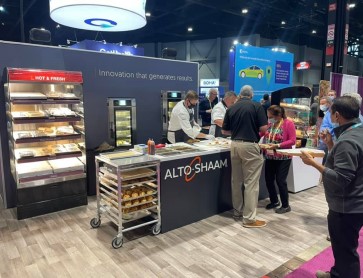 Alto-Shaam will showcase its portfolio of ventless equipment solutions that address c-store operator challenges at NACS 2023, including its latest innovation in the multi-cook category, Converge® ovens.
Converge multi-cook ovens provide up to three independent combi ovens in one. By pairing controlled humidity and the patented vertical airflow of Structured Air Technology®, Converge ovens provide operators with expanded menu potential in the smallest footprint.
The new ovens feature advanced controls and are very simple to use—requiring little or no operator training and can be managed remotely through Alto-Shaam's innovative cloud-based remote oven management system, ChefLinc™. Further saving c-store operators time and labor, Converge ovens also feature an intelligent self-cleaning design, with a number of automatic cleaning options available.
Also at the booth, Alto-Shaam will showcase its award-winning Vector® multi-cook ovens. Vector multi-cook ovens allow c-store operators to cook up to four different food items simultaneously and simplify steps in food production. Countertop models are able to be placed anywhere and are ventless, waterless and compact. With Structured Air Technology, these ovens cook food at the highest quality, two times faster than conventional technology to keep up during peak hours.
"Our multi-cook ovens are perfect for a customer-facing program that requires a high-volume of food without sacrificing food quality," says Brian Newland, Senior Vice President of National Accounts at Alto-Shaam.
'Not only are they intuitive and very simple to use for staff, they also feature a sleek and modern look. Being ventless, they can be placed and operated anywhere, giving operators complete control."
Perfectly paired with its cooking solutions, and supporting grab-and-go food programs, Alto-Shaam will also present its holding solutions during the show, including its Heated Shelf Merchandisers (HSMs) with top heat paired with Halo Heat® technology.
"Our cooking and heated display solutions are the perfect tools for a c-store to increase impulse purchases and keep customers coming back for more," Newland continues.
For more information, visit Alto-Shaam's NACS show page.
Learn More