AR-7EVH Ventless Hood Electric Rotisserie
21-28 Chicken Capacity
Makes cooking the center of attention. The AR-7EVH electric rotisserie oven can be showcased anywhere for customers to see without being restricted to hood requirements. This ventless rotisserie oven option features a self-contained venting system fully tested and listed by UL for safety and sanitation. A high-powered CFM draws steam and fumes from the oven chamber to filter out grease, smoke and odors.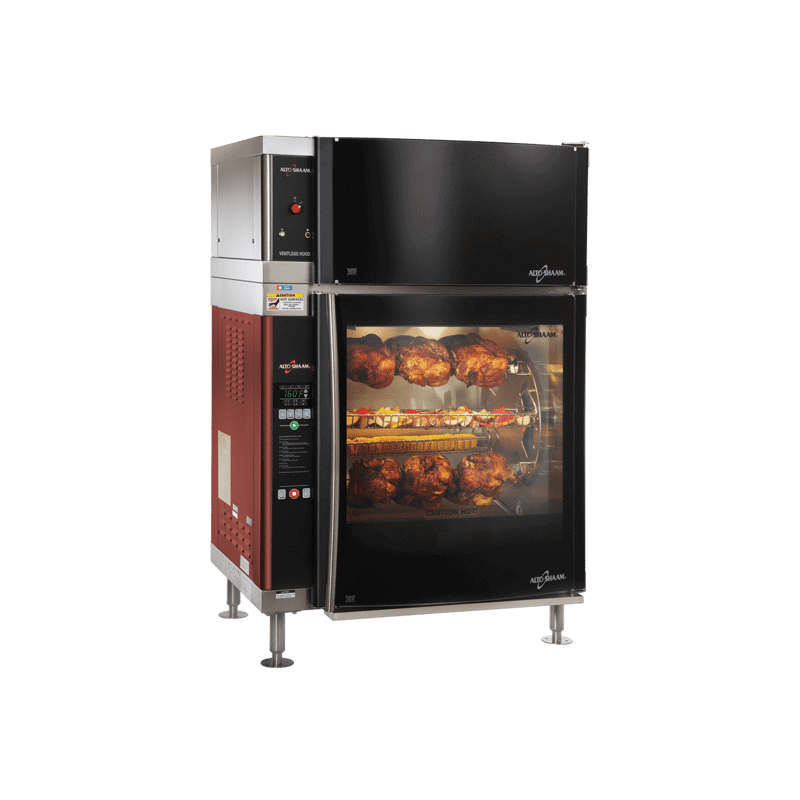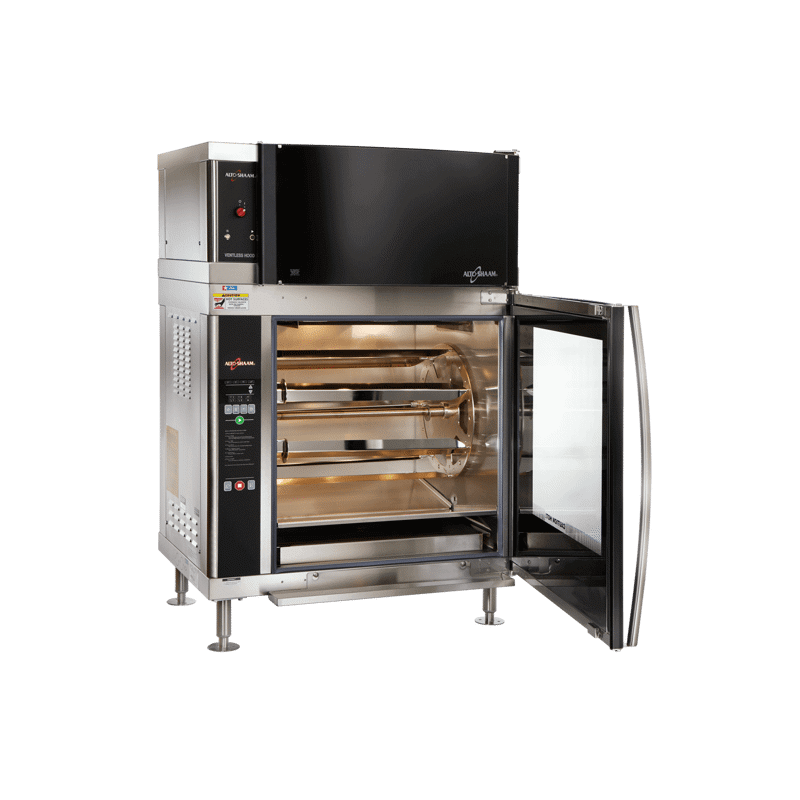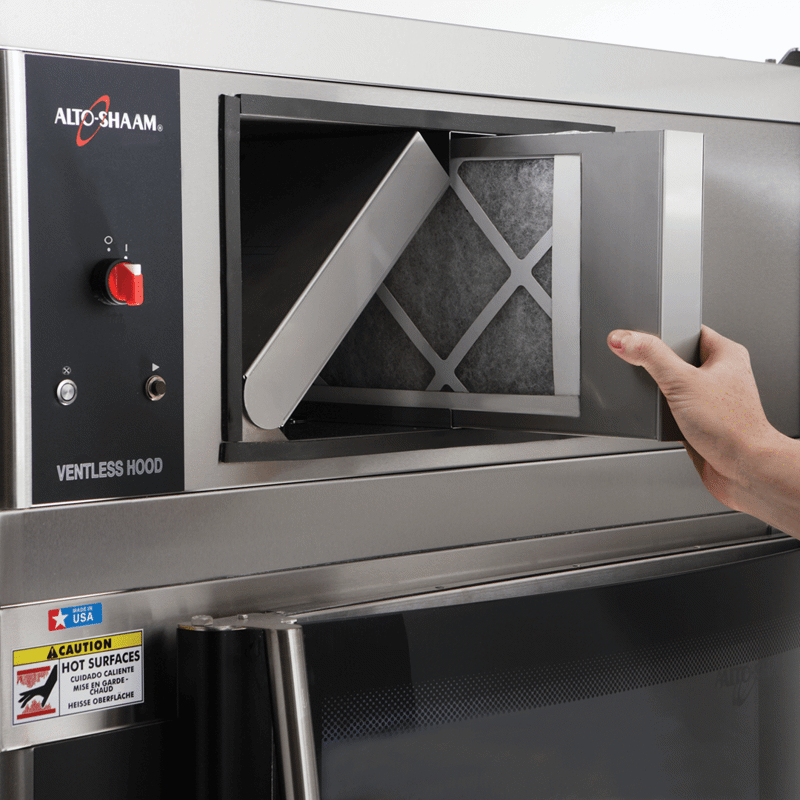 SEE WHAT SETS OUR VENTLESS ROTISSERIE OVENS ABOVE THE REST
Dual heating sources combine high-velocity convection and radiant heat technology to cook food in half the time of the competitive commercial rotisserie oven models.
Expand menus with accessory baskets and various skewers that easily slide into place to cook pork loin, turkey breast, meatloaf, ribs, vegetables and more.
Our electric rotisserie ovens use 30% less energy compared to competitive commercial rotisserie oven models. Costs less than half a dollar per load to operate. A sealed cooking chamber and solid, stainless steel back helps prevent heat loss.
Boost impulse sales and maximize food presentation during the cooking process. Attractive design and illuminated interior provides a theater effect to highlight food. Our ventless rotisserie ovens aren't restricted to spaces based on hood requirements, so you can showcase food anywhere.
These stackable ovens can maximize production and floor space. Double-stack rotisserie ovens or pair with a companion holding cabinet.
Improve cooking speed and product finish with single or multi-stage cooking.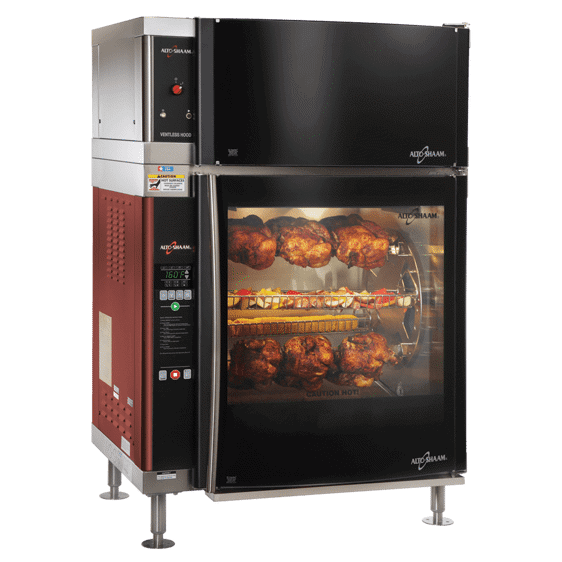 AR-7EVH VENTLESS ROTISSERIE OVEN KEY FEATURES
- Enhanced control with cook and holding modes. The controls automatically switch to hold mode once the cooking cycle is completed, allowing the food to remain on display.
- Cook temperature in our ventless rotisserie ovens ranges from 250° to 425°F (121° to 218°C) and product hold temperature ranges from 140° to 210°F (60° to 99°C). Temperature-dropping hold mode further reduces energy consumption.
-Ventless rotisserie ovens from Alto-Shaam ensure consistent results with one-touch cooking and programmable controls. Store up to seven programs for both the cooking and holding function.
- Clear, easy-to-read LED display. Electronic control features temperature display in Fahrenheit or Celsius, cooking set points from 1 minute to 4 hours, and emergency stop.
- Our ventless rotisserie ovens are designed for your operation to load and unload product as needed. Models are available in reach-in and pass-through configurations.
- Visually appealing with an attractive, front-of-house design to entice customers. Choose from a flat or curved glass door and three different color choices.
- Made in the USA with a commitment to quality.
AR-7EVH Product Details
Capacity
Angled Spits (Standard):
Up to (21) 3-1/2 lb chickens (1,6 kg)
Up to (28) 2-1/2 to 3 lb chickens
(1,1 to 1,4 kg)
Piercing Spits (Optional):
Up to (28) 2-1/2 to 3-1/2 lb chickens
(1,1 to 1,6 kg)
Turkey Spit (Optional):
(up to 3 spits can be used)
One (1) Turkey up to 25 lb (11 kg)
on each spit
Dimensions H x W x D
54" x 39-1/16" x 32"
(1371mm x 992mm x 813mm)
Videos
Learn about how Sendik's Food Market relies on our rotisserie, Combitherm® and Cook & Hold Ovens to provide delicious food to customers and keep them coming back for more.
Support
At Alto-Shaam we understand that the oven is the centerpiece of any kitchen.
That's why we're relentlessly driven to design and manufacture products that perform flawlessly in the most demanding conditions to give operators confidence and consistency in every meal. And our team is just as committed to providing industry-leading service and support. From installation consultation to equipment training to around the clock, every day technical assistance to culinary support and service video instruction — you can trust that we are here for you.
Success Story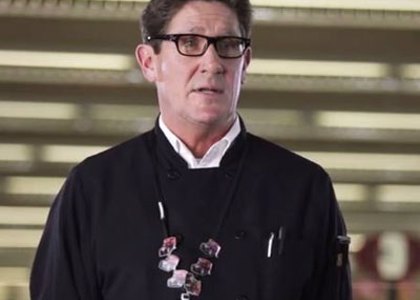 Sendik's Food Market
Overnight cooking in an Alto-Shaam Cook & Hold oven can save labor costs. Because the oven automatically switches to holding, chefs like David Sorensen from Sendik's Food Market in southeast Wisconsin can start work in the morning with a fresh load of ham, roast beef or pork shoulder waiting for service.
Read More