Alto-Shaam
5 Benefits of Planned Maintenance
A planned maintenance schedule increases kitchen productivity and food quality—while also maintaining warranty compliance and extending the life of commercial foodservice equipment. Explore the top five benefits to proactive equipment maintenance.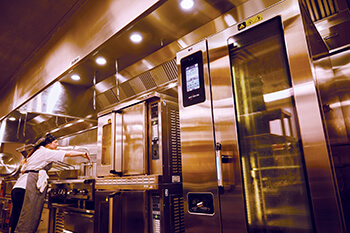 Like most important investments in life, foodservice equipment requires regular, planned maintenance to maintain warranty compliance and reduce the chance of operation downtime or more costly repairs.
A planned maintenance program includes cleaning, regular inspections and maintenance on a daily, weekly, monthly and annual basis.
"We like to think of these steps as planned maintenance, rather than preventative, because it is a proactive approach to ensuring that equipment performs at its peak efficiency always," said Mike Jones, Alto-Shaam director of technical service.
Inspection and maintenance tasks range from inspecting and cleaning—to replacing parts and components. The planned maintenance schedules for each product can be found in each operator manual.
Here are the five key benefits of following through with your equipment's planned maintenance program:
Improved workplace safety
By keeping up with regular, planned maintenance, operators are able to increase the safety of their foodservice operation. Parts will be replaced when required, which will reduce the chance of equipment malfunctions as a result of not following the planned maintenance schedule outlined in the operator manual.
Improves food quality
Ensure consistent cooking and safe holding temperatures properly with regular inspection and maintenance. Cooking applications, such as a heavy chicken program, can cause grease buildup if left uncleaned—increasing the chance of malfunctioning parts and inconsistent cooking.
Increases productivity
By inspecting equipment regularly, it is less likely to break down—improving bottom line and reducing the chance of equipment downtime, which can hinder productivity. Following a required planned maintenance program allows operators to spend more time managing their foodservice business rather than the consequences and unexpected costs of equipment failure due to negligence.
Reduces chance of costly repairs
Proactively inspecting equipment can lower maintenance costs by catching small service needs before they turn into costly repairs. Left unnoticed, a loose wire or leaking hoses can cause more damage to other equipment parts, such as a control board.
Extends life of equipment
Equipment that is well-maintained does not need to be replaced prematurely due to lack of care and upkeep. Planned maintenance can prolong the life of equipment and lower equipment costs in the long run—helping foodservice businesses drive greater return on investment.
For more information on your equipment's planned maintenance schedule, please browse our resource library for the operator's manual for your product model.
Explore Operator's Manuals