Alto-Shaam
Maintain Food Quality with Faster Ticket Times
Looking for ways to improve food quality without sacrificing fast ticket times? Learn how products like the original Cook & Hold oven can help.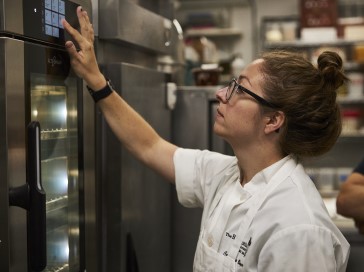 In an industry where customer satisfaction reigns supreme, improving ticket times is the key to improving the dining experience and brand loyalty. Efficiency is the name of the game in the restaurant business.
But how do you maintain the highest quality food in a shorter amount of time? Here, we detail the best tips of the trade to ensure a higher standard of food quality and customer satisfaction.


How Commercial Kitchen Equipment Can Improve Production Time
Operators strive to create memorable food experiences that keep customers coming back for more. So, what kitchen equipment will keep customers raving about your food with a minimal wait time?
Commercial kitchen equipment, such as a Cook & Hold oven, let you boost your food production at the highest quality with labor-free overnight cooking. This low-temperature cooking and holding solution ensures your food is hot and fresh, whether you're offering dine-in, takeout, or delivery. With the help of Halo Heat® Technology, gentle, radiant heat evenly surrounds food to maximize food quality, without extremely hot elements, added humidity, or fans.
Multi-cook ovens are also ventless ovens that allow you to increase your speed of service without using microwaves that degrade food quality. With innovative Structured Air Technology®, Vector® H Series Multi-Cook ovens can cook up to four different food items simultaneously — with zero flavor transfer. Operators can control temperature, fan speed, and cook time in each individual oven chamber, reducing the need for skilled labor. Vector ovens cook food two times faster than conventional cooking technologies, significantly improving speed of service.
Additionally, incorporating heated holding best practices in your kitchen is one effective way of maintaining food quality and reducing waste. Investing in a heated holding cabinet means operators can prepare food and hold it at the optimal temperature hours before serving.


Benefits of Commercial Kitchen Equipment Solutions
Versatile foodservice equipment solutions help your kitchen to operate at maximum efficiency. The ripple effects will be felt in nearly every aspect of the restaurant. Here's how.


Labor Savings
Commercial kitchen equipment like Vector Multi-Cook Ovens are easy to use with little-to-no training required. These ovens do the job of microwave, speed ovens, grills, and more, relieving multiple pieces of equipment. Programmable recipes through Cheflinc™ remote oven management system maximize productivity by freeing up your staff. Cook up to four different food items at once with zero flavor transfer. Countertop models have a compact, ventless footprint, a perfect solution for increasing production where space is minimal.


Intuitive Controls
Alto-Shaam's latest oven innovations improve kitchen efficiency and workflow thanks to enhanced, intuitive controls paired with Cheflinc. With Wi-Fi enabled controls, operators can simplify the cooking and reporting process. Programming recipes through the cloud, the staff can execute an entire menu by selecting pre-programmed recipes and walking away. Reduce ticket times further with the ability to push and pull recipes, ensuring added consistency and simple touchscreen navigation.


Menu Flexibility
Operators can further expand and adjust their menu with multi-functional, exclusive cooking technology. For example, multi-cook ovens feature controlled, vertical airflow that cooks food consistently at ideal settings, increasing your volume and variety of food at the highest quality. Each oven chamber acts as its own independent oven, with individual temperature, fan speed and cook time, so different food items can be cooked simultaneously with no flavor transfer. This flexible functionality gives you more room to expand and finesse your dining options.


Space Savings
Designed with the commercial kitchen in mind, ventless technology provides additional flexibility in terms of kitchen design. Operators can easily place this equipment anywhere outside of a traditional kitchen hood—maximizing floor space while improving efficiency and workflow. Waterless and stackable designs are also available to maximize your space, your way.


Want to find out more about innovative solutions that can enable you to improve ticket times with the highest food quality? Learn more by watching our webinar.
Watch Now