Alto-Shaam
Adapting On-Premise Dining with Ventless Systems
Operators continue to navigate the challenges of adapting their dining and kitchen spaces, such as sustaining takeout and delivery programs. Discover how multi-functional, ventless systems can equip the front or back of the house and improve bottom line success.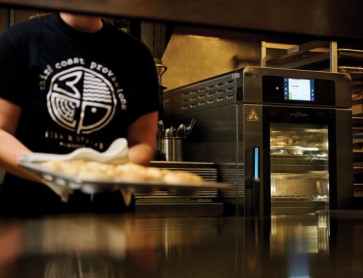 With focus on employee and customer safety and the need to accelerate recovery while operating at lower capacities, foodservice operators continue to show resiliency as they adapt their dining and kitchen spaces. Capacity in the dining room and kitchen has been reduced for many operators through altered layouts in the kitchen and dining room.
Optimizing Kitchen Space
In the kitchen, ventless, compact and multi-functional equipment could is the solution for cooking food at the highest quality. Vector® H Series multi-cook ovens feature up to four ovens in one, allowing operators to cook a variety of food items simultaneously while reducing labor and simplifying steps in food production. H Series ovens offer a compact, 21" footprint and are certified ventless, allowing operators to place the oven anywhere — to free up crowded kitchens, especially under kitchen hoods — while increasing food production.
Featuring Structured Air Technology®, Vector ovens cook food at the highest quality, two times faster than conventional technology to keep up during peak service times.
Streamlining Workflows
To fully optimize kitchen workflows, the right holding equipment allows operators to reduce steps in food production. By preparing menu items in advance and holding at the highest quality until service, operators can relieve cooking lines, reduce labor and streamline kitchen traffic during peak service.
Alto-Shaam's Heated Holding Cabinets with gentle, radiant Halo Heat® Technology make time stand still in terms of product quality. Operators can keep food at its perfect serving temperature and hold for hours without overcooking or drying it out.
Maximizing Off-Premises Success
Moving forward, takeout and delivery continues to be a key driver for foodservice operations as operators look to diversify their business and maintain revenue streams. As restaurants continue to focus on building to-go programs, long-term sustainment will be essential. By choosing simple, easy-to-install equipment, operators can ensure that their existing equipment and systems are not pressured as they adapt their on-premises dining programs.
The easiest way to ensure that to-go orders do not disrupt future dine-in service is to dedicate a specific area for to-go orders. An existing kitchen design might not have room to duplicate equipment, which is why compact, ventless technology systems are crucial to support delivery and takeout programs. Ventless equipment provides added flexibility in terms of kitchen design. Operators are able to place this equipment anywhere outside of a traditional kitchen hood — maximizing floor space while improving efficiency and workflow.
As you adapt your foodservice operation, Alto-Shaam's team of culinary experts are available to provide guidance tailored to your challenges and needs — from streamlining labor to kitchen layout to menu development and more.
Ask a Chef