Alto-Shaam
Celebrate National Steakhouse Month with Alto-Shaam
Are you a steakhouse operator? Here are a few suggestions on the kitchen equipment that can make celebrating National Steakhouse Month more efficient.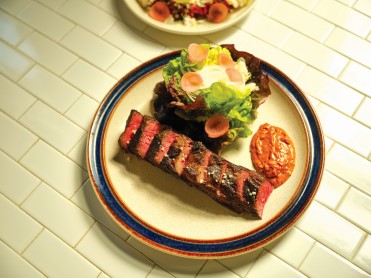 Few things are more enjoyable than sitting down for a nice steak, and there's nowhere better to do that than at a steakhouse. The perfect setting for a business dinner, special occasion or simply a gathering of friends, full-service steakhouse restaurants create a third space for diners to enjoy an elevated experience.
In recognition of the role steakhouses play in creating memorable dining experiences, June is National Steakhouse Month, created to commemorate our love for steak.
So, if you're a steakhouse operator, here are a few suggestions on the kitchen equipment that can make celebrating National Steakhouse Month more efficient. If your restaurant isn't already serving steak, here are some ideas on how the right steakhouse equipment can make it easy to "beef up" the menu without eroding your margins.
The Prime Cut
Although we tend to associate grilling with a great steak, some cuts of meat are better prepared low and slow. Cooking the perfect prime rib, for example, is best done in a low-temperature application. In fact, if you plan to serve prime rib for lunch, you'll need to begin the process the day before. And not only will you need to be able to bring the prime rib to rare-medium rare, you'll need to be able to hold it and maintain quality through the service period.
The best way to accomplish those goals is with an Alto-Shaam Cook & Hold oven. These ovens use Alto-Shaam's radiant Halo Heat® technology to evenly surround food without the use of extremely hot elements, added humidity or fans that typically degrade food quality and lead to greater product shrinkage. Chefs can roast, proof, braise, reheat, ferment, sous-vide, hold and more in the same oven with set-and-forget controls.
According to a recent Technomic report on the future of full-service restaurants, both independent and chain operators named food costs in their top three concerns that they do not expect to change over the next several years. Operators can save tremendously on protein costs, one of the greatest food expenses for a restaurant, by utilizing a Cook & Hold oven. Unlike other low-temperature ovens, Alto-Shaam's Cook & Hold oven doesn't fluctuate to extremes, resulting in the highest yield and better food quality, both key to lower food waste.
Fill out our yield calculator to find out exactly how much you can save by cooking proteins in a Cook & Hold oven!
Keeping it moist & tender
One of the ways steakhouses prepare the perfect product is by dry aging, a process that intensifies the flavor of the cut while tenderizing the meat. Chances are, though, that most operators don't have the space or time required to age beef. Aging beef typically requires keeping the meat for weeks in a temperature-controlled environment before serving.
Fortunately, Alto-Shaam's Cook & Hold ovens can accomplish the task in a fraction of the time. One hour in the Cook & Hold oven is equivalent to 1-2 days of dry aging.
And recognizing that these days we're all on a budget, a Cook & Hold oven makes it possible to prepare fantastic meals with less expensive cuts of meat. Alto-Shaam's Halo Heat technology provides natural meat tenderization, helping you make the most of less expensive, underutilized cuts of meat and achieve a moister, tender product.
On top of these savings, Cook & Hold ovens are also incredibly efficient pieces of equipment, costing less than $2 per day to operate. The result? Higher margins without sacrificing the food quality and menu creativity that will take your customers' experience and loyalty to the next level.
That backyard BBQ taste
Of course, there's more on the steakhouse menu than just steaks. Chances are most steakhouses offer chicken, ribs, and seafood, but the challenge is to prepare those items in a way that offers as much excitement as a sizzling steak.
One way to meet that challenge is by smoking those items. There's something about the taste of smoked meats that takes us back to summertime barbecues.
When it comes to smoking meats, there is one piece of steakhouse kitchen equipment that can do the job: An Alto-Shaam Commercial Smoker Oven. Utilizing the same gentle, radiant Halo Heat technology, Cook & Hold Smoker ovens infuse bold, authentic flavors into food with real wood chips thanks to a fully integrated smoker box. Now operators can become a pit master without the labor-intensive pit, with the ability to cook, smoke and hold overnight using intuitive, touchscreen controls and ChefLinc™ remote oven connectivity.
Although June happens to be the official National Steakhouse Month, a nice juicy steak, rack of ribs or a serving of smoked chicken or salmon can be the centerpiece of a great menu any day of the year. Reach out to the experts at Alto-Shaam for more ways to enhance your menu!
Talk to an Expert