Alto-Shaam
Fun Ways to Encourage K-12 Students to Eat Healthy
Encouraging kids to eat healthy can be a difficult task, especially in schools. Read this guide to learn how to introduce healthy eating by using the right equipment.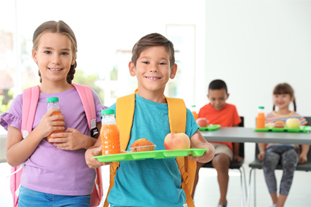 With school back in session, it's high time that we explored how to get kids to eat healthier in the cafeteria. A new school year is an opportunity for kids to form better eating habits that will help foster their learning and overall well-being. For school nutritionists and cooks, it's one thing to offer healthy options on the menu, but it's quite another thing for students to actually eat and enjoy them. Instead, you need to use clever strategies to encourage healthy eating. In this handy guide, we've shared a few fun ways to make nutritious food more appealing to K-12 students.
Personalized Menu Items
Kids love having the freedom to make their own decisions, and this is especially true when it comes to food. By letting students build their own meal from a variety of wholesome options, they'll have fun personalizing their lunch in a healthy way. For instance, a salad bar or fruit bowl station will encourage students to load up on nutritious fruits and veggies. Installing waterless food wells and heated shelf merchandisers in your cafeteria allows you to present students with more options and a healthy, personalized lunch menu of their choosing.
"Read about how Pascagoula-Gautier School District uses their Alto-Shaam equipment to streamline their lunch service and serve their students healthy, high-quality food."
Sneaking in Healthy Ingredients
Who didn't love eating pizza, burritos, and mac-n-cheese in school? Kids and grown-ups alike love these classic comfort foods. However, they don't have to be made with subpar ingredients. Traditional recipes like macaroni and "cheese" can be enhanced with grated or roasted veggies that sneak more nutritional content into the meal. Another way to do this is by pureeing protein- and fiber-rich veggies into your sauces. Of course, these adaptations need to taste delicious to keep students coming back for more.
Fun Names for Fruits and Veggies
Healthy food gets a bad rap, but there's a clever way to get around that. Instead of building a negative association with produce, you can introduce new fruits and veggies as fun characters (similar to the popular children's show, Veggie Tales). If you're cooking for a younger age group, have someone create illustrated posters of "Sheriff Spinach," "Benny Bean," and the whole gang. You can share a few funny facts about each character on the poster that get kids excited. Then, you can create a special sampling table in the cafeteria to try the food out, and give them a small prize for being adventurous.
Blending New and Familiar Dishes
We're all creatures of habit, and kids are no different. Getting kids to eat healthier has to be a gradual process, where you pair tried-and-true favorites with new dishes. That's your opportunity to sneak some healthy ingredients in the mix. For instance, you might offer a soup/sandwich lunch combo with a homemade tomato soup and an apple on the side. Or you could serve a combo pizza with pepperoni and an assortment of veggie toppings. You could even try a cauliflower crust.
That's how to get kids to eat healthier — win them over slowly with gradual ingredient swaps. The goal is to let them discover how delicious and nutritious food can be by actively offering healthier ingredients and menu options.
At Alto-Shaam, we're proud to design foodservice solutions that can help foster healthy eating habits for the next generation. To learn more about our innovative kitchen equipment, register for A Taste of Alto-Shaam demonstration near you.
REGISTER NOW