Alto-Shaam
How To Execute an Air Fried Food Program
Read the top factors to consider when looking to set up an air fried food program to maximize food quality and cut operation costs.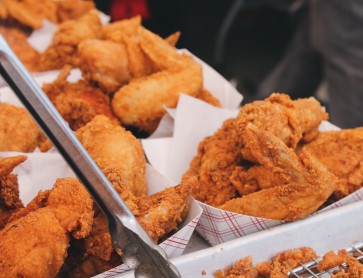 Fried food is as popular today as ever. With advancements in oven technology, operators can eliminate costly deep fryers and still deliver high-quality, deliciously golden brown food that their customers crave.
In this guide, we provide the top considerations to help you effortlessly set up an air fried food program with ventless commercial air fryer equipment that maximizes food quality and cuts costs.
AIR FRYING EQUIPMENT SOLUTIONS
Air frying offers the opportunity to achieve fried food without the need for a deep fryer. To perfectly execute crispy, golden brown food without a deep fryer, you need cooking equipment that provides you high-velocity airflow.
Alto-Shaam's Vector® H Series and Converge® multi-cook ovens feature exclusive Structured Air Technology™, which provides consistent, even, vertical airflow from the top and bottom. This allows you to achieve the perfect crispy finish, delivering a healthier product to your customers, while also eliminating the associated labor and operating costs.
A pound of oil can range anywhere from $0.60 to $1.55 per pound, which can add up to as much as $8,000 per year. Versatile, ventless air frying equipment simplifies fried food production and cuts these extra costs.
As an added bonus, both Vector and Converge multi-cook ovens deliver fried food products with greater ease of use and safety. These ovens are programmable, allowing you to develop custom recipes based on the type, size and shape of your food product. With multiple, independent chambers, these ovens can turn over more product than a deep fryer with the ability to cook up to four batches of air fried food simultaneously, without flavor transfer. Plus, without the safety risks of hot oil, you can significantly limit cooking hazards in your kitchen.
To further support an air fried food program, hot holding solutions are crucial to maintain ideal food temperatures and retain crispiness. Alto-Shaam's heated holding equipment utilizes gentle, radiant Halo Heat® technology without added humidity or fans that can result in soggy or dried out fried food. This radiant, precise, low-intensity cable included in the units is less harsh than other methods of holding, as opposed to using added humidity, fans, or calrods.
FOOD PRODUCT NEEDS
Food products that are listed as oven-ready are ideal for an air-fried program. Packaging that indicates that it is pre-dipped and coated will ensure you achieve a crisp outside structure. Operators can also execute a fresh, hand-battered air fried program with the right equipment and ingredients.
How you put the product on the pan and the oven settings also plays a core role in achieving enticing air fried food. Coated products can benefit from being sprayed lightly with a pan spray to add an additional crispiness. Certain items that are listed as "fry ready" might not brown properly due to various types of coatings, such as tapioca or rice flour, that are designed to stay white.
Learn more about the pros and cons, various food products, and equipment solutions that can help you effortlessly execute an air fried food program in a ventless space.
For custom, personalized support, contact an Alto-Shaam expert today.
Talk to an Expert