Alto-Shaam
How to Optimize Your Menu for Takeout & Delivery
Check out our tips & kitchen solutions to optimize your menu for food delivery & takeout services!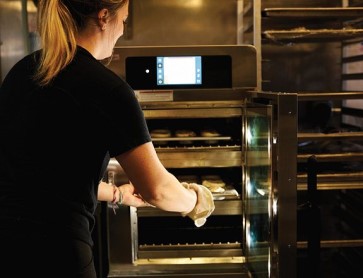 With the vital need for adaptability, many restaurateurs are left wondering how to adjust their existing menu for takeout and delivery. Managing two separate menus – one for dine-in and one for take-out – could stretch the capacity of even the most seasoned kitchen staff. Not to mention, popular dine-in menu items are not always suited to hold up during travel.
Consumers want convenience and experience, and simplification helps with curating a successful takeout or delivery menu. Focusing on uncomplicated food prep – like freshly-cooked comfort foods – and foods that travel easily will boost your profit margins and help your kitchen staff transition effortlessly.
In this article, we offer our favorite delivery tips and kitchen solutions to serve up a menu that'll have your customers coming back for more.
Choose the Best Food Items
Texture is a key factor to consider when choosing your optimal food ingredients. Recipes that combine warm and cold elements will cause the cold ingredient – such as uncooked spinach or other delicate vegetables – to wilt and turn soggy in the holding and transporting process. Aim for menu items that are categorized in the same temperature. If you want to incorporate fresh vegetables, think of resistant substitutes instead. Favor firm vegetables like cabbage in place of vegetables that limp easily, like romaine lettuce.
Packaging ingredients separately will also help to maintain food integrity. For example, a dish like pho calls for several menu items which can be packaged individually and easily assembled by the consumer.
Consider How the Food Travels
Take the guesswork out of food prep and incorporate dishes that will maintain the same level of consistency as when they left the restaurant. During travel, some food items like steak may continue to cook. If you would like to incorporate steak as one of your signature menu items, factor in the internal cooking from the time it cooks in your kitchen to when the steak arrives in your customer's hands.
Consider Delivery or Pick Up Options
For added convenience besides delivery, the options for curbside, order ahead, and in-store pick-up can make your foodservice destination an attractive option for those who don't wish to leave the comforts of their home. Foodservice operations that are able to have food prepared and ready for pick-up while maintaining high quality results will demonstrate the thought and care that customers expect.
Consider How the Food Holds Up During Delivery Time
Ensuring that your food maintains the same consistency and flavor will set your restaurant apart from your competitors. In fact, according to recent Technomic data, 26% of those who responded said that quality is the top factor that influences where they would obtain delivery or takeout.
Investing in reliable food holding solutions is a must for any successful delivery operation. Alto-Shaam holding equipment with Halo Heat® technology delivers uniform heat for hours before serving. Gentle, radiant heat evenly surrounds food, so you don't have to worry about protein shrinkage, dried-out food, or harsh overheating.
Consider How the Food Will Be Presented to the Customer
There's nothing quite like an artfully assembled plate of food. Whether inside the restaurant or a customer's home, you want your food presentation to carry the same enticing allure. Streamline the unpacking process by making toppings and any post-delivery assembly easy to identify. Remain flexible when making changes to your recipes for delivery so that the ingredients offer the same mouthwatering appeal as a finely crafted dine-in plate.
Consider Profit Margins
Ingredients that require a lot of attention and preparation could drain profits in the fast-paced delivery setting. Opt for recipe items that can be cooked in bulk and will not risk damage during transport. Investing in an oven with multiple cooking chambers and options is a savvy and simple way to boost your revenue while maximizing food quality and kitchen efficiency. Kitchen staff can focus on other tasks with the assurance that every food component will be cooked to perfection every time, saving you time and labor.
Ongoing Optimization Support
Alto-Shaam is your partner in finding optimal solutions as you adjust your takeout or delivery menu. Check out our heated holding solutions to make your transition to delivery service as smooth as possible.
Alto-Shaam's team of culinary experts that are here to help you navigate shifting needs. Contact us today for additional resources and support.
Contact Our Chefs