Alto-Shaam
Introducing New Self-Cleaning Rotisserie Oven from Alto-Shaam
Automatic grease collection and self-cleaning systems increase safety, reduce labor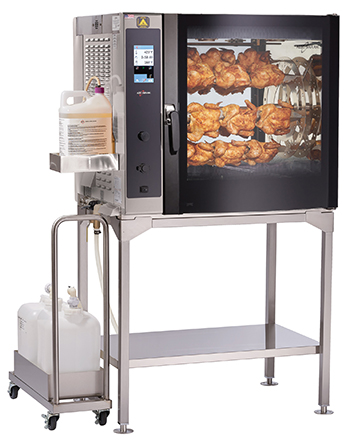 Alto-Shaam will release its newest rotisserie oven in February 2019. The oven features an automatic grease collection system, self-cleaning cycle and touchscreen, programmable controls. These features are easy-to-use and will save time and labor for deli and foodservice operators.
"Rotisseries are difficult and time consuming to clean, not to mention the grease can be a safety hazard," said Robert Simmelink, Alto-Shaam corporate executive chef. "With this solution, operators no longer have to worry about spilling hot grease on their hands, arms and body."
Automatic Grease Collection
The grease collection system automatically activates during the cooking process. The system pumps grease into external collection containers for safe handling and disposal. This feature is standard with the self-cleaning rotisserie oven. By eliminating the need to lift and carry grease collection pans, foodservice operators are able to save labor and improve safety.
With a cooking capacity of 21 chickens, weighing 3-1/2 pounds each, the self-cleaning rotisserie oven increases flexibility and cooks each load faster while using 20 percent less electricity. Convection heat combined with radiant heat provides even cooking and uniform browning. The double-pane glass door keeps heat in the oven and is cool to the touch outside the oven.
Self-Cleaning Cycle
The automatic self-cleaning system utilizes patent-pending water jets that cut through the toughest grease while minimizing water use. The eco-friendly cleaning system uses 35 percent less water than competitive models and has no moving parts, which increases its reliability and reduces maintenance costs. Cleaning products are available in the form of tablets or hands-free liquid injection.
Touchscreen, Programmable Controls
Deli and foodservice operators are able to set the perfect cooking environment for an ideal finish. Alto-Shaam's rotisserie ovens are programmable—allowing operators to create their own recipes with four cooking stages and seven browning levels for the perfect level of crispiness.
Designed for the front of house operations, the rotisserie oven is aesthetically stylish with a slim design that saves floor space. Exterior color options are stainless steel or a custom color. Door options include flat or curved glass with an illuminated interior that creates a theater effect. Customers are able to unload and load product as needed, with reach-in and pass-through configurations available.
Customers can place the rotisserie on stands and counters or configure it with other equipment, such as its companion holding cabinet or another rotisserie oven.
"We work with our customers to determine the best solution for their needs based on industry trends, menus and packaging type," Simmelink said. "By tailoring equipment systems to the customer, we are able to exceed their expectations."
To learn more about the rotisserie oven, please visit our NAFEM booth (number 900) or view our collection of resources.