Alto-Shaam
The Ultimate Guide to the Cook-Chill Process
Learn all about the cook-chill process and how it can benefit your restaurant. Get a step-by-step guide on cook-chill production from the experts at Alto-Shaam.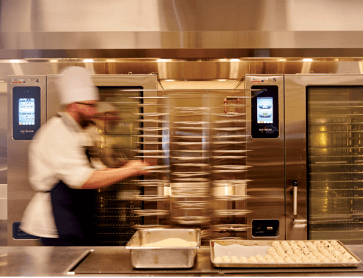 When it comes to modern foodservice, speed and efficiency are the foundations of a successful operation. Whether you're a mom-and-pop restaurant or a massive catering operation, being able to serve quality food that's full of flavor - and serve it quickly - is key.
One of the best and easiest ways to accomplish that task is by using a streamlined food production process, made possible with cook-chill equipment.
What Is the Cook-Chill Process?
As the name implies, the cook-chill process involves preparing cooked food in bulk ahead of time, then rapidly chilling it, either plated for presentation or in bulk. The food is then reheated prior to serving. Cook-chill production is the perfect solution for foods such as bulk proteins, beans, sauces, soups, or stews that would take a high amount of labor and time to prepare from scratch in a made-to-order or catering operation.
Although in most cases, foodservice operators would need to go to multiple vendors for the equipment needed to implement a cook-and-chill process, Alto-Shaam provides complete Cook-Chill systems for operations of any size.
Here are the steps involved in a cook-chill solution:
Step 1: Cook Food in a Combi Oven
Of course, the first step in the cook-chill process is to cook the food. One of the best ways to do that is with a combi oven, which combines multiple cooking functions into a single appliance to produce the highest quality food. Alto-Shaam's Prodigi™ combi ovens, for example, can be used to prepare large amounts of foods to an almost-done state, whether those foods need to be steamed, grilled, baked, or roasted. As an added benefit, their programmable cook cycles boost food consistency and relieve staff of the duty to monitor cooking times.
Step 2: Chill Food in a Blast Chiller
What does chill mean in cooking? Simply put, it's the process whereby after the food is cooked, the temperature is quickly brought down to below 40° to extend its shelf life and preserve flavor and quality. Although that can be accomplished by placing food in a freezer, Alto-Shaam's QuickChiller™ line of blast chillers chill food faster and safer than other methods. As an added bonus, the rapid air-cooling process does less damage to food, so that flavor and moisture remains locked in.
A blast chiller minimizes the product loss that occurs during evaporation, and the smaller ice crystals do less damage to the food when it thaws. In addition, blast chilling improves food safety by minimizing the amount of time food spends in the critical 135°F - 41°F "danger zone" range for bacteria. Blast chilling results in tastier, more tender, and more nutritious food compared to traditional refrigeration or freezing.
Step 3: Plate or Store Food Cold
Once chilled, food can be stored cold in bulk or plated inside a cooler, allowing for a focus on presentation in advance of service. To help streamline kitchen processes and save valuable labor, Alto-Shaam offers a variety of fully integrated roll-in pan and plate carts that provide seamless food transfer for cooking, chilling, rethermalizing, and holding. The carts eliminate the need to manually transfer food between pieces of equipment.
Step 4: Refresh & Retherm Food
Retherming, or refreshing, is just a fancy way of saying "reheating," and here's where Alto-Shaam combi ovens demonstrate added value. Plated or bulk food can be rethermed using special settings in a combi oven to maximize food quality for service. And because moving temperatures through that 135°F - 41°F "danger zone" range is just as critical when retherming, the combi oven accomplishes the task as quickly as possible without impacting food quality.
Step 5: Hold Food with Heated Cabinets
Let's face it: serving food doesn't always go according to plan. If it does become necessary to hold food at the correct temperature before serving, Alto-Shaam's heated holding solutions can handle the job. With controlled temperatures and a closed environment free from forced air and added humidity, food is kept warm and flavorful, just as intended with gentle, radiant Halo Heat® technology.
Conclusion
The foodservice industry is always changing, and running a profitable operation requires new, innovative methods of food production. Incorporating a Cook-Chill system just might be the approach that's needed.
Want to learn more about combi ovens or blast chillers, or how the cook-chill process can benefit your operation? Contact the experts at Alto-Shaam!
Contact Us