Alto-Shaam
Tips for Grab & Go Program Success
Here are some tips from the Alto-Shaam experts on how to successfully establish a grab-and-go program that streamlines service and minimizes costs.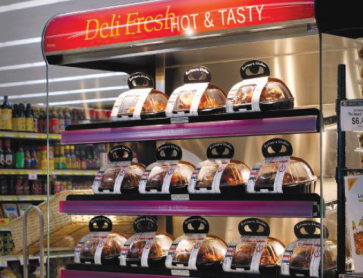 Let's face it: The world moves faster and faster with each passing day. And as we strive to keep up, we're all looking for ways to save time.
Whether it's students rushing to their next class, office workers trying to eat and get back to their desks, health care workers wanting to get back to their patients, or travelers just anxious to get back on the road, many of us just don't have the time to sit down and order a meal. That's where a grab-and-go foodservice program can help.
Looking to provide to-go menu offerings with less overhead and staffing costs? Grab-and-go programs are here to stay, and the latest ventless, waterless, and compact cooking equipment from Alto-Shaam makes them easy to execute. Here are some tips from our experts on how to successfully establish a grab-and-go program that not only streamlines service but minimizes costs.
Tip 1: Evaluate your goals to determine the best solutions
Not every grab-and-go program will be the same, and how your specific program will be implemented will determine the best equipment to meet your goals. A university food court, for example, might serve a rush of students between noon and 1 p.m. as they take a break between classes, and operators need a way to both speed up service and keep queues to a minimum. That will likely require preparing a large volume of food quickly to get it out to the service area. A convenience store, on the other hand, may want to offer a few ready-to-eat sandwiches, burritos, or similar fare near the register as a way to boost revenue with impulse sales. A 24-hour health care facility might want to have food ready to go around the clock to serve staff who may get breaks at odd hours.
Tip 2: Evaluate your space
In many facilities, food service is secondary to their main function, and designers may not have provided for space to implement a full-size kitchen. Fortunately, that's easy to overcome. Consider, for example, a grab-and-go program built around one of Alto-Shaam's Vector® or Converge® multi-cook ovens stacked with one of its heated holding cabinets.
With a 21" footprint, Vector multi-cook ovens are perfect for small spaces. Ventless and waterless operation eliminates the need for costly exhaust hoods and plumbing hookups.
Want added menu flexibility in a limited space? Converge multi-cook ovens have the addition of water, allowing these ventless, self-cleaning ovens to be placed outside of a traditional vent hood and further expand your menu offerings.
Tip 3: Aim for multi-functionality
Most ovens offer just one cooking temperature at a time, making it difficult, if not impossible to prepare a varied menu. Alto-Shaam's Vector multi-cook ovens, on the other hand, offer up to four ovens in one – each chamber with independent temperature, fan speed and cook time control. That enables chefs to cook up to four different food items simultaneously with no flavor transfer. Similarly, Converge multi-cook ovens offer up to three independent combis in one, with the ability to steam, bake, air fry and grill, all at the same time with zero flavor transfer.
The secret is Alto-Shaam's Structured Air Technology®, delivering high-velocity, vertical upward, and downward airflow. This optimized, focused heat delivers faster, more even, and consistent cooking than other methods. Each cooking chamber is separate from the others with its own air path, catalyst, and fan at the rear. The unique airflow creates vertical curtains of air that eliminate heat loss and a blast of hot air when the door is opened. Operators can open the door as needed while cooking, without waiting for a cook cycle to complete before starting another food item.
Tip 4: Optimize your menu
Of course, the success of any grab-and-go food program is only as good as the food you offer. If your program is a supplement to other offerings, as in a convenience store or cafeteria. Determine the packaging, food items, and pricing that offer higher margins than other popular items. As the popularity of your program grows, your profit margins will naturally improve.
Also, choose menu items that hold well and are easy to eat on the go. Pizza, chicken sandwiches, or bagels are excellent choices. And finally, choose items that can be easily mixed and matched to expand your variety of menu offerings. Biscuits, sausage patties, ham slices, and bacon strips can all be prepared simultaneously at their ideal settings with no flavor transfer in the Vector or Converge multi-cook oven and quickly be assembled into a full array of breakfast offerings.
The complete package
Combine a multi-cook oven with one of Alto-Shaam's Food Merchandisers or Heated Display Cases to round out your grab-and-go program. These versatile hot food display cases and commercial food warmers are designed with food quality in mind, featuring Halo Heat® Technology that provides better moisture retention and the longest holding life for displayed food.
For a better taste of the possibilities offered by a grab-and-go food program, contact one of our experts for more information.
Learn More