Alto-Shaam
What is Halo Heat?
Halo Heat Technology dramatically improved hot holding needs in the food industry. Learn more about how Cook & Hold ovens work and the history behind Halo Heat.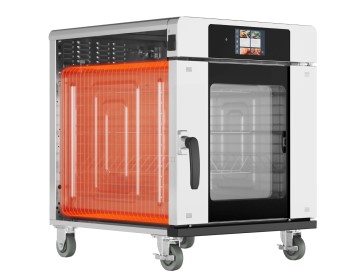 For years, traditional heating technologies, such as calrods and fans, were the primary methods of cooking and holding in commercial kitchens. That was, until 1968.
As a restaurant operator, Alto-Shaam founder Jerry Maahs sought a solution to keep food hot for delivery. Experimenting with thermal heat, Jerry wrapped cables around insulated containers, resulting in the invention of Halo Heat technology. Since then, Halo Heat has been used in food service operations around the world to keep food hot while still maximizing flavor and quality without overcooking.
Many restaurant operators today continue to face the challenges of harsh heating elements, from dried-out to overcooked food. Equipment that utilizes fans and air movement to distribute heat is frequently too hot and harsh to achieve certain products, like delicate desserts and tender cuts of meat. These harsh heating elements produce fluctuating temperatures that can be up to 20 times hotter than the food itself. With a powerful heat and forced-air system, moisture evaporates from the food.
The Benefits of Halo Heat Technology
Say goodbye to overcooked, dried-out food and protein shrinkage. Experience better food quality and higher yields with Alto-Shaam's Halo Heat technology. This gentle, radiant heat evenly surrounds food without the use of extremely hot elements, added humidity or fans— while providing a labor-free cooking and holding solution.
Halo Heat features a low-density thermal cable that is wrapped around the sides and bottom of the holding cavity. The cable emits even temperatures and pulses on and off throughout the cooking and holding process. With greater precision, lower temperatures and minimal intensity, food remains full of moisture and flavor.
"With these units, temperatures don't fluctuate," said Senior Corporate Executive Chef Robert Simmelink. "For this reason, food won't overcook, since it's not exposed to too high temperatures. The heat also is being distributed more evenly and gently throughout the holding cavity."
As an added bonus, when meat is cooked and held in an Alto-Shaam Cook & Hold oven, Halo Heat technology activates natural enzymes for a naturally tenderized product. This makes the Cook & Hold oven ideal for restaurant use to provide customers with better food quality and achieve higher yields.
The good news is this exclusive, money-saving technology isn't limited to Cook & Hold ovens. Halo Heat technology is used in other Alto-Shaam products, including heated holding cabinets, waterless food wells, warming drawers, merchandisers and display cases, smokers, and carving stations. Whether holding food for an upcoming service or for merchandising, our heated holding equipment is designed to make time stand still in terms of product quality. This allows for food preparation outside of busy service times, flexibility, and less waste.
Whatever the size and need of a kitchen may be, Halo Heat equipment provides a solution to best fit any cooking or hot holding needs.
The History of Halo Heat
Halo Heat was invented in the late 1960s when Jerry Maahs, owner of a Chicken Delight franchise, was struggling to keep his chicken hot during cold Wisconsin winters. As an entrepreneur and innovator in the food service industry, Jerry set out to find a solution to this problem. He discovered that solution while watching a Green Bay Packers football game in December of 1967. Because of freezing weather and immensely cold conditions, this game went down in the history books as the Ice Bowl. Jerry discovered that an electric thermal cable was run under the surface of the field in order to prevent it from freezing.
"I found out about thermal heating cable. The heat was gentle and even," Maahs said. "We quickly realized we had something special."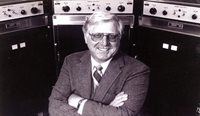 Jerry took inspiration from this technology and created his first hot box featuring a thermal cable. Halo Heat made its debut at a National Restaurant Association show in the 1960s.
After Jerry created his holding cabinet using Halo Heat technology, he began experimenting with higher temperatures and extended holding times. When he held meat overnight, he discovered that the food was naturally tenderized. Jerry then invented the first Cook & Hold oven that would automatically switch from cooking temperatures to holding temperatures, which saved time and labor for food service operators.
To learn more about how our Halo Heat products can benefit your food service operation, visit our product page.
Explore Products