Alto-Shaam
What to Consider when Choosing Convenience Store Equipment?
Make your c-store a success with equipment designed to boost impulse sales and maintain food quality. Read these tips to learn what to consider when choosing convenience store equipment for a seamless experience.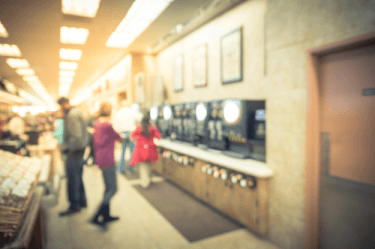 According to a CSP article, more than half of consumers buy meals at a convenience store at least once a week. The c-store foodservice market is growing, with higher demand coming from younger generations, which is why it's so important for c-store operators to invest in quality equipment that provides the greatest return on investment. At a minimum, foodservice equipment should be easy to install, energy-efficient and designed for a smaller space.
In this handy guide, we've shared our biggest insights when choosing convenience store equipment. Whether you're in the market for a heated shelf merchandiser, ventless oven, or hot holding solutions, you can find a compact solution that meets the needs of your growing business.
Understanding Layout and Design Space
When designing the layout for your foodservice program, the same rules of convenience apply. Customers should have a seamless experience from the moment they park to the moment they leave. The reason most people frequent a c-store is that they need something fast, and they don't want to waste time shopping around. Open, lighted food merchandisers with strong banding and clear information can help customers easily grab products and boost impulse sales.
When it comes to foodservice, the layout should be clean and spacious enough to welcome guests. Depending on your situation, it might make sense to partner with a national fast-food chain to draw more attention to your store. However, if you're investing in foodservice equipment yourself, you'll need to decide whether to set aside space for seating. This might include tables, stools, or a stand-up counter area by the window. Having a comfortable place to sit and eat is a surefire way to increase sales.
Core Menu Items
Before investing in foodservice equipment, go through your menu and figure out exactly what you need to be successful. For instance, if you're serving sandwiches and salads, you'll need a prep table with pans that can store individual ingredients. Likewise, if you're serving grab-and-go hot meals, you'll need a heated display merchandiser with enough shelving to meet demands. By analyzing your menu items first, you can narrow down the key equipment required for food service, and then utilize the remaining space for customer seating or more revenue options.
Essential Needs to Fulfill Menu
When shopping for c-store equipment, we recommend choosing ovens and displays with the following features:
Ventless: Small stores need to maximize their limited space, but most ovens require some sort of ventilation hood to safely expel fumes and grease. A ventless, compact model like our Vector Multi-Cook Oven can be installed anywhere. This gives you more flexibility when arranging the foodservice layout, and you won't need to worry about water hookup, or spending money installing a venting system. As an added bonus, Vector ovens operate with independent chambers, allowing you to cook up to four food items at different temperatures, fan speeds and times 一 simultaneously. The multi-functionality allows you to produce an unmatched volume and variety of high-quality food in the smallest spaces.
Open Displays: Heated shelf merchandisers are important in c-stores because they allow customers to quickly browse and grab meals without asking an employee for help. They also serve as a presentable display for your current inventory, which boosts customer interest and encourages more impulse buys. Ideally, your open display should offer individual shelf control, so you can adjust the temperature for different menu items. It should also have fanless heating technology that doesn't dry your food out, as well as LED lighting and backlit shelves for improved visibility.
High-Quality Holding to Maintain Food Freshness: Sometimes, you need a compact holding solution that keeps your extra hot food tasting fresh and delicious. With a heated holding cabinet or drawer warmer, you can evenly warm food and retain moisture and flavor using the gentle, radiant Halo Heat®️ technology. No ventilation, plumbing or drainage required.
Energy Efficiency: Convenience stores open early and close late. Depending on your business plan, your c-store might even be open 24/7, which means you're spending quite a bit of money on utilities. Lighting, heating, and refrigeration costs can add up. It's crucial to invest in foodservice equipment that's designed for efficiency so you can put more money back in your pocket.
To discover our full line of c-store foodservice equipment solutions, register for A Taste of Alto-Shaam near you at www.alto-shaam.com/taste.
Save Your Seat