ACTS Retirement-Life Community
Retirement Community Cooks Quality Meals Faster with a Combi
The ACTS community-based living facility has been using Alto-Shaam's products since 2000 to provide high quality food for their more than 8,000 residents. The Alto-Shaam Combitherm® ovens and hot wells allow ACTS to provide a large variety of meal options, faster cooking times and longer holding times.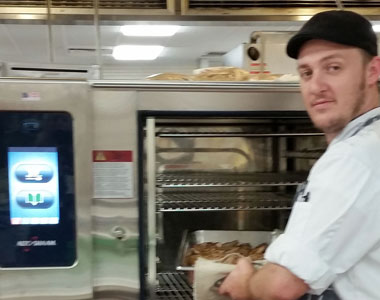 At ACTS Retirement-Life Community, meal time isn't just about curbing hunger. It becomes a social experience, a chance for the residents to interact with the community around them.
The retirement community serves a mix of independent and assisted living residents. With 8,000 residents living in 23 communities located within eight states, meal times can often become busy. The average number of meals served each day can range between 265 meals at a smaller community and 775 meals at the larger communities.
The independent residents don't always take their meals at the dining hall, but when they do, it's in style.
"We have country club-style dining," said Linda Conti, director of purchasing services. "The independent residents still dress up for dinner in some of our venues."
The dining experience doesn't just start with the pearls and the ties, though. The cooks work on site, using the aromas to entice guests to spend their meal time with the rest of the community.
"It has worked really well transitioning from tray service in our assisted care areas where we have installed the dry wells from Alto-Shaam," Conti said.
The menus include a variety of comfort foods, like meatloaf, chicken and stews. The most popular dinners are salmon, steak, crab cakes and roasts.
Acts Retirement-Life Communities was first connected with Alto-Shaam in the 2000s as a purchasing committee was reviewing combi ovens and hot wells for the communities. They were looking for a way to quickly cook quality meals and to hold food in bulk without the food drying out. Because the chefs cook meals right before service time and during service time, ACTS Retirement-Life Community needed to have an oven that would produce hot, fresh ingredients with speed to keep up with dinner time demands.
The community-based living facility uses its newest equipment, the CTP 10-20G Combitherm® combi ovens, to bake bread, cake, and pastries, smoke food, and cook other menu items. The combi ovens have been beneficial in decreasing cooking times, but it's the quality of the baked goods that especially stands out for ACTS.
"The baked goods come out more moist," Conti said. "The bread is a better product because of the type of recipes we have set up."
The CT PROformance™ Combitherm oven cooks up to 20 percent faster than standard combi ovens and up to 80 percent faster than conventional cooking. Three power levels increase control over recovery, cooking times, and food quality. Cooking, roasting, steaming, smoking, poaching, baking, and braising can all be done in this oven by controlling the elements of fire, water and air for the highest quality food. This oven has unprecedented precision and quality with features like the Absolute Humidity Control™ system that allows you to cook with moisture and the fan speed settings that create for the perfect finish.
Using the combi oven's recipe management system, ACTS is able to duplicate the best recipes from one community to others, maintaining food quality and consistency throughout all their kitchens. Additionally, the baked goods stay moist longer, allowing the bakery items to be served for extended time periods.
"We found that the rolls and the bread products were able to get extended life," Conti said. "If we were doing something earlier in the day, you could convert it into something else before it became bread crumbs or croutons."
Using Alto-Shaam's signature Halo Heat® technology to gently wrap around food, providing a radiant heat to prevent food from drying, the hot wells are improving the overall dining experience through the reduction of steam and improving the dining hall temperatures. The heated food wells keep food fresh and appealing through its precise temperature controls, removing the need for steam-based systems.
The major benefit to using hot wells, however, is the elimination of water. The energy-efficient heating system also reduces or eliminates major costs, including installation, water and sewer, electricity, deliming and food waste.
"For installation, there is no need for water and drains to be present or added for a project," Conti said. "As for maintenance, we no longer have to replace wells that were damaged by lime and minerals in the water or run dry and scorched."
Additionally, employees are not changing steam pans, so the risk of employees burning themselves is reduced. The result is better tasting food at a lower operating cost.
"We were moving into areas that weren't designed with kitchen hoods," said Conti. "Sometimes the ambient room temperatures were being affected by the steam from other holding mechanisms. The moisture was shortening the life of cabinet and drywall in those areas. We were looking for a way to reduce the moisture and the heat in those issues."
See All Success Stories