Arby's Improves Operations and Saves Energy with Cook & Hold
Arby's Improves Operations and Saves Energy with Cook & Hold
Arby's investment in Alto-Shaam Cook & Hold ovens has helped the restaurant save electricity and labor while increasing its roast beef yields.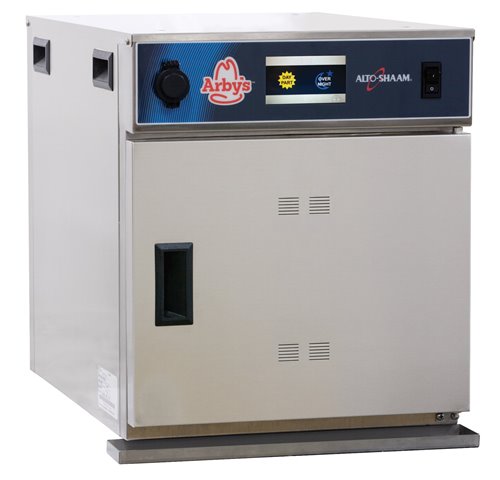 Arby's world famous roast beef is slow roasted in their restaurants every single day. To do so, requires ovens that run all day long producing tender cuts of beef. When Arby's began working toward a huge energy savings initiative to reduce usage 20% by 2020 as part of Arby's® ResourceFULL® Corporate Social Responsibility platform, the kitchen was one area that got a closer look.
Peter Cryan, Arby's Director of Equipment R&D and New Technology is in charge of supporting the brand with outstanding equipment that assists their operations teams in delivering quality food that is safe for employees and guests while maximizing return of investment. In addition to looking for ways to save energy, he's also tasked with looking for opportunities to improve quality, improve guest and employee safety, reduce food costs, save labor and simplify operations. This covers the production table, kitchen, kitchen equipment, beverage and drive-through communications.
One of the tools Cryan and his team implemented was changing its cooking platform to use Cook & Hold ovens from Alto-Shaam, resulting in a 67 percent energy savings and improved food yields.
The Previous System
Prior to changing its cooking platform, Arby's was cooking a 10-pound roast for three to four hours in a large convection oven, pulling the beef when it reached 138ºF-143ºF. They would then transport the beef to an Alto-Shaam holding cabinet. (Arby's was one of Alto-Shaam's first customers going back more than four decades.) The roast beef would remain in the holding cabinet until it was needed to slice to order.
One additional time consuming process that was also needed was to track the HACCP for beef in each of the different stages: time and temperature into the oven, out of the oven, into the holding cabinet, and onto the hot slicer. Because Arby's cooks beef throughout the day, this process would repeat itself many times a day. Store operators were recording beef times and temps 60-70 times a day to keep the data accurate and up to date.
Arby's followed this process for more than 50 years and operators felt they had been doing a good job overall with it. No one was complaining because they didn't know any different. However, Peter and his team looked at it as the most important and complicated task for operators and one that challenged them on many fronts. One was overcooking beef – which happened often and led to lower beef yields. Another was the large footprint of hoods and large double stack convection ovens that took up a lot of space at a time when they were looking to make their kitchens smaller.
The Alto-Shaam Difference
Peter's team tested several brands and models of cook and hold ovens, some in their prototype status and others off the shelf. They found a great partnership with Alto-Shaam and Powerhouse Dynamics, maker of enterprise energy management systems. As a young startup technology company, Powerhouse Dynamics was eager for new partnerships to grow and expand their monitoring platforms, making them customizable for their customers. The result? Alto-Shaam's Cook & Hold ovens, with patented Halo Heat® technology and food temperature probe, were outfitted with Powerhouse Dynamics' SiteSage software to track electrical usage and collect HACCP data.
Arby's quickly strengthened their partnership working with Alto-Shaam's Corporate Chef, Andy Mayeshiba, on recipes. They received additional hands on support from Alto-Shaam's engineering, software, and service teams. Peter visited Alto-Shaam's plant and culinary institute on several occasions and found everyone to be very helpful, innovative and inspired by their partnership.
"Their facilities are quite impressive and a great resource for collaboration and project work," said Peter. "We began to see a strong relationship with the teams at Alto-Shaam and realized they would best help us to get to the goal line offering ideas and recommendations to make the platform as good as it could be."
The rollout began in mid-2015 to all 1,150-plus company owned restaurants plus franchisees are catching on quickly with very rapid growth. All new locations are also built with the Cook & Hold platform.
Cook & Hold Benefits
Arby's investment has accomplished a considerable amount in just company restaurants, not to mention the rest of the franchisee community:
Improved food safety with electronic HACCP, along with operators no longer having to record data manually.
Improved beef yield and consistency leading to huge savings that are well over $1 million per year.
Saved over 67% in energy savings over their previous cooking platform leading to a huge return on investment, on top of labor and food cost.
Reduced the cost of new restaurant builds by eliminating a separate holding cabinet and the need for hoods while reducing the footprint in the restaurants.
Simplified operation with the crew no longer stopping to pull beef from the oven in the middle of busy peak periods. They load the beef once in the Cook & Hold, and when done, the oven switches to holding and is not touched by the crew until needed on the slicer.
"It really is quite the success story for our company-owned restaurants and continues to grow as our franchisees begin to consider using the new cooking platform," said Peter. "There are so many benefits to the Cook & Hold. Being an operator at heart, the biggest thing I like is the simplicity and consistency in cooking and delivering a quality product as well as the improved food safety with wireless and electronic HACCP."
Alto-Shaam and Powerhouse Dynamics were both named suppliers of the year for the Arby's system.
"They are not just great to do business with but I am proud to also call them friends," said Peter. "The platform has had such a positive impact on the brand experience, and I am thankful for our relationship and friendship."
See All Success Stories