Cowell & Hubbard, a Zack Bruell Restaurant
Cowell & Hubbard Reduces Cooking Times, Increasing Food Production
Zack Bruell is not one to rest on his laurels. Despite the success of his eight restaurants throughout Cleveland, Ohio, he continues to experiment with new equipment like combination ovens to improve his business.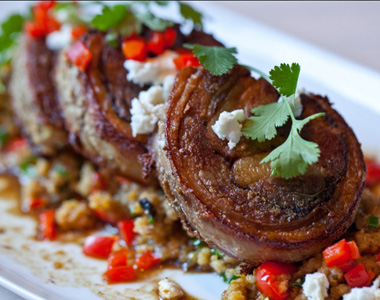 One recent issue Bruell had was with his steamers. He was frustrated with the amount of time it took for the steamers to perform basic tasks. He expressed this to Steve Fishman, Executive Vice President for TriMark SS Kemp, who recommended he test the new Alto-Shaam CT PROformance Combitherm oven. "I thought he could save time by trying out the new combi oven," said Fishman. It turned out that the new oven was just what the restaurants needed.
Just ask Andy Dombrowski, Executive Chef for Zack Bruell restaurants. "When TriMark SS Kemp showed us the new oven, we knew it had to be good," said Dombrowski. "The combi oven has replaced the need for our immersion circulators, convection ovens and steamers in our kitchen. We've found a wide variety of uses for the oven. We use it to braise, sous vide, blanch our vegetables, roast, smoke and bake. It's like having six pieces of equipment in one."
Putting PROformance to the Test
Dombrowski and his team were one of the first groups to test the PROformance oven at Cowell & Hubbard, one of Zack Bruell's restaurants, before it was introduced to the market. The team tried out recipes and experimented with menu items to see how the new oven performed. Robert Simmelink, Executive Chef of Alto-Shaam, showed the restaurant staff how to use the oven. "We went through the basics of how to use the oven, and made adjustments on cooking procedures, humidity settings, times, and temperatures," he said.
Reduced Cook Times
Thanks to the new Alto-Shaam oven, the restaurants have seen an increase in production. "The oven cuts back our cooking times allowing us to double up our production loads. We braise beef shoulders in the combi and have reduced cooking times from six to eight hours to four hours, and we've achieved a better quality. And overnight cooking in the oven allows us to do two to three batches per day, which greatly relieves daily production pressure," said Dombrowski.
Key Benefits
Along with reduced cook times, the new combi oven keeps food warm without compromising flavor or consistency. "The nice thing about the new oven is that all you have to do is hit a button and program the temperature. It heats itself up and cools itself down within a minute, so you don't have to worry about overcooking or undercooking food. It takes out the element of human error. Plus, it's easy to clean," said Dombrowski.
After receiving the positive feedback, TriMark SS Kemp wanted to know if there was any downside to owning an Alto-Shaam CT PROformance™ COMBITHERM® oven. "The only downside is that it's a big piece of equipment and it takes up a lot of space in the kitchen," said Dombrowski. "But it's worth it because it does so much."
It must be worth it, because Zack Bruell has ordered more ovens to be installed in his other restaurants. Dombroski concluded, "I sleep a little better at night knowing the food is going to be done when I get to the kitchen the next day. It also makes those moments when you're in the weeds a little easier!"
See All Success Stories