Ox Yoke Inn
40-Years Later: Halo Heat® Stands the Test of Time at Ox Yoke Inn®
For 40 years, Ox Yoke Inn's return on investment from Alto-Shaam's Cook & Hold Ovens has been maximized with increased food yields, energy savings, reduced labor costs and more.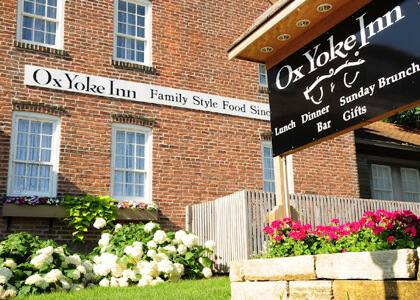 In 1982, Bill Leichsenring, President of Ox Yoke Inn, invested in eight Alto-Shaam Cook & Hold Ovens, and one Cook & Hold Smoker Oven. Impressed with greater yields, and overall return on investment, he reached out to Alto-Shaam Chef Herman Leis to personally tell him how satisfied they were with Alto-Shaam's Halo Heat® technology, and that he'd give a testimonial at any time, to anyone.

Forty years later, the consistent quality of Ox Yoke Inn's food speaks for itself – as does the continued return on investment in food yields, energy savings, labor costs and more with overnight cooking and holding.
"We serve 150,000 people a year," Leichsenring said. "For Sunday Brunch, we serve anywhere from 300 to 400 customers every Sunday. We're known for family style because that derived from the communal kitchens prior to 1932 ."

The Ox Yoke Inn's nationally recognized reputation of fresh, quality cooking, and "family-style" service is based on their unique menu offerings of old-world signature entrees. Founded in 1940, the Ox Yoke Inn opened in the Amana Colonies, a communal society until 1932. Since then, they have left a legacy of family-style service, featuring traditional German and American recipes.

Leichsenring met Alto-Shaam founder Jerry Maahs, and Alto-Shaam Chef Leis at the NRA show, where he was sold on the Halo Heat Technology in 1982.
"The yield factor of the Halo Heat technology really sold us all those years ago," Leichsenring said. "It's still so important today with food costs rising."

Thanks to Alto-Shaam's Halo Heat technology, Cook & Holds provide a gentle, even cooking process, ensuring consistency and quality of food. The Cook & Hold also reduces labor and operating costs, with a lights-out production allowing Ox Yoke Inn to reclaim 12-16 hours of nonproductive cooking time with overnight cooking.

"Before, we had a burner stove that didn't have consistent temperatures, and had hot spots," Leichsenring said. "With Halo Heat, we don't have to worry about it. The Cook & Holds give us a consistent temperature throughout the whole cavity, and we know that when we open the door in the morning, it's going to be a great product with less shrinkage."

Most recently, Ox Yoke Inn's newest investment includes the 750-S Halo Heat® Low Temp Holding Cabinet. This new addition holds 25 carry out orders each week.
The return on investment of Alto-Shaam's Cook & Holds has continued to hold true, as other generations of the Leichsenring family have carried Ox Yoke Inn's legacy with a passion for service and hospitality.
"How many other restaurants have the same equipment from the 1980s? I don't think the list would be very long," Leichsenring said. "In 40 years, the equipment has maybe been touched twice for rewiring."

During the 83 years Ox Yoke Inn has been in business, five generations of the Leichsenring family have carried on Ox Yoke Inn's legacy – taking pride in their unique menu that includes proteins such as Amana ham from the local meat market, roast beef, oven baked steak, and Sauerbraten – a marinated roast beef.
"The service, attitudes, and standards of hospitality make each visit more than a meal – it becomes a total commitment of sharing a family tradition," Leichsenring said.
To learn more about Alto-Shaam Cook & Hold ovens, visit our product page.
Learn More