Space Needle
Space Needle Streamlines Food Production, Improves Food Quality
"Before the Alto-Shaam oven, it would take the staff 10 minutes to transfer the food from the kitchen down the 400 feet by elevator to the banquet center. The entire process would affect not only my staff, but the overall food quality,"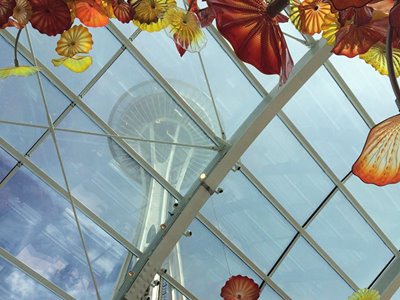 On top of being one of the most recognized landmarks in the world, the 605-foot-tall Space Needle is home to one of the best dining experiences in the Seattle area, the SkyCity restaurant. Opening its doors in 1962, the Space Needle, with its rotating restaurant, was originally intended as a visual centerpiece of the Century 21 Exposition, also known as the Seattle World's Fair. After drawing in millions of people, the Space Needle and SkyCity restaurant remain a popular tourist attraction.
At 500 feet above ground, the 360 degree panorama, fine dining restaurant serves Pacific Northwestern-inspired cuisine to 300,000 guests a year. Offering brunch, lunch and dinner, SkyCity can seat up to 215 people and serves anywhere between 6,000 and 8,000 customers a week, depending on the season. The restaurant employs 200 full-time employees, including executive chef Jeff Maxfield, the man behind the menu.
A Seattle native, Maxfield has been inspired by the local culinary scene his entire life. While his career officially kicked off at the Seattle Tennis Club, his passion for cooking started from spending time with his mother, a great cook and home economics teacher, in the kitchen. After completing culinary college, Maxfield worked at several local restaurants before moving to Maui where he worked at a hotel restaurant. A year later, he opened three restaurants in Scottsdale, Ariz., before returning to Seattle.
Maxfield recently had his cuisine featured at the prestigious James Beard House in 2013 to a sold-out crowd in New York City. For the dinner, Maxfield shipped everything in from the Washington area, including local beef, fish and saffron grown in Seattle.
Maxfield takes the same approach while serving meals in the Space Needle. All of SkyCity's menu items are handpicked by Maxfield and feature the best regional influences that Seattle has to offer. Everything from the biscuits and gravy to the wild king salmon and from the dungeness crab cakes to the mocha-braised short ribs has been inspired by the local food scene and ingredients.
In addition to SkyCity, the Space Needle has SkyLine, a 3,755-square-foot private banquet facility, sitting 100 feet above ground. Seating up to 350 people, SkyLine offers guests a full view of Seattle's skyline from the Olympic Mountains to Elliot Bay Marina. Guests can enjoy a wide variety of dining options, including plated lunches and dinners, dessert buffets, hors d'oeuvres and a full-service bar. Unlike SkyCity, SkyLine only has a prep kitchen, which meant that all of the food had to be prepared 400 feet above in the restaurant's kitchen. But that changed in July 2014 when an Alto-Shaam CT PRoformance™ Combitherm® oven – the CTP10-20 with an optional ventless hood – was installed in SkyLine's kitchen, opening up a door of endless opportunities.
"Before the Alto-Shaam oven, it would take the staff 10 minutes to transfer the food from the kitchen down the 400 feet by elevator to the banquet center. The entire process would affect not only my staff, but the overall food quality," said Maxfield. "Since installing the Combitherm in SkyLine, it has greatly improved the taste and quality of our menu items while saving an enormous amount of time and headache."
When searching for an oven for the banquet facility, Maxfield considered other brands; however their ovens couldn't compete with the quality produced by the Alto-Shaam oven. Among taste, the Combitherm is ideal for small spaces because it has the optional ventless hood and zero clearance requirements, allowing it to be placed anywhere in the kitchen. The CoolTouch3™ triple-pane glass doors prevent additional heat loss and increases safety and cooking efficiency, even when operating at 500 degrees. This is essential to a facility like SkyLine when space is limited and the staff is in close quarters all day and night.
The Alto-Shaam Combitherm oven is the all-in-one solution for efficient and consistent volume food production. It combines multiple cooking functions into a single appliance, providing endless versatility, reliability and unmatched performance. The banquet facility uses the CT PROformance Combi oven mostly for roasting meats, but Maxfield has also used it for everything from scrambled eggs to poached asparagus. These units are an ideal alternative for the convection oven, kettle, steamer, fryer and dehydrator.
With the success of the first oven, Maxfield installed another Combitherm in February 2015 in SkyCity's prep kitchen. The gas Combitherm model CTP7-20G replaced two regular convection ovens and opened up possibilities to try different cooking techniques, such as dehydrating and cold smoking. Maxfield also installed it because he does a lot of hot smoking, which takes a toll on regular ovens and hoods. Alto-Shaam's Combitherm is designed specifically for smoking with real wood, and includes an automated cleaning cycle to prevent flavor carryover.
"I've used Alto-Shaam my entire career from small restaurants to large banquet facilities, and I stand behind their company. It has always been a brand that has stood out compared to their competitors," said Maxfield. "I have always had success with their ovens, plus colleagues of mine in the city also highly recommend their products."
The probe is one of Maxfield's favorite features because he can set the temperature to cook to a precise internal temperature for prime rib. This helps cut down on waste because at the end of the day, the restaurant doesn't have overdone prime rib. For short ribs, Maxfield uses the low-temperature steam feature and cooks the meat for 26 hours, resulting in a perfectly done, tender product cooked medium. Maxfield's favorite feature, though, is how intuitive the Combitherm is with its easy-to-use touchscreen with pictures to help identify different dishes and increase consistency. The ProTouch™ control allows for multi-step programmable recipes. This helps deliver remarkably consistent results at the touch of a button, eliminating the guesswork for the kitchen staff. Another helpful feature is the CombiClean® automatic cleaning system, which offers several levels to ensure a clean finish every time. All cooking activities are recorded for later download by the USB-based HACCP system.
"When we installed the Combitherm, it's almost as if we added another cook because it's so intuitive, which has made us more productive," said Maxfield. "Not only is it easy to use, but the consistency it delivers every single time is incredible."
Founded in 1956, Alto-Shaam is the inventor of the original Cook & Hold oven that revolutionized low-heat cooking and the commercial cooking industry. Today, the company offers a full line of Cook & Hold ovens, convection ovens, combi ovens, hi-speed ovens, blast chillers, warming cabinets and drawers, food wells, heated buffet and display cabinets, merchandisers, fryers, rotisseries, and more.
See All Success Stories