Story Hill BKC & Maxie's
Story Hill BKC & Maxie's Achieves More in Less Space with Complete Equipment Solution
Opening a restaurant is a challenge in itself, and having it become successful is evermore difficult. For Story Hill BKC & Maxie's, Alto-Shaam equipment has been a backbone for many dishes while in a small space.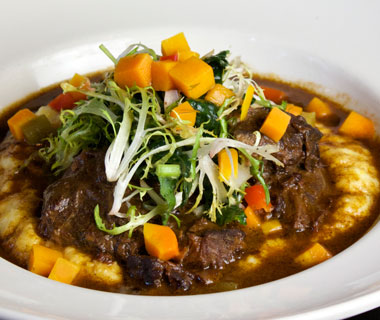 It's challenging enough to open one restaurant and make it successful. Joe Muench has done it three times. Muench is the co-owner and executive chef of Blue's Egg, Maxie's and Story Hill BKC. Story Hill BKC is the newest of the three. Blue's Egg and Maxie's are staples in the Milwaukee area with their flavorful, yet approachable, menus where customers always get an ever-changing, creative menu.
Only open in the evenings, Maxie's dishes out 2,500 meals per week in its 600 square-foot kitchen. Muench and co-owner Dan Snider opened Maxie's in May 2007, serving Southern-inspired, from-scratch cooking with menu items like hickory smoked wings, slow-smoked southern BBQ and a variety of Cajun-style dishes. The restaurant employs around 60 people and seats around 170 customers.
Story Hill BKC is the most recent addition to Muench and Snider's list of restaurants. The 4,000 square-foot restaurant opened its doors in August 2014 in Milwaukee. Serving breakfast, lunch and dinner, the restaurant specializes in European-style breakfast and shareable dishes with high quality and locally sourced ingredients, along with an extensive wine and beer list.
After being in the restaurant business for more than 25 years, Muench knows a thing or two about quality food and equipment. Between the three restaurants, Muench and his staff use four Alto-Shaam ovens, including the 300-TH/III Deluxe Control Cook & Hold at Maxie's and a CT Express™ Combitherm® combi oven stacked on top of a 500-TH/II Deluxe Control Cook & Hold at Story Hill BKC.
"Given our space issues, we needed to be able to cook in compact units that have the full power of larger equipment. The evolution of what Alto-Shaam has done in the industry has made that possible by giving the user much more control," said Muench. "Other companies don't offer many of the key features, such as the digital controls and probe, in smaller-sized units."
The Alto-Shaam CT Express Combitherm combination convection steamer oven is the all-in-one solution for efficient and consistent volume food production. It combines multiple cooking functions into a single appliance, providing endless versatility, reliability and unmatched performance. These units are an ideal alternative for the convection oven, kettle, steamer, fryer and smoker. Equipped with the smoker feature, the CT Express is the backbone for many of the dishes served at Story Hill BKC. By smoking and curing meats in-house, Muench uses the CT Express to its full potential for a variety of items, including smoking pork loins.
"We only have a 10-foot hood, so we needed to be able to diversify the equipment as much as possible," said Muench. "With the CT Express stacked on top of the Cook & Hold oven, we can do everything from baking to smoking to steaming and beyond."
Although Story Hill BKC has been using Alto-Shaam products since its doors opened, Maxie's only started using a Cook & Hold oven a few years ago in its kitchen. Muench was looking at the time for an oven that offered more features and control for the user.
Founded in 1955, Alto-Shaam is the inventor of the original Cook and Hold oven that revolutionized low-heat cooking and the commercial cooking industry. Today, the company offers a full line of Cook and Hold ovens, convection ovens, combi ovens, high-speed ovens, chillers, warming cabinets and drawers, heated buffet and display cabinets, merchandisers, fryers, rotisseries, and more.
The Cook & Hold oven has many features including optional, easy-to-use technology that allows users to program recipes into their oven, which helps deliver remarkably consistent results at the touch of a button. This allows the chef to prepare food accurately and consistently, which eliminates the guesswork and provides peace of mind. The ultra-compact but durable design easily fits into small areas such as the kitchens at Story Hill BKC and Maxie's. The oven also automatically switches from cook to hold, cutting down on labor prep costs.
"With the Cook & Hold's digital features and probe, you can program the oven to the exact temperature you need for a specific dish," said Muench. "The Cook & Hold cooks it to the perfect temperature every time, it's not cooking to 180 or 190 degrees, but right to 185 and then switches to holding."
At Maxie's, Muench and his staff use the Cook & Hold to make chicken stock, cook in small batches and overnight slow-braised dishes, as well as to poach fish and other ingredients. Using the probe on the unit at Story Hill BKC, the staff butter-poaches chicken in the Cook & Hold, reducing loss of moisture significantly in the bird.
"We've been able to create unique, fresh food with a smaller footprint," Muench said. "It helps save my staff time because they do not have to babysit the item and allows them to focus on other tasks in the kitchen."
See All Success Stories