MEET THE CHEFS
Alto-Shaam chefs are the go-to for menu development and product education. They support customers through on-site consultations and hands-on demonstrations at tradeshows and events.
---
Greg Taylor
Executive Corporate Chef
Educated at The Horst Mager Culinary Institute, Western Culinary Institute and Le Cordon Bleu, Chef Greg Taylor began his culinary career as Executive Chef at the prestigious Portland Golf Club and other Country Clubs throughout the Pacific northwest. Chef Taylor has become a seasoned and decorated industry veteran with a diverse background within the corporate arena, Country Clubs, Hotels, Healthcare, Military, Retirement Communities, and Culinary Education. With multi–American Culinary federation and International culinary competitions awards including the ACF Chef of the Year medallion and Culinary Olympic Gold, silver and bronze medals. Chef Taylor is considered an industry expert who can evaluate, lead and mentor within diverse environments. This has been his key to a very successful career. Chef Taylor is considered a leader "in the trenches" and is all about the team – developing and empowering a strong thriving culture where team members can learn, grow and develop professional and life skills to become successful culinarians.
---
Kristina Bladecki
Corporate Executive Chef
Chef Kristina worked in the healthcare foodservice industry prior to joining Alto-Shaam. She graduated with a bachelor's degree in business marketing from the University of Wisconsin-Milwaukee as a student-athlete. Two years into working in the office at Alto-Shaam, Chef Kristina decided to further her education and go back to school where she received her culinary management degree at Waukesha County Technical College.
Chef Kristina continued to work in the foodservice industry throughout restaurants and country club dining before coming back to Alto-Shaam to work as a sous chef on the Alto-Shaam culinary team. Within a few years working on the business side of foodservice, Chef Kristina made her way to Corporate Chef. She has since been promoted to Corporate Executive Chef.
Kristina is a third-generation Alto-Shaam employee. Her grandfather, Jerry Maahs, founded Alto-Shaam after inventing Halo Heat® technology utilized in Alto-Shaam's Cook & Hold ovens, Smoker ovens and variety of holding solutions.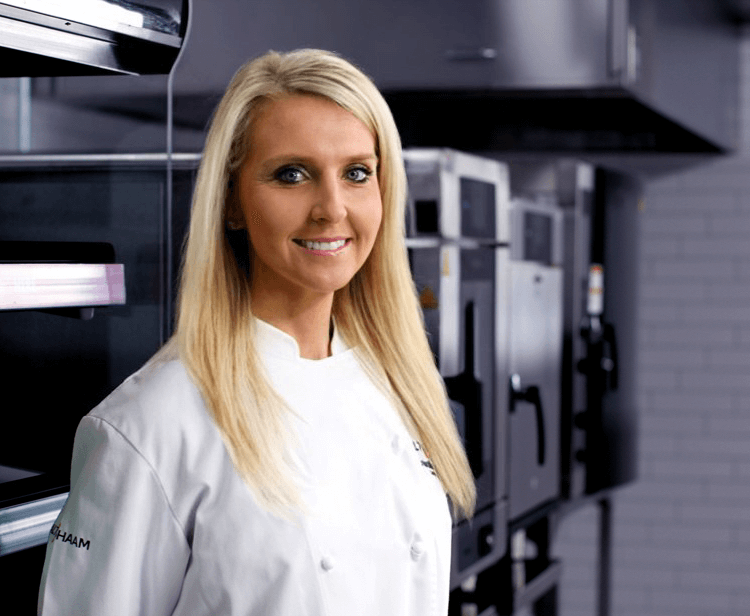 ---
Gerard Strong
Corporate Chef
With more than 18 years of experience in the culinary industry, Gerard has worked in leading positions for various foodservice operations, including professional kitchens, restaurants, and retail establishments. Gerard is a graduate from The Culinary Institute of America, where he received his bachelor's degree in culinary business and management. He has worked for many top chefs throughout the country, spending most of his formidable years in New York City, Seattle, and Denver.
Gerard serves at Alto-Shaam as an application specialist. His responsibilities include enhancing the Alto-Shaam customer experience through voice-of-the-customer initiatives, as well as executing menu consultations and culinary demonstrations. Through these efforts, Gerard supports global sales, product development and marketing.