Important Installation Instructions
IMPORTANT: Read all of the instructions for your software version before attempting a software update. If you need assistance, please call the Alto-Shaam service department at 1-800-558-8744 so an experienced technician can assist you.
Failure to follow the installation instructions exactly as outlined on this page or in the video demonstrations may result in an inoperable oven and a service call.
The current software version is 2.40 (as of 5/14/14)
On the Computer
Plug a USB flash drive into one of the USB ports on your computer. This USB drive should only be used for updating software on your CombiTouch. Delete all files from the USB drive before proceeding to the next step.
Right click on this file, combitouch_firmware.zip, and select "Save Target as..."
Select the drive your flash card is in.
Select "Save" and the file should be saved to the root directory. (This is the top level directory of your flash drive). Eject the USB flash drive from your computer after the file has been saved.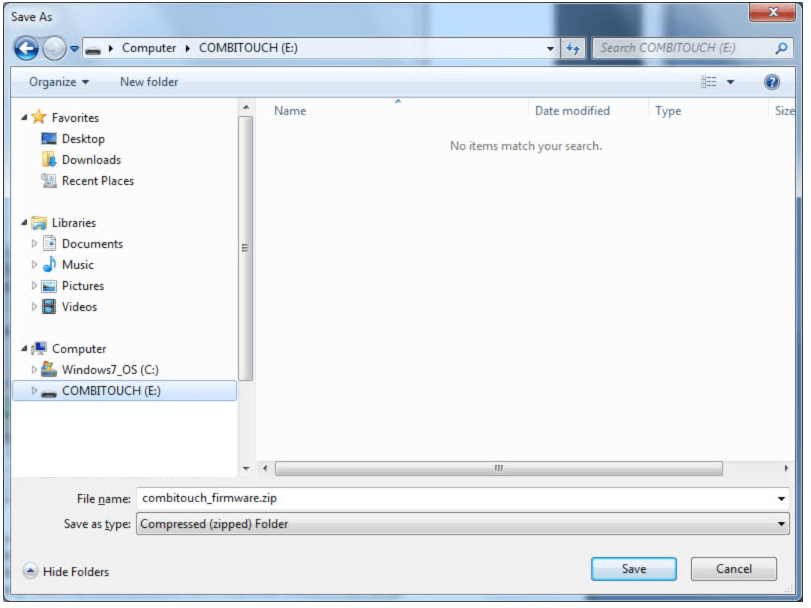 On the CombiTouch
Navigate to the Mode Selection screen.

Press the Service Mode button.

Video demonstration of firmware update from version 2.20
On the CombiTouch
Navigate to the Mode Selection screen.

Press the Settings Mode button.

Use the right arrow to navigate to the second page.

Remove the cap of either of the oven's USB ports on the left side of the unit and insert the USB flash drive.
NOTE: During the update process, the screen will go blank and the control will restart. Do not interact with the oven. Do not press the off key for any reason. Doing so can cause the oven to become inoperable. If in doubt, wait 5 minutes before interacting with the oven. Press the UPDATE key shown below. If the flash drive is not recognized by the Combitherm and a question mark appears on screen, call Alto-Shaam Service at 1-800-558-8744.

The oven will show the "Update Successful" screen once it sees a successful update, shown below.

NOTE: If the control presents an E100 error code, then you may need to perform the update again. If this error is persistent after the next update, please contact the Alto-Shaam Service department at 1-800-558-8744.


When the oven is operational again, you may remove the flash drive.