Alto-Shaam
5 Benefits of Vector Multi-Cook Ovens
A single Vector® Multi-Cook oven provides up to four ovens in one in a ventless, compact space. Designed with independent oven chambers in one space-saving unit, Vector ovens offer a flexible and cost-saving solution for commercial kitchens and foodservice operations.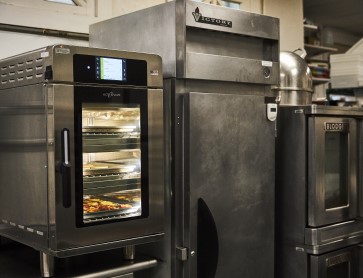 With space at a premium, operators are looking for creative solutions that maximize their kitchen layout.
A well thought out kitchen design goes beyond square footage. Operators can eliminate bulky, single-use equipment by choosing multi-functional equipment—designed for performance.
Vector® multi-cook ovens provide unmatched volume and variety with four individually controlled oven chambers. This versatile piece of equipment is the perfect solution for operations of all sizes.
Here are the five key ways that Vector multi-cook ovens improve the layout and efficiency of commercial kitchens:
1. Improves Consistency and Food Quality
Operators can produce high-quality food on demand with consistent results every time. In a cooking category by itself, Structured Air Technology®, is unlike any other. Featuring exclusive Structured Air Technology, Vector ovens are able to cook more food, more often, and in any space using optimized, focused heat. The unique vertical airflow delivers high-velocity, vertical upward and downward airflow. Air travels through the shelves and is delivered vertically through holes in the jet plates on the top and bottom of each cook chamber. This optimized, focused heat delivers faster, more even and consistent cooking than other cooking methods.
2. Maximizes Space
No matter the desired volume, the Vector comes in full-size or countertop models to meet those needs - and fit in any space:
Countertop (H Series) models can be placed anywhere in need of ventless operation, eliminating the need for an exhaust hood. The waterless design creates additional flexibility for any kitchen while reducing installation and operating costs. H Series models are perfect for anywhere you are tight on space.


Full-size (F Series) models are also waterless. These models can replace two traditional convection ovens, optimizing your kitchen's square footage and workflow and are perfect for high volume, batch cooking.
3. Ventless Operation
Vector countertop (H Series) models are designed with a UL-certified ventless and can be operated outside of traditional kitchen hood—maximizing floor space while improving efficiency and workflow. This saves plenty of space, and it provides more flexibility when designing a kitchen layout. Countertop models only require 21" of space.
4. Provides Menu Expansion
Each oven chamber is independently controlled, allowing up to four different menu items to be cooked at their ideal temperature, fan speed and cook time controls simultaneously with zero flavor transfer. Operators can cook up to four different food items at the exact same time, further expanding menu capacity without compromising quality.
5. Improves Efficiency
Vector ovens provide simple recipe programming, so staff of all ability levels are able to cook at the touch of a button. Operators can create menu presets, and then anyone on the line can reproduce it with the right ingredients.
Additionally, Vector ovens feature ChefLinc™ remote oven management. With this system, operators can effortlessly create and push and pull recipes from the cloud to their oven or groups of ovens. This reduces the time needed to manually program ovens. Operators can also access oven and cooking insights from anywhere they are.
See a Vector multi-cook oven in action by registering for A Taste of Alto-Shaam demonstration near you!
Save My Seat