Alto-Shaam
Building a Smart Restaurant Kitchen
Restaurant operators face many challenges and are increasingly seeking solutions to become more efficient. Advancements in technology are helping create "smart kitchens" to automate processes and achieve the same quality results while using less labor.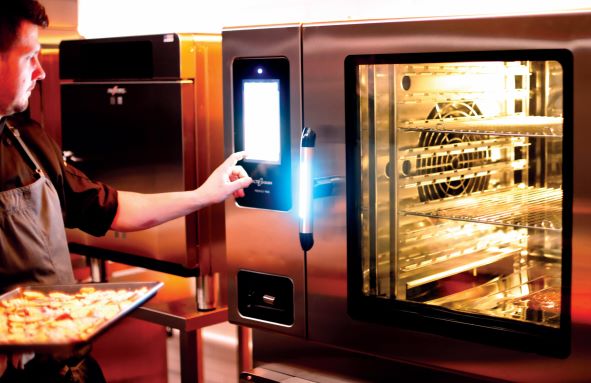 Restaurant operators face a variety of challenges today, including ever-increasing food costs, pervasive labor shortages, higher energy costs, and rising rents. As a result, operators are increasingly seeking ways to make their kitchens run more efficiently and produce quality food with fewer staff. At the same time, operators are striving to create a more personal, welcoming experience for their guests.
It's a difficult challenge, but technology is helping create "smart kitchens" that can automate many kitchen processes while at the same producing consistent, flavorful menu items quickly with the help from fewer people.
Intelligent equipment
The foundation of a smart kitchen is the commercial kitchen equipment used to produce food. Smart kitchen appliances, such as ovens, can be integrated with sensors and connected to the internet, allowing them to be remotely monitored and controlled. This way, operators can focus on more pressing matters while their equipment does the work. Additionally, that equipment should include intelligent, programmable controls, as well as superior cooking technology to ensure food is cooked to perfection and held at the correct temperature. Anyone can operate the equipment and still achieve consistent, quality results.


Prodigi™ Combination Ovens
Alto-Shaam's latest innovation in the Combination oven category, Prodigi™ Combi ovens, are built to support and connect the most demanding kitchens. These steadfast tools combine multiple cooking applications, such as a convection oven, kettle, steamer, fryer, smoker, and more. Increase productivity with automatic cleaning and cook food 20% faster than other combi ovens and up to 80% faster than traditional convection technology.
Operators can take control of their menu and business with ultimate control customization and Wi-Fi connectivity. One-touch cooking and programmable, image-based recipes make it so that any level of labor can execute menu items at the highest quality.


Multi-Cook Ovens
The multi-cook category, which includes Converge® and Vector® multi-cook ovens, for example, combine up to four independent ovens in one, allowing chefs to prepare multiple food items, in the same oven, at the same time, at their ideal cook settings, and with no flavor transfer. This is accomplished due to Structured Air Technology® which gives operators the ability to control each chamber's temperature, fan speed and cook time control. The unique airflow creates vertical curtains of air that eliminate heat loss when the door is opened, enabling staff to open the oven door and start another food item before other cook cycles are complete. This technology delivers the same high-quality food each time, with even airflow and no hot or cold spots.
Further, with advanced controls and Wi-Fi connectivity, these ovens are designed to be intentionally simple, intuitive, and user-friendly. To assist in food consistency, multi-cook ovens allow operators to program recipes with various recipe stages and settings, so that any employee in the kitchen can cook at the highest quality and consistency at their fingertips.


Cook & Hold Ovens
Alto-Shaam's Cook and Hold ovens allow for menu items to be prepared in advance, with exclusive Halo Heat® technology that evenly surrounds food without the use of extremely hot elements, added humidity, or fans that degrade food quality. Temperatures created by Halo Heat don't fluctuate to extremes, providing precise, low-temperature heat that leaves food full of moisture and flavor. If the oven door were to be opened mid-cook, SureTemp™ Heat Recovery assures immediate thermal compensation for any heat loss.
Operators can program recipes utilizing intuitive control and Wi-Fi capability. Cook & Hold ovens can cook by time or by temperature probe. The oven will sense internal product temperature or time and automatically convert from cooking mode to holding mode once the settings have been reached.


ChefLinc™ Remote Oven Management
Tying everything together is Alto-Shaam's ChefLinc™ remote oven management system. This cloud-based technology features an easy-to-use dashboard that allows for connected, remote kitchen management for operators to seamlessly push and pull recipes, view oven status, collect and store data, receive detailed service diagnostics, and more. Operators can manage ovens remotely and stay connected with real-time status updates and alerts from anywhere. The data ChefLinc collects can provide valuable insights into customer preferences and operational inefficiencies, helping restaurants make informed decisions that improve efficiency and profitability.


Building a smart restaurant kitchen requires a concerted effort, but the benefits of increased efficiency, reduced costs, and improved customer experience can make it worthwhile. To learn more about how creating a smart kitchen can benefit your operation, reach out to one of the experts at Alto-Shaam.
Talk to an Expert