Alto-Shaam
Commercial Outdoor Smokers vs. Commercial Indoor Smokers: Which Is Best?
With Cook & Hold Smoker Ovens with Halo Heat® Technology, BBQ in your restaurant is now easy to do. Learn more here!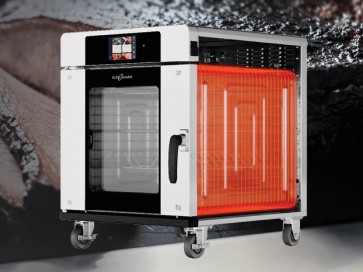 Few things attract restaurant customers on a warm summer evening more than a plate of barbecue. Diners love the flavor and tenderness of smoked meats. Now, with boosted demand for dining out, a rack of ribs, brisket, pulled pork, or a half smoked chicken is just the recipe for attracting customers.
When it comes to adding barbecue to the menu, operators have two main equipment choices. There are outdoor smokers, including pit smokers and charcoal ovens, and indoor smokers, such as one offered by Alto-Shaam. Which one is right for you?
Let's take a look at the various types of outdoor smokers:
What Is a Pit Smoker?
There are several commercial smoking options for restaurant operators, including pit smokers, pellet grills, and charcoal ovens. A pit smoker is essentially a box with a heat source at the bottom and a cooking chamber above.
How Does a Pit Smoker Work?
Commercial pit smokers often use a metal box or barrel to hold the product to be cooked and to contain the smoke. A firebox under the pit holds the fuel, and a smokestack on top of the pit helps draw through the heated air. These types of smokers often use wood logs or wood pellets for fuel, although some use gas, propane, or electricity to generate heat.
The Downfalls of Pit Smokers
The biggest downfall of pit smokers is the amount of babysitting they require. With a wood-burning smoker, you'll likely have to add fuel throughout the smoking process, and that fuel can be costly. Even with other heat sources, you'll need to constantly rotate the product to ensure proper cooking. Because of that, smoking overnight is out of the question, unless you enjoy staying up all night.
And because these types of smokers typically need to be located outdoors, they're out of reach for those who don't have space. Some types of pit smokers can be used indoors, although they'll typically require an expensive ventilation system to carry away the smoke. Either way, nearby neighbors aren't likely to appreciate smelling the smoke from your pit all day long.
What is a Charcoal Oven?
Charcoal ovens operate in much the same way as other types of smokers, except they use charcoal for fuel. Charcoal can generate higher heat than wood or gas ovens, and many people enjoy the unique taste of food prepared in a charcoal oven.
On the other hand, charcoal is messier than gas or electricity, and it can take a longer time for the oven to get to the proper cooking temperature. As with pit smokers, they require constant monitoring. And worst of all, some municipalities are mulling bans on wood-and charcoal-burning ovens as part of efforts to improve air quality.
How to Become a Pitmaster without the Pit
If an indoor smoker is what you need, you can easily add BBQ to the menu by using the Alto-Shaam Cook & Hold Smoker Oven or the Alto-Shaam combi oven smoker, achieving the same great bark and moist interior on their oven-smoked ribs, brisket, pork butt, and more.
Alto-Shaam's smoker ovens smolder real wood chips to create smoke and infuse food with that real BBQ flavor customers love. Food is cooked using our Halo Heat® technology, providing up to 20% greater yields and higher quality food than traditional smoking methods. Unlike traditional heated holding or low-temperature cooking technologies, temperatures created by Halo Heat technology don't fluctuate to extremes, resulting in a more consistent product. Because this method is highly efficient and can be used overnight, energy and labor costs are significantly lower.
Many of Alto-Shaam's commercial meat smokers feature an intuitive, touchscreen control that allows for cook-and-hold by time or temperature probes and can store unlimited, multi-step programmable recipes for premium results. In addition, Alto-Shaam ovens with deluxe control have built-in connectivity capability that lets operators further streamline processes and ensure consistency with ChefLinc™ remote oven management system. This cloud-based remote oven management system features an easy-to-use dashboard for operators to seamlessly push and pull recipes, view oven status, collect and store data, receive detailed service diagnostics, and more.
The Benefits of Using the Alto-Shaam Cook & Hold Smoker Oven
With a low-temperature oven such as the Cook & Hold Oven, pitmasters can achieve slow-cooked perfection with ease. And thanks to the Cook & Hold's ventless design, there's no need for a kitchen vent hood. You can place the oven anywhere.
Instead of having to get up in the middle of the night to stand over the pit for hours, the programmable technology built into these ovens allows you to smoke, cook, and hold meat overnight. Many of these ovens come equipped with digital controls, which allow you to save and cue recipes with a few taps of the touchscreen.
And because these ovens don't create the massive amounts of smoke associated with wood- or charcoal-burning pit smokers, they're designed to be operated indoors, allowing virtually any type of restaurant to add barbecue to the menu.
How to Smoke Meat in an Alto-Shaam Oven
Preparing great-tasting barbecue in an Alto-Shaam oven couldn't be easier. Simply load the woodchip box in the oven with presoaked wood chips and preheat. While you're doing that, prepare the meat using your favorite barbecue rub and lay it out on the oven racks.
Many Alto-Shaam ovens feature a touchscreen interface with a variety of preprogrammed recipes. Choose one or come up with your own. Load the meat in the oven, and you're all set!
To see how easy it is to enhance your menu with tasty barbecue dishes, check out this recipe for smoked & braised beef short ribs, prepared using just the Cook & Hold Smoker.
With one of Alto-Shaam's smoker ovens, the most difficult part of adding great barbecue to the menu will be seasoning the meat. Let us assist in finding the right smoking solution for you!
Learn More