Alto-Shaam
Today's Trends in Slow Cooking
To get your meat tender and delicious, you need to slow cook it properly. Learn the modern trends in slow cooking with tools like a Cook & Hold oven.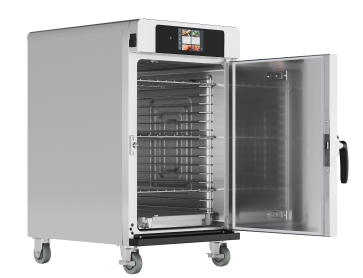 Cooking tender meat is a science, whether you're using an outdoor or indoor smoker. Tenderness is the most important aspect of meat palatability. But to get that delicious texture, you need to slow-cook at the ideal temperature so that the fat starts to melt, and the meat stays moist. It is a serious balancing act, which is why there are always new methods that try to improve the slow-cooking process. Here are a few of the latest trends in time-intensive prep methods that can improve your restaurant's efficiency and product quality.
Smoking is On the Rise
Now more than ever, people are investing in commercial smokers. In the last four years, smoking meat has grown in popularity when compared with other cooking methods. For example, smoked beef is 23% more popular than it was a few years ago and smoked chicken is 43% more popular. Meanwhile, pulled pork has seen a 36% increase.
The numbers don't lie – diners love the rich, bold taste and fall-off-the-bone tenderness of smoked meats. With Alto-Shaam Cook & Hold smoker ovens, you can provide customers with these rich flavors and tenderness by using real wood and real smoke. This is done while maintaining a consistent, even cook on the protein with Halo Heat® technology.
Operating Costs are Decreasing
Today, you don't need a dedicated smoker to slow-cook your meat. With a low-temperature oven like the Cook & Hold Smoker oven, you can achieve slow-cooked perfection in a compact package. By relying on energy-efficient thermal cables, the Cook & Hold costs less than $2 a day of electricity to use at full capacity.
With the Cook & Hold Smoker's ventless design, you will not need to worry about installing or operating a kitchen hood or any outside ventilation. You can place the oven anywhere, adding additional flexibility for your kitchen operations. This can save operators up to $30 per day in hood operating costs.
Overnight Cooking is Easy Now
The days of waking up at 4 am to start smoking meat are over thanks to the Cook & Hold Smoker oven. Unless you are a diehard pit master, you can simply use the Cook & Hold Smoker's programmable, user-friendly technology to smoke, cook, and hold meat overnight. This lets you go home to get a full night's sleep knowing that the oven is doing the work. The latest slow-cook smoker ovens come equipped with digital controls, which allow you to save and cue recipes with a few finger taps.
Adding to the simple design interface is ChefLinc™ remote oven management system. This easy-to-use dashboard streamlines processes, reduces labor, and maximizes profits. Push and pull recipes, view oven status, collect and store data, receive detailed service diagnostics, and more – all which can be done anytime, anywhere.
For added assurance, operators can cook by temperature or by probe with simple or deluxe controls. Once parameters have been set, the oven senses the internal product temperature or the time, and automatically switches from cook mode to hold mode. Operators can set and forget, without needing to hover or monitor the oven.
Hybrid Functionality is the Future
Today's restaurants and catering companies are more demanding than those of previous generations, and for good reason. Running a restaurant isn't cheap, so it's important to invest in future-proof products that offer a variety of features. For example, the Cook & Hold smoker ovens serve as a slow-cooker, smoker and holding oven. It's a Swiss Army knife for your kitchen, giving you added flexibility for your cooking operations.
Trends come and go, but quality slow-cooking technology is here to stay. To learn how a Cook & Hold Oven or Cook & Hold smoker oven can revolutionize your low and slow cooking approach, attend A Taste of Alto-Shaam demonstration near you. Once you've tried overnight slow-cooked beef, you'll have a hard time going back to conventional ovens.
Save My Seat