Alto-Shaam
Elevate Your Menu with a Cook & Hold Oven
Looking for a singular piece of kitchen equipment to boost your kitchen's functionality? Alto-Shaam's Cook & Hold Oven is the way to go.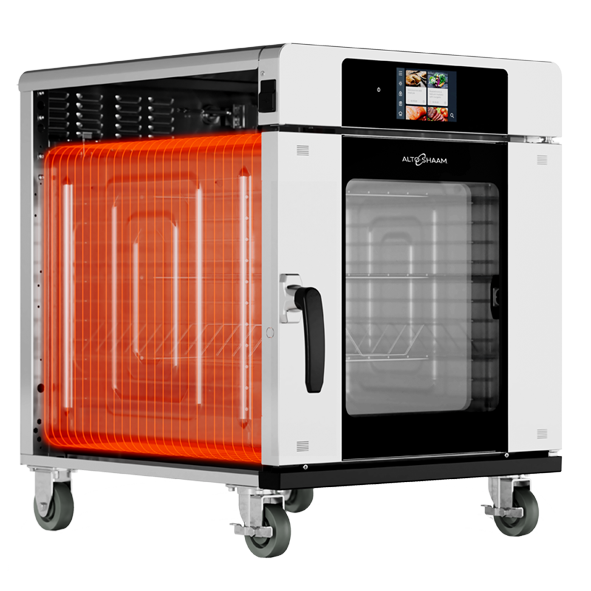 Every restauranteur's dream is to transform a startup kitchen into a renowned food destination hopping with eager repeat customers. Becoming a food destination takes creativity, vision, and hard work to establish a unique menu and an ambiance that connects with customers. But no amount of flavor innovation or bold marketing can save you from mediocre food and subpar kitchen equipment.
When you want to deliver only the best meals day in and day out, you need to equip your kitchen with flexible, high-quality ovens. Scale your menu and your vision to make your food establishment a food junkie hot spot.
Overview of Halo Heat Technology
What you want: tasty, hot meals that are ready to be served at a moment's notice. What you get without Halo Heat® technology: overcooked, dry food and protein shrinkage when food sits in the oven for a minute too long.
Alto-Shaam's Founder, Jerry Maahs, invented Halo Heat technology while experimenting with wrapping cables around insulated containers. This innovation in heating technology allows for gentle, precise cooking at a commercial scale, so you can evenly cook and hold food without the need for fans, additional humidity, or extremely hot elements. Keep your food full of flavor with the precision of low-temperature Halo Heat.
Advantages of Cook & Hold Ovens
If you're looking for a singular piece of kitchen equipment to boost your kitchen's functionality all around, the Cook & Hold Oven is the way to go. From labor benefits to cost savings, you can't go wrong.
Labor-Free Cooking - Reduce labor and operating costs with lights-out production. Reclaim 12-16 hours of nonproductive cooking time with overnight cooking and holding. Additionally, Cook & Hold Ovens are fully programmable, so your staff can select the recipe and move onto other pressing tasks.
Consistency - Halo Heat technology evenly distributes heat without the use of added humidity or fans. Cook food to perfection without worrying about it becoming dry and overcooked. Halo Heat technology provides the greatest moisture retention and most even cooking.
Ventless & Waterless - Save on hood installation and operating costs with no traditional oven hood or outside venting required. Additionally, Cook & Hold Ovens are waterless, further reducing costs with no plumbing, drains, filtration or associated maintenance.
High Yield - Minimize protein shrinkage and serve more portions from the same cut of meat to increase your profit margins. Halo Heat technology honors every cut of meat from end to end—providing a better quality product at a lower cost. The low and slow cooking process results in 15-20% less protein shrinkage compared to conventional cooking.
Cost Saving - From the low labor input to an increased yield in food, the Cook & Hold Oven increases kitchen efficiency and pays for itself in no time, costing less than $2 per day to operate.
How to Elevate Your Menu with Only One Oven
Liven up your menu with new and exciting recipes with the fully programmable Cook & Hold Oven. Whether your guests are hankering for a smoky brisket, a juicy prime rib, or a melt-in-your-mouth turkey, the Cook & Hold oven empowers you to execute your menu with confidence and consistency.
With the precision of the Cook & Hold oven you won't need to babysit the cooking process. Deluxe controls enable you to input multiple steps in your recipes and step away with the reassurance that you'll have flavorful food for plating when you return. If you want to check in, do so from the comfort of your own home. Everything is cloud-based, so you can monitor the cooking process anytime, anywhere.
Alto-Shaam is your partner in maximizing your kitchen's functionality and creating delicious menu items cooked to perfection. Learn more about our Halo Heat technology and how the Cook & Hold Oven can help your restaurant business today.
Want to know how much you could save in food costs with a Cook & Hold Oven? Discover the savings potential with our yield calculator.
Calculate Savings