Alto-Shaam
Guide to Eliminating Unnecessary Equipment
Alto-Shaam offers a variety of multi-functional equipment solutions that help foodservice operators streamline workflow while decreasing your kitchen footprint.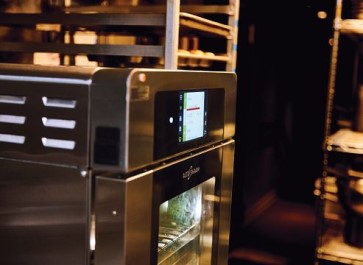 The dynamic of the commercial kitchen is shifting towards smaller, more open concepts with less room to operate. More customers nowadays want to feel like they are part of the experience. With limited space available, the importance of new, multi-functional equipment that can eliminate the use of unnecessary equipment is more valuable today than ever.
Eliminating unnecessary kitchen equipment starts with using multi-functional equipment that optimizes the layout of your kitchen. Reducing the amount of single-use equipment in your kitchen will help streamline production, decrease overhead costs, and eliminate the need for more skilled-labor.
Multiple Cooking Functions
A well-thought-out kitchen design goes beyond square footage. Foodservice operations can eliminate single-use equipment by replacing it with multi-functional equipment that reduces labor, maximizes space, and increases return on investment.
These types of equipment are capable of executing a variety of cooking applications simultaneously. For example, a single Vector® multi-cook oven can replace the need for convection ovens, microwaves, stovetop grills, pizza ovens, fryers, speed-cook ovens, and more. Vector ovens provide unmatched volume, variety, and quality with up to four individually controlled oven chambers.
Likewise, Prodigi™ combi ovens also do the work of multiple pieces of equipment, allowing you to reduce the number of ovens needed in your kitchen. Combining multiple cooking functions into a single appliance, commercial combi ovens can replace a convection oven, kettle, steamer, fryer, smoker, and more.
Ventless, Compact
In addition to the production benefits, the Vector H Series multi-cook ovens are compact enough to fit on the countertop or be stacked with other equipment solutions. All you need is 21" of available space. The countertop models are certified ventless, eliminating the need for costly traditional kitchen hoods. Not only will the Vector maximize space in the kitchen, but it will eliminate overhead costs as well.
Streamline Workflows
By reducing the amount of equipment needed in the kitchen, operators are ultimately able to streamline the workflow of their cook lines. Gone are the days where your staff has to run up and down the line to babysit each oven during the cooking process. The latest multi-functional and stackable equipment helps further take the stress out of cooking for your staff, by allowing them to execute multiple dishes in the same footprint.
To learn more about Alto-Shaam's full system of multi-functional equipment solutions, visit our product page.
Learn more