Alto-Shaam
The Value of Multi-Functional Equipment
A multi-functional piece of equipment can take your cooking to the next level. Upgrade your commercial cooking experience with one today.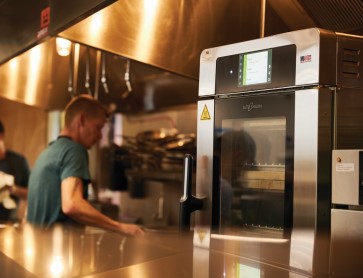 When it comes to your kitchen, owning a multi-functional piece of equipment can take your cooking capability to the next level.
From baking cakes and roasting vegetables to slow-cooking meats and steaming rice – whatever your culinary needs may be – having the right oven makes all the difference in consistently creating delicious dishes that your customers will love.
The Prodigi™ Combi Oven
One of Alto-Shaam's latest innovations is the Prodigi™ combi oven. The combination of steam and convection ovens creates a versatile unit that can replace a convection oven, kettle, steamer, fryer, smoker, and more.
This oven allows chefs to control humidity and temperature separately, allowing them to dehydrate vegetables, roast pork, steam rice, smoke brisket, bake loaves of bread, and more, all with one single piece of equipment.
If space under a hood is limited, the operation can invest in a combi oven with an NS/UL – approved ventless hood, which is less expensive than a traditional hood. This versatility means less equipment needed to be under the hood, and more space savings.
With adjustable settings, stages, and digital, Wi-Fi enabled controls, Prodigi™ combination ovens will make your kitchen a culinary powerhouse seamlessly. Plus, these ovens are self-cleaning and take up minimal space with a zero clearance design and ventless hood option.
Set up for success with the Prodigi Combi Oven
The Multi-Cook Oven
Multi-cook ovens provide flexibility, variety, and space-savings with up to four independent ovens in one.
Vector® multi-cook ovens allow you to control temperature, fan speed, and cook time in each individual oven chamber. Exclusive Structured Air Technology® is patented vertical airflow from the top and bottom that enables each chamber to function as an independent oven. So, you can bake cookies, sear salmon, and roast root vegetables at the same time at the correct cook settings for each item – without flavor transfer. This opens up increased variety of food without adding additional ovens to your kitchen.
The unique airflow allows food to keep cooking while opening and closing the oven with virtually no heat loss. The need for equipment, including traditional ovens, microwave and speed ovens, grills, conveyor ovens, and salamanders, is also eliminated.
Depending on your space and food volume needs, Vector comes in full-size or countertop models:
Countertop (H Series) models can be placed anywhere in need of ventless operation, eliminating the need for an exhaust hood. The waterless design creates additional flexibility for any kitchen while reducing installation and operating costs. H Series models are perfect for anywhere you are tight on space.
Full-size (F Series) models are also waterless. These models can replace two traditional ovens, optimizing your kitchen's square footage and workflow and are perfect for high volume, batch cooking.
Converge® multi-cook ovens similarly feature an independent chamber design—with the addition of humidity in each oven chamber. Three independent ovens in one gives you the freedom to steam, air fry, bake, grill and more at the same time without flavor transfer—all in a ventless, self-cleaning design.
Explore multi-cook oven solutions
The Cook & Hold Oven
The Cook & Hold oven provides precise, low-temperature cooking with Halo Heat® technology. Free up vital hood space with the ventless design and save up to $30 a day in operating costs. Chefs will be able to take advantage of overnight cooking while eliminating the need for extra manpower. Use the Cook & Hold oven for a variety of different techniques, including braising, preparing soups and stocks, baking, canning, smoking, and more.
Check out the latest Cook & Hold Ovens
Time to Upgrade?
When transforming your kitchen, there's no better tool than using a multi-functional. Whether you're looking for a compact or full-size oven, Alto-Shaam offers a variety of versatile ovens to meet your needs. You won't be disappointed with the speed, efficiency, and convenience these ovens provide – go ahead and upgrade your commercial cooking experience today.
To see these ovens in action, sign up for A Taste of Alto-Shaam demonstration near you.
Save My Seat