Alto-Shaam
How to Set Up a Grab-and-Go Program that Drives Growth
Interested in setting up a grab-and-go food program that drives growth to your convenience store, university, snack shop, or office? Learn more from Alto-Shaam.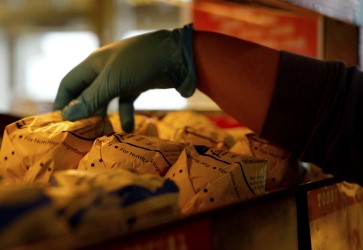 Whether you operate a convenience store, a university foodservice outlet, a snack shop in a downtown office, or a similar food venue, you likely face the same challenge: How to grow your business while, at the same time, coping with ongoing labor shortages and space limitations. It's difficult to expand your meal offerings without adequate staff. And even if you could, you may not have the space to set up the additional equipment you may need.
The solution? Implement a grab-and-go program. Instead of requiring customers to place an order and wait while staff prepares it, a grab-and-go food service program offers high-quality, prepackaged meals, sandwiches, snacks, and other offerings for hungry patrons to pick up, pay, and be on their way.
A grab-and-go food menu addresses a variety of issues facing both venue operators and customers. It allows the operator to serve those customers more quickly and easily and lets time-pressed customers grab their food and be on their way without having to settle for the standard chips-and-soda meal they might have purchased in the past. Food prep can be done during slow periods or before the outlet opens.
While grab-and-go food concepts may be the direction in which foodservice heading, implementing one involves more than just wrapping up a few sandwiches and placing them on a shelf. To succeed, operators need to offer delicious, appetizing food that looks appealing and can maintain quality while waiting for those customers.
That starts with the right equipment.
The best grab-and-go food display
The centerpiece of a grab-and-go program, aside from the food, is the grab-and-go heated display. If your grab-and-go food program involves foods such as burgers, burritos, pizza, chicken strips, or similar fare, that display equipment will need to keep food hot without affecting quality. Nothing will kill a grab-and-go program more than serving food that's become dry and overcooked from sitting in display or merchandising equipment that uses harsh heating technology.
That case also needs to help manage foodservice costs by minimizing food waste, streamlining labor, and lowering operational costs.
Alto-Shaam offers a line of display cases and heated food merchandisers designed to maintain a quality hot food program. Heated shelf merchandisers perfectly maintain food quality for grab-and-go foodservice, leveraging exclusive Halo Heat® technology that delivers precise, even heating without fans or extreme heating elements that can dry out food. Operators can keep product at its perfect serving temperature and hold it for hours without overcooking or drying out.
And to simplify the implementation of a grab-and-go food program, many of Alto-Shaam's display cases and food merchandisers require no water connections or drains.
When combined with one of Alto-Shaam's multi-cook ovens, Cook & Hold ovens or other cooking equipment, a grab-and-go program built in partnership with Alto-Shaam can help build sales and profitability for nearly any foodservice operator. Many of these ovens feature programmable recipes that make food preparation a snap.
Grab-and-go food concepts that drive growth
Convenience stores are no longer just places to fill up the gas tank and grab the gallon of milk you forgot on your last trip to the supermarket. Instead, they're becoming a go-to place for a quick meal.
What does that mean? If your c-store doesn't have a grab-and-go program, you're missing out on a key revenue driver.
Grab-and-go can also be a great way to supplement sales for traditional restaurants. An office worker with a 60-minute lunch break doesn't have time to wait for a table at a full-service restaurant, place an order, and hope they can finish their meal before it's time to get back to work. Packaging a few popular items for a grab-and-go program, on the other hand, can be a great way to serve those customers and build sales in the process.
And a mobile grab-and-go program can be a great way to supplement the sales of a brick-and-mortar operation. Setting up a kiosk at a local street fair, sporting event, or music festival can help showcase the items your sit-down restaurant offers.
Grab-and-Go food trends
Here are just a few of the trends helping to drive the popularity of grab-and-go food programs:
Fresh and healthy food items – The last several years have shown an increased focus on fresh and healthy foods. Although burgers and fried foods remain popular, many consumers are seeking leaner options such as grilled chicken or turkey sausage.
Ethnic cuisine – One recent research report predicts that the ethnic food market will grow at an 8.33% compound annual rate over the next several years. That's great news for anyone considering an entry into the grab-and-go market. Ethnic foods such as burritos, wraps, shawarma, and Asian noodle bowls lend themselves perfectly to grab-and-go service models.
Baked goods - When it comes to an enjoyable breakfast or lunch, a warm cream cheese Danish, a spinach-and-feta cheese croissant, a gooey cinnamon roll, or other warm pastries can hit the spot. For a mid-afternoon snack, a warm pretzel with a side of cheese dip is a perfect treat.
Satisfying the appetite
The pace at which the world turns seems to be speeding up by the day. Businesses are finding themselves having to do more with less, and consumers rarely seem to have the time to linger over a leisurely meal.
A great way to serve delicious food to customers, and have those customers enjoy that food while on the move, is through a grab-and-go food program. For the right grab-and-go equipment to help you get started and advice on a successful implementation, reach out to the experts at Alto-Shaam.
Contact Us