Alto-Shaam
How Your C-Store Can Leverage the Power of Alto-Shaam's Vector Oven
Transform your convenience store operation with one multi-functional piece of equipment: Alto-Shaam's Vector multi-cook oven. See how this oven can efficiently and consistently cook tasty food your guests will love.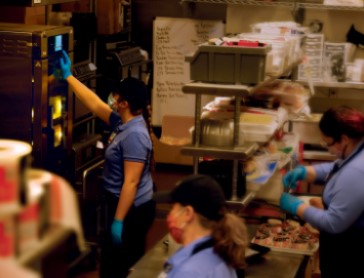 In this guide, we've outlined how a Vector® multi-cook oven can transform your convenience store operation so that you can cook consistent, tasty food that guests will love. Vector multi-cook ovens contain multiple cooking chambers in a single unit, so you can streamline your kitchen and eliminate unnecessary appliances. Convenience stores across the country are stepping up their foodservice game. Let's see how Vector multi-cook ovens can help your C-store or restaurant thrive.
Independent Settings and Cooking Chambers
With a our countertop Vector oven, you can choose between two, three, or four independent chambers in a single unit to cook a variety of items at the same time, without any flavor transfer. Each chamber serves as an independent oven which can be programmed with unique temperature settings, fan speeds, and cooking times. This is extremely useful when cooking different dishes with the same oven, at the same time – especially in a busy convenience store. Grill salmon, roast veggies, and bake cookies, all at the same time with no flavor transfer. Commercial kitchen equipment has never been this versatile.
Programmable Modes
Meanwhile, you can use the Vector's touchscreen controls to program specific recipes and recall them at any time. This makes it easy for employees to learn how to cook frozen corndogs and other grab-and-go food. Once the recipes have been perfected and stored in the oven's memory, you'll get a consistent product each time that keeps customers coming back for more.
For added programmability and connectivity, these ovens have ChefLinc™ capabilities. This remote oven management system allows operators to push and pull recipes, view real-time oven data, update software and more, on any connected oven, no matter where they are.
Ventless Design
Most large-scale commercial kitchen equipment needs a dedicated venting system, which can be prohibitively expensive and create a cluttered kitchen layout. This isn't the case with our countertop (H Series) models. With a compact 21" footprint and fully ventless design, you can install the a countertop Vector oven on any level surface that is within five feet of an appropriate electrical outlet. As long as the oven has sufficient clearance around the fans, you can operate the Vector ovens wherever it makes the most sense for your business.
Efficient Heat Transfer
Finally, exclusive Structured Air Technology™ delivers improved consistency and quality compared to a traditional convection oven. It delivers upward and downward airflow at the same time, so your food cooks quickly and evenly, without you having to monitor the process and rotate pans. However, if you do decide to open the oven door while cooking, the Structured Air Technology also prevents hot air from rushing out of the oven. This keeps employees safe and reduces energy consumption, because virtually no heat is lost. Vector multi-cook ovens can cook two times the amount of food in the same amount of time as other ovens.
Ready to expand your foodservice operation and streamline your C-store's kitchen equipment? With the Alto-Shaam Vector oven's multiple-chamber design, ventless operation, and programmable capabilities, you can streamline the cooking process, free up space and reduce labor for your staff.
Learn how Vector multi-cook ovens can revolutionize your store and foodservice program. Request A Taste of Alto-Shaam demonstration near you to see the oven in action.