Alto-Shaam
Introducing ChefLinc Remote Oven Management System
New cloud-based, remote oven management system enables greater social distancing with seamless recipe management and data driven insights.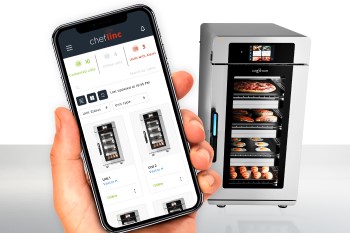 Further supporting a reduction in travel and greater social distancing, Alto-Shaam, a pioneer in the global foodservice equipment industry, has launched ChefLinc™, a cloud-based, remote oven management system. ChefLinc provides foodservice operators complete control of their equipment, menus and business from wherever they are—increasing efficiency and consistency across multiple locations.
No longer will operators need to manually program recipes into ovens, transfer recipes via USB or be required to travel to and enter stores to update ovens. ChefLinc is equipped with an intuitive dashboard that allows operators to seamlessly create, manage and distribute recipes to ovens through the cloud.
"One of the biggest challenges that all operators now face is how to ensure the highest consistency and quality throughout their restaurants and foodservice operations," said Jeff McMahon, Senior Director of Product Management at Alto-Shaam.
Pre-programmed recipes can be easily pushed to a single oven or designated group of ovens from a centralized recipe library. Operators can utilize ChefLinc to effortlessly execute limited time offers (LTOs), regional menu variations and daypart menu variety.
"ChefLinc puts operators in total control of their equipment from anywhere they are, with intuitive recipe management and data driven insights that enable streamlined processes and greater consistency," McMahon said.
Having to manage a business in the dark without access to real-time service and operational data is also a thing of the past. The ChefLinc dashboard provides real-time connectivity status and the cooking state for each oven, as well as highlighting any service alerts. The ability to access real-time, detailed service diagnostics enables operators to minimize oven downtime.
ChefLinc is currently available to use with Alto-Shaam's Vector® H Series Multi-Cook Ovens and will soon be expanded to other products.
Learn More