Ryan Norman
Setting up a Ghost Kitchen with Versatile, Ventless Solutions
Ghost kitchens are still on track for growth, as delivery and low-cost options still trend posititvely. To create a successful ghost style kitchen, equipment versatility and space requirements are always key considerations.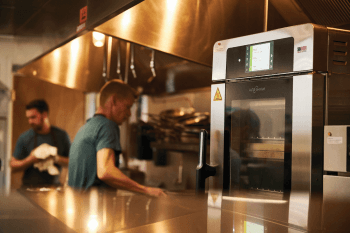 A 'ghost', 'virtual' or 'dark' kitchen, briefly defined, is a facility that has the equipment to prepare delivery-only food. The kitchens are designed with equipment capable of producing restaurant quality food, but without there being a physical dine-in restaurant in which to serve it.
During the COVID-19 pandemic, restaurants looked to ghost kitchens as a cheap, convenient method of delivery as a way to survive in the quickly changing environment. Now, trends show that customers crave those 'real' restaurant experiences from brands that they recognize. Despite this, the demand for delivery is still growing, and ghost kitchens can be a great alternative to help offset delivery costs.
Ghost kitchens have become delivery profit centers for operators, with the more profitable variation being a standalone site hosting a number of kitchens. While equipment and design needs vary, equipment flexibility is always a key consideration. Ghost kitchen operators need to be able to produce a variety of food at the highest quality—from 'traditional' chicken and ribs to Chinese and Thai, and every cuisine in-between. Operators are looking for equipment that fits their space and design, while also providing a great deal of versatility and flexibility to execute menus effortlessly.
Versatile Commercial Kitchen Equipment
Operators need equipment that can produce large volumes of food at a consistent quality. Vector® F Series and Converge® multi-cook ovens from Alto-Shaam, as well as Prodigi™ combi ovens, holding equipment, and QuickChiller™ blast chillers are in particular demand in standalone, commissary-style ghost kitchens, as they produce a high volume of food at the highest quality. It's an equipment system that enables ghost kitchen operators to prepare food in advance, blast chill it, and then rethermalize it quickly when ordered. This food production process has proven to improve delivery ticket times and produce better food quality, compared to microwave alternatives.
Ventless Oven Solutions For Ghost Kitchens
Ventilation in ghost kitchen spaces can also be a challenge, as several restaurant brands share common services and storage areas. With fear of overcapacity in ghost kitchens, ventless equipment can save on installation and operating costs since they do not require additional water hookups or traditional ventilation systems. Operating in a ghost kitchen can also save on labor costs, as there is no need for front-of-house staff, and the back-of-house space can be shared. With just a few pieces of equipment, operators can improve ticket times while still producing quick, quality food in a small space.
Alto-Shaam's Vector H Series ovens are ventless, compact and waterless, allowing operators to place their oven anywhere and utilize their kitchen space, their way. As an added bonus, Alto-Shaam Vector H Series ovens provide an unmatched volume and variety of food in the smallest space. Providing up to four ovens in one, Vector ovens cook up to four different food items simultaneously at different temperatures, fan speeds and cook time controls.
Greater Ghost Kitchen Menu Consistency
Ghost kitchens are not always single operations. The more successful operators are taking a successful model and replicating it in new geographies. This, in turn, is highlighting the benefit of 'smart' equipment that is better 'connected', such as Alto-Shaam equipment with ChefLinc™ remote oven management system, which allows operators complete control of their equipment and menus. Pre-programmed recipes can be easily 'pushed' to a single oven or designated group of ovens from an organization's centralized recipe library to ensure consistency across multiple locations. They also enable one-touch cooking, saving both time, training, and labor.
With market conditions rapidly changing, operators continue to be nimble and pivot to better support and streamline their delivery programs through the development of ghost kitchens. As the industry adapts, manufacturers, consultants, and design dealers will continue supporting a new generation of entrepreneurs by providing equipment solutions that are flexible, versatile, and efficient.
For support with setting up a ghost kitchen, contact an expert today.
Talk to an Expert